Marius Aristide Yves Giraud-Cabantous (cah-BAN-too; born October 8, 1904 in Saint-Gaudens, Haute-Garonne, Midi-Pyrénées, France – died March 30, 1973 in Paris, Île-de-France, France) was a French racing driver who competed in Formula One at the series' inception. He drove for the Talbot-Lago and HWM works teams, as well as entering a private Talbot-Lago in 1951.
Before Formula 1 World Championship
[
]
Giraud-Cabantous began his long racing career back in 1925 and by 1927 he won his first race, the GP des Frontieres at Chimay in a Salmson. He became quite a successful sidecar racer but he was soon developing his own cars and in 1930 won the Bol d'Or 24 Hour race in his won car and also finished second at Le Mans in a Delahaye.
Despite being in his 40's, in 1947 Giraud-Cabantous joined the Ecurie France team, winning at Chimay, Montlhery, San Remo and in 1948 Paris. He purchased a Talbot-Lago which he used for the next two years prior to the inception of the World Championship.
Formula One Career
[
]
1950
[
]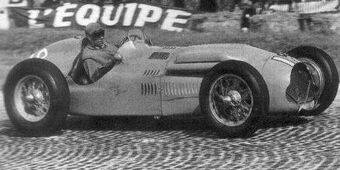 For 1950 Giraud-Cabantous joined the official Talbot-Lago team and took part in the first race of the season, the British Grand Prix. He scored points by finishing fourth and therefor becoming the first French driver to score points in the new World Championship.
Always a fast driver he qualified 7th at Bremgarten and 9th at Spa-Francorchamps but retired by crashing and suffering engine failure. At his home French GP he qualified in 5th with the absence of the factory Ferrari team, and in a race of high attrition finished 8th, all be it 12 laps down. Although the points gained at Silverstone were enough to give him equal 10th in the Championship.
Formula One Statistical Overview
[
]
Formula One Record
[
]
Career Statistics
[
]
Race Wins
[
]
Non-Championship
[
]
| Win Number | Grand Prix |
| --- | --- |
| 1 | 1947 Salon Grand Prix |
| 2 | 1948 Paris Grand Prix |
Career Results
[
]
Complete Formula One Results
Year
1
2
3
4
5
6
7
8
9
Pts
Pos
1950
3
14th
4th
DNA
Ret
Ret
8th
1951
2
18th
Ret
5th
7th
Ret
8th
Ret
1952
0
NC
10th
1953
0
NC
14th
15th
Key
Symbol
Meaning
Symbol
Meaning
1st
Winner
Ret
Retired
2nd
Podium finish
DSQ
Disqualified
3rd
DNQ
Did not qualify
5th
Points finish
DNPQ
Did not pre-qualify
14th
Non-points finish
TD
Test driver
Italics
Scored point(s) for Fastest Lap
DNS
Did not start
18th†
Classified finish (retired with >90% race distance)
NC
Non-classified finish (<90% race distance)
4thP
Qualified for pole position
[+] More Symbols
Notes
[
]