The Tyrrell 007 was a car model, manufactured by the Tyrrell Racing Organisation manufactured in 1974 and 1975, with some of the cars being used as recently as 1977. This was the 'Mark III' model, and reflected a shift in the design thinking of the team. All of the previous cars had been compact, nimble and sometimes difficult to control, a trait that was suspected of contributing to the death of François Cevert at the end of 1973. 007 was longer and wider, with a focus on clean airflow.
History
[
]
The team had two brand new drivers in 1974, Jody Scheckter and Patrick Depailler. Neither driver had driven in F1 for a full season, so they went for a design that was longer and more stable. 007 had a wheelbase that was more than 160mm longer than the 005-006 series. The model also featured a lower monocoque, sharp nose, front wings and flush side radiators, all similar to a McLaren M23.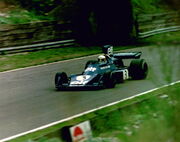 Typically for a Derek Gardner design, the car did have some innovative features. The front wings ended in vanes designed to deflect the airflow past the front wheels. It had a rising-rate front suspension, which unfortunately worked against them when radial tires were introduced in 1975. The front brakes were mounted inboard, reflecting attempts to reduce unsprung weight. And the high engine air box was only about 10cm wide, for better airflow to the rear wing, as opposed to the huge wide air scoops used in the 005-006 cars.
1974, the introductory season of the car, was the last time that a Tyrrell car was in serious contention for a World Championship. Scheckter managed two victories while finishing a close third in the championship with 45 points, and Depailler recorded a second place and a total of 10 points.
The 007 model was replaced by the six-wheeled Project 34 in 1976.
Formula One Results
[
]
Number of Wins
[
]
World Championship Results
[
]
Entreat
Tyre
Driver
No.
1
2
3
4
5
6
7
8
9
10
11
12
13
14
15
16
17
1974
Elf Team Tyrrell

G

Jody Scheckter
3
5th
3rd
2nd
1st
5th
4th
1st
2nd
Ret
3rd
Ret
Ret
Patrick Depailler
4
Ret
2nd
6th
Ret
Ret
Ret
11th
5th
6th
1975
Elf Team Tyrrell

G

Jody Scheckter
3
11th
Ret
1st
Ret
7th
2nd
7th
16th
9th
3rd
Ret
8th
8th
6th
Patrick Depailler
4
5th
Ret
3rd
Ret
5th
4th
12th
9th
6th
9th
9th
11th
7th
Ret
Jean-Pierre Jabouille
15
12th
Michel Leclère
Ret

Lexington Racing

Ian Scheckter
32
Ret
1976
Elf Team Tyrrell

G

Jody Scheckter
3
5th
4th
Ret
Ret
Patrick Depailler
4
2nd
9th
3rd

Lexington Racing

Ian Scheckter
15
Ret

Scuderia Gulf Rondini

Alessandro Pesenti-Rossi
40
14th
DNQ
39
11th
37
18th

ÖASC Racing Team

Otto Stuppacher
39
DNS
DNQ
DNQ

Heros Racing Corp.

B

Kazuyoshi Hoshino
52
Ret
1977

Meiritsu Racing Team

D

Kunimitsu Takahashi
50
9th
Non-Championship Results
[
]
Entreat
Tyre
Driver
1
2
3
1975
Elf Team Tyrrell

G

Jody Scheckter
Ret
Patrick Depailler
5th
2nd
1976
Elf Team Tyrrell

G

Jody Scheckter
3rd
Ret