The Toro Rosso STR10 was a Formula One racing car designed by Scuderia Toro Rosso which competed in the 2015 Formula One season. It was driven by Carlos Sainz, Jr. and Max Verstappen.
The STR10 was launched on January 31, 2015 at Jerez de la Frontera. At the Barcelona test, the STR10 had a shorter nose. James Key stated that the revised STR10 was "actually the real racecar".
The STR10 was competitive throughout the season. Its best finish was a fourth place, achieved two times by Verstappen at Hungary and USA, their highest non-podium finish since the 2008 Brazilian Grand Prix. It also achieved a total of 67 points throughout the season, breaking their record tally of 41 points set in 2011.
Season review
[
]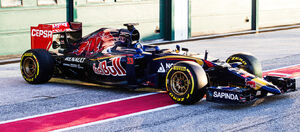 Toro Rosso had a new driver line-up after the 2014 season. Jean-Éric Vergne left the team after three seasons with the team, and Daniil Kvyat was promoted to Red Bull. The team confirmed on August 2014 that Max Verstappen will drive for the team just at the age of 17, which caused criticism from fellow Formula One drivers. On November 2014, it was confirmed that Carlos Sainz, Jr. will drive alongside Verstappen.
The team unveiled their STR10 on January 31, 2015 at the Jerez pre-season test. At the Barcelona test, a few changes were made to the car, especially the front nose design of the car, which replaced the previous one.
Toro Rosso started off their season at the Australian Grand Prix. Sainz managed to qualify eighth, but Verstappen could only qualify twelfth. While in a points-scoring position during the race, Verstappen's engine blew on lap 32 and he retired from the race. Sainz finished in ninth on his début.
At the next race in Malaysia, Verstappen impressed the team with his qualifying performance, qualifying in sixth, meanwhile his team-mate could only qualify 15th. Both Verstappen and Sainz finished seventh and eighth respectively, ahead of both Red Bulls in the race. Verstappen became the youngest driver to score points at the age of 17 years and 180 days.
Complete Formula One Results
[
]
Complete Formula One Results
Year
Driver
Tyre
1
2
3
4
5
6
7
8
9
10
11
12
13
14
15
16
17
18
19
2015
Verstappen

P

Ret
7th
17th†
Ret
11th
Ret
15th
8th
Ret
4th
8th
12th
8th
9th
10th
4th
9th
9th
16th
Sainz
9th
8th
13th
Ret
9th
10th
12th
Ret
Ret
Ret
Ret
11th
9th
10th
Ret
7th
13th
Ret
11th
Notes
[
]