---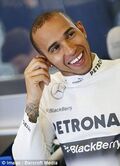 ---
---
---
Previous event: 2020 Eifel Grand Prix (Oct 9 – Oct 11)
Latest event: 2020 Portuguese Grand Prix (Oct 23 – Oct 25)
Next event: 2020 Emilia-Romagna Grand Prix (Oct 31 - Nov 1)
Documentation
Latest F1 News highlights recent news and events that have occured in the world of F1, as well as the final race results from the major motorsport marquee race events. The events to be reported are the 24 Hours of Daytona (January), the Daytona 500 (February), the Indianapolis 500 (May) and the 24 Hours of Le Mans (June).
It should contain eight bullet points (if you add an item, remove one from the bottom) and should not contain gossip, rumours or speculation; just confirmed news/events. It should not have any external links.
Separate events should be separated by a horizontal line (----) to aid the reader.
Important things, like the deaths of important F1 figures, major rule changes, major team/driver changes, etc, are bolded in their entirety.
The two images go at the top in the coding, with no text inbetween. These images get replaced in the same order as the items are; the lower image get replaced in this situation. Remember to update the (pictured right) and (pictured below right) pieces of text. Those are always written in italics and unbolded, regardless of whether the item is in bold or not.
The first bit of the sentence stating a driver has obtained pole is bolded. The bullet item showing the winner is in bold and captials. The bullet item for the world champion (both titles) is bolded, capitalised and put in a big font.
The latest events part of the template should show three events: the previous event, the current or latest event and the next or upcoming event (see table below for clarification), with the dates of the event in brackets. In theory, it should only include tests and races. The middle line should be in <big> text and should not contain what stage the event is at (to avoid confusion when the updates are not applied immediately).
Table showing previous, current, latest, next and upcoming events:
| Label | Two days prior to event | During event | After event |
| --- | --- | --- | --- |
| Top | Previous | Previous | Previous |
| Middle | Next | Current | Latest |
| Bottom | Upcoming | Next | Next |
Notes:
"Two days prior to event" is two days ahead of the first practice session UTC, i.e. the clock that Wikia itself runs on in default.
"During event" refers to the time between the start of the first practice session (when the green flag falls) and the end of the race (when the checkered flag falls).
"After event" is the time between the finishing of the race to two days prior to the next event UTC.
Community content is available under
CC-BY-SA
unless otherwise noted.