The Talbot-Lago T26C (TAL-bo) competed in Formula 1 in 1950 and 1951 in the hands of many teams and constructors.
Talbot-Lago was a car manufacturer created from the collapse in 1935 of car manufacturing group STD (Sunbeam-Talbot-Darracq).
The French Talbot company was acquired by Ventian born engineer Antonio Lago.
In 1935, the current range of cars was gradually replaced by designs from Walter Becchia as Lago developed the engines as the company grew its wings.
In the 1940's Talbot-Lago produced their T26C that would race in many compititions in the hands of varying drivers. A version of this car also took outright victory at the Le Mans 24 Hour in 1950.
The car would be present on the grid during 1950 and 1951 seasons and took podium finishes in the hands of Louis Rosier.
When the rule change made the big T26C extempt in 1952, Talbot-Lago withdrew from Formula 1
Background
Edit
After the war, the French were possibly the keenest of the nations to continue racing and introduced new regulations that allowed 4.5 liter unblown engines into the championship. These rules suited the Talbot straight-6 and Carlo Marchetti was entrusted to increase the original engine's displacement.
He further refined the design in 1948 with a new push-rod valve train and twin-spark ignition.
Similar to prewar convention, the engine was placed in a steel box chassis which was sprung by wishbones upfront and an underslung rigid axle in the rear. The T26C was fitted with large air drum brakes with air scoops to aid cooling and the cars mechs was fitted a Wilson preselector gearbox that occupied large portion of the cockpit.
Prior to Formula One World Championship
Edit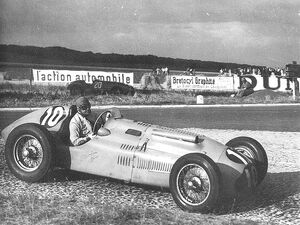 The T26C made its competition debut at the 1948 Monaco Grand Prix. It retired after 16 laps with engine trouble, but at the Coupe du Salon at Montlhery a 1-2-3 was achieved by Louis Rosier, Pierre Levegh and Yves Giraud-Cabantous.
The first major victory came at the 1949 Belgian Grand Prix with Louis Rosier at the wheel who didn't stop for the entire three and half hours. Superior fuel consumption and reliability helped him against savvy competition like the Alfa Romeo 4CLT with it's two-stage supercharged engine.
Rosier's skill in the Talbot-Lago secured him the French Championship that year which also included a signature win at the French Grand Prix in Reims by Louis Chiron.
During the following seasons, Talbot Lago continued their success with upgrades that included horizontal carburetors, increased compression ratio and a stronger crankshaft. Mid-season these were joined by new twin spark, 12 plug cars, which offered 280 bhp. The driveshaft had also been repositioned to let the driver driver's position drop significantly.
Formula One World Championship
Edit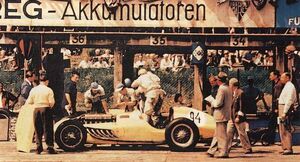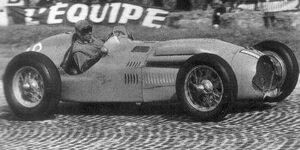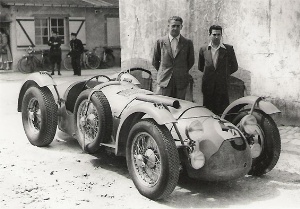 The factory team line-up in 1950, entered under the banner "Automobiles Talbot-Darracq" switched around from race to race but included French drivers Yves Giraud-Cabantous, Eugène Martin, Louis Rosier, Philippe Étancelin and Raymond Sommer who all drove for the factory team at times in 1950.
Henri Louveau, Johnny Claes, Harry Schell, Eugène Chaboud, Pierre Levegh, Guy Mairesse and Charles Pozzi all competed in T26C's during the championship too.
A good start was earned at the first round of the season in Silverstone points were earned by Yves Giraud-Cabantous in 4th and Louis Rosier in 5th but no points were scored in the following Monaco GP.
The Swiss Grand Prix at Bremgareten was a low point with a severe accident for Eugène Martin that would end his Formula 1 career but did see Louis Rosier pick up the teams first podium finish in third.
Onto Belgium and the season high point for Talbot-Lago with Raymond Sommer leading for several laps before the Alfa Romeo's caught him back up. Unfortunately for Sommer, the bid for a great result was ended by the stress put on the engine but it was one of only two points in the season that an Alfa Romeo was not in the lead. Sommers retirement was a gain for another Talbot-Lago driver as Louis Rosier picked up another fine podium in third again. The home Grand Prix in France proved tough with many Talbot-Lago's retiring with overheating but points were scored in a shared drive to fifth by Philippe Étancelin and Eugène Chaboud.
In the final race of the season Philippe Étancelin scored again with another 5th, promoted into the points after retirements of drivers in front, one of which was Raymond Sommer, showing similar form to that he displayed at Spa-Francochamps until another engine failure whilst Louis Rosier came home 4th to secure 4th in the World Championship.
The car was also dressed up into a sportscar in 1950 with Louis Roiser and his son taking outright victory in the Le Mans 24 Hour race.
F1 Summary
Edit
Year
Entrant
Engine
Tyre
Drivers
Rounds
WCC Pts
WCC Pos
Test drivers
Report
1950
Automobiles Talbot-Darracq
Talbot 23CV 4.5 L6

D

Yves Giraud-Cabantous
1, 4-6
N/A
N/A
N/A
Report
Eugene Martin
1, 4
Louis Rosier
4-6
Philippe Étancelin
5
Raymond Sommer
6
Statistics
Edit
Complete Formula One Results
Edit
Community content is available under
CC-BY-SA
unless otherwise noted.