The team and manufacturer was set-up by Amédée Gordini, known as the sorcerer, in the 1930's, Amedee tuning his FIAT.
The team would move onto to make small Grand Prix cars which enjoyed their peak in the 1940's, winning multiple races with a selection of French driving talent old and new.
When the change of rules came in 1952, would be the main French constructor on the grid.
Background
Edit
Amédée Gordini, an engineer joined Simca in the 1930's to tune their engines but left to set-up his own team and manufacturer and tune racing cars. His first car was powered by a FIAT engine.
Gordini was known in France as "The sorcerer" for the way he could squeeze extra performance out of his engines.
The Equipe Gordini team would move onto to make small Grand Prix cars with Simca engines that in GP would enjoyed their peak in the 1940's.
Prior to Formula One World Championship
Edit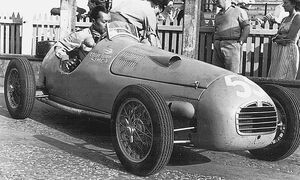 In 1946, Gordini produced his first single-seaters for himself and
Jose Scaron
, powered by the FIAT engine. The cars were successful winning races in Marseilles, Forez,
Dijon
and Nantes with Gordini at the wheel Nice and St. Cloud with Scaron.
The success brought expansion into a new workshop in Paris. With the operation gaining momentum and whilst Scaron and former Le Mans winner Pierre Veyron concentrated on sportscar events Gordini recruited younger French drivers like Robert Manzon and Maurice Trintignant to race his single-seaters in addition to the established French stars like Jean-Pierre Wimille and Raymond Sommer.
All three drivers took victories in the new cars, Wimille proving the most successful winning at Nimes, Longchamps and Rosario before being killed in practice for a race in Buenos Aires in 1949.
In the absence of Wimilie, Trintignant took up the mantle of team leader and increased his win rate for the team.
Formula One World Championship
Edit
Gordini fielded two Type 15 cars for French drivers Robert Manzon and Maurice Trintignant at Monaco but were involved in the first lap chaos at the flooded Tabac corner that accounted for half the field. At the French GP their was a car for Robert Manzon and with the absence of the factory Ferrari teams and the heat causing overheating issues to the Maserati and Talbot-Lago opposition, Manzon scored three points with a credible fourth placed finish.
Both drivers were entered at the Italian GP but sadly both cars retired early at the final race of the season at Monza.
F1 Summary
Edit
| Year | Entrant | Engine | Tyre | Drivers | Rounds | WCC Pts | WCC Pos | Test drivers | Report |
| --- | --- | --- | --- | --- | --- | --- | --- | --- | --- |
List of race wins
Edit
| Win Number | Event | Driver | Notes |
| --- | --- | --- | --- |
Statistics
Edit
Complete Formula One Results
Edit
Community content is available under
CC-BY-SA
unless otherwise noted.