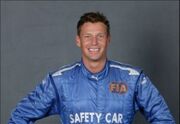 The safety car driver, since 2000, has been the German touring car driver Bernd Mayländer, who has appeared at every race weekend except the 2001 Canadian Grand Prix, where he was replaced by Marcel Fässler. First introduced in 1973, the safety car was officially introduced during the 1993 season.
Safety Car Driver history
[
]
Eppie Wietzes, a former F1 privateer from Canada, was the first ever safety car driver at the 1973 Canadian Grand Prix, with disastrous results.
Next, the Monaco Grand Prix had the Lamborghini Countach, but it is not known who drove the car during this time.
In 1992, British driver Mark Goddard became the first modern F1 Safety Car Driver at the Silverstone GP, albeit the car was not used in the race. He also drove the Safety Car at the European Grand Prix in 1993 at Donington Park and at the 1993 Silverstone GP, the Safety Car being used there for the second time in that year.
Italian racing driver Max Angelelli was a driver of the car during the 1990's, most notably the ill-fated 1994 San Marino Grand Prix. In this race, he drove an Opel Vectra.
It is unknown who drove the Renault Clio Williams safety car in 1996 or the Mercedes-Benz car in Belgium.
Oliver Gavin, who failed to get a super licence, made a living as the Safety Car driver from 1997-1999, before Bernd Mayländer took over from 2000. Mayländer has been tasked with driving the car at every grand prix since then, except for the 2001 Canadian Grand Prix, where he was injured and Swiss DTM driver Marcel Fässler took over.
Mayländer's current co-driver is British FIA employee, and FIA Fuel Analyst, Peter Tibbetts.
Safety car drivers
[
]