The Renault R.S.16 was a car designed by Renault for the 2016 Formula One season. The RS16 was powered by the Renault R.E.16 engine, and their drivers were Kevin Magnussen and Jolyon Palmer.
Pastor Maldonado was originally going to be Renault's driver for 2016 alongside Palmer, but due to lack of sponsorship payments, he was replaced by Magnussen.
The car was launched on 3 February 2016 with an interim livery in the team event at Paris, France with the car based on the Lotus E23 Hybrid. Their 2016 car was driven out on the first pre-season test at Barcelona, and their real car was unveiled before the 2016 Australian Grand Prix with a full-yellow livery.
Season review
[
]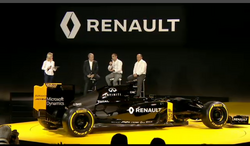 In the first race at Australia, Palmer qualified 14th, and Magnussen qualified 15th. In the race, Kevin Magnussen suffered a puncture, but would finish 12th, behind Jolyon Palmer, thanks to a red flag caused by a big crash involving Haas' Esteban Gutiérrez and McLaren's Fernando Alonso.
At the second round in Bahrain, Palmer failed to start the race due to a hydraulics failure. In China, Magnussen finished 17th and Palmer 22nd and last. In Russia, Magnussen secured the first points finish for the team since the 2011 Brazilian Grand Prix, by overtaking Red Bull's Daniel Ricciardo on Turn 5.
Jolyon Palmer secured his first points-scoring finish by finishing 10th at the Malaysian Grand Prix.
Overall, the Renault RS16 scored a total of 8 points, and Renault finished a low ninth place in the Constructors' Championship.
Complete Formula One Results
[
]
Complete Formula One Results
Year
Driver
Tyre
1
2
3
4
5
6
7
8
9
10
11
12
13
14
15
16
17
18
19
20
21
2016
Magnussen

P

12th
11th
17th
7th
15th
Ret
16th
14th
14th
17th
15th
16th
Ret
17th
10th
Ret
14th
12th
17th
14th
Ret
Palmer
11th
DNS
22nd
13th
13th
Ret
Ret
15th
12th
Ret
12th
19th
15th
Ret
15th
10th
12th
13th
14th
Ret
17th
Sirotkin
TD
TD
Ocon
TD
TD
TD
TD
Notes
[
]