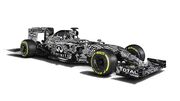 The Red Bull RB11 was a Formula One racing car designed by Red Bull's chief technical officer Adrian Newey which competed in the 2015 Formula One season.[1] It was driven by Daniel Ricciardo and Daniil Kvyat.[2][3]
The RB11 was launched on 1 February 2015 at Jerez de la Frontera with a black and white camouflage livery, but it was later revealed on 1 March that it would use the regular livery of dark blue for the actual season.[4]
The RB11 was not as successful as its predecessor, mainly due to the Renault engine lacking performance. At the Hungarian Grand Prix, the RB11 achieved a double podium finish, with Kvyat finishing 2nd and Ricciardo 3rd. Ricciardo would take another podium at Singapore, finishing third.
Red Bull finished their 2015 season in 4th place in the Constructors table, with 187 points, and without a win for the first time since 2008.
Complete Formula One Results
[
]
Complete Formula One Results
Year
Driver
Tyre
1
2
3
4
5
6
7
8
9
10
11
12
13
14
15
16
17
18
19
2015
Ricciardo

P

6th
10th
9th
6th
7th
5th
13th
10th
Ret
3rd
Ret
8th
2nd
15th
15th
10th
5th
11th
6th
Kvyat
DNS
9th
Ret
9th
10th
4th
9th
12th
6th
2nd
4th
10th
6th
13th
5th
Ret
4th
7th
10th
Notes
[
]