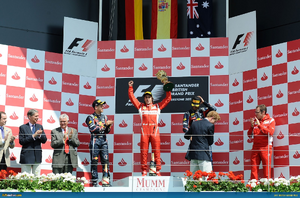 The Podium is the name given to the rostrum on which prizes are awarded to the three highest-placed drivers at the end of a Grand Prix. The terms podium position and podium finish are often used to describe drivers in the top three positions during the race, and at the finish respectively.
If all top-three drivers in a race are current or former world champions, it is said that the race has a champions' podium.[citation needed]
Alexandre Molina who has been working since 1997, has made the podium ceremonies since the 2009 Chinese Grand Prix.[1]
The current record for the most podium finishes is held by Lewis Hamilton with 184 podiums.
Podium procedure
[
]
As of the 2012 season, the top-three drivers and a representative of the winning constructor join a group of dignitaries from the official sponsor or nation of the Grand Prix on the podium. The race winner stands atop the central, highest step, with the second-placed driver on his right and the third-placed driver on his left. The winning constructor stands atop a separate podium.
Following the national anthems of the winning driver and constructor, the trophies are presented in the following order: winner, winning constructor, second place, then third place. The drivers then open their bottles of champagne to celebrate. In countries where alcohol is prohibited, sparkling fruit juice is often used. From the 2019 Australian Grand Prix onwards, a representative of the winning constructor has also sprayed champagne. In the event of a fatality or serious injury at a Grand Prix, the champagne celebration is often skipped altogether.
The top three drivers have a short interview session on the podium for the general public, usually conducted by a member of the media, then attend a separate press conference in the media center. Podium interviews were performed between the 2012 British Grand Prix and 2018 Chinese Grand Prix.
From the 2018 Azerbaijan Grand Prix onwards, the FIA switched to conducting interviews in the parc fermé area, immediately following weighing procedures. Drivers are interviewed in a first come first served basis, not necessarily the finishing order. [2]
Records
[
]
Most Podiums
[
]
Most Podiums in a Single Season
[
]