Philippe Étancelin, (December 28, 1896 at Rouen - October 10, 1981 at Neuilly sur Sienne, France) with his trademark reversed cap was a successful pre and post war Grand Prix driver who maintained his enthusiasm for motorsports long after his retirement from Formula One in 1952.
11 of Étancelin's 12 starts were at the wheel of his trusty Talbot-Lago and he took points in the 1950 French Grand Prix and the 1950 Italian Grand Prix.
Often called by his nickname, "Phi Phi", he was also a winner of the 24 Hours of Le Mans and when it came to ending his career, went out in style.
Before Formula One World Championship
[
]
Étancelin bought a Bugatti Type 35 when he was 20 years old but did not intend on racing instead, instead he used it for leisure. After driving with his wife of speeds of 125 mph, Étancelin decided to take part in local hillclimbs.
He then decided to enter the Grand Prix de la Marne and promptly won the race, establishing himself as one of the fastest drivers in French national racing with his wife Suzanne as crew chief. It was a position they would maintain throughout the early 1930s in Bugatti, Delage, Alfa Romeo and Maserati machinery winning many major races between 1930 and 31.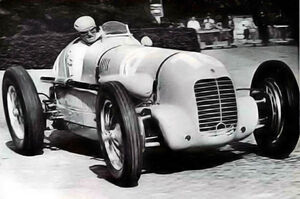 In 1932 Étancelin was still a top privateer but found himself getting beaten more often by works teams and this theme continued In 1933 with few victories. A stand out race in 1933 was the 19th annual French Grand Prix where Étancelin's Alfa narrowly lost following a furious contest with Giuseppe Campari's Maserati, losing the lead on the final lap of the 500 km event. Nevertheless, Étancelin won a second consecutive Picardy Grand Prix, over Raymond Sommer and later beat Jean-Pierre Wimille to victory at the Marne Grand Prix. During the next few years until the war Étancelin was a regular podium finisher but wins became more elusive as the factory German teams of Mercedes and Auto-Union dominated the sport.
dominated GP racing but Phi Phi took a victory at the 1934 Le Mans 24 Hours, sharing an Alfa Romeo with Luigi Chinetti.
During this period he had his share of accidents and good luck, including surviving a big accident at Monza where he rolled.
After the war, despite being nearly 50, he returned to racing in the French national championship purchasing a Talbot-Lago which he would compete in for many years and achieved more podiums plus victories at the Paris Grand Prix at Montlhéry.
Formula One Career
[
]
1950
[
]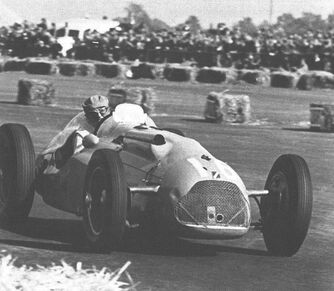 To continue the trend of his pre world championship career, Phi Phi continued to race as a privateer and entered all six European races of the World Championship in a Talbot-Lago. 
At Silverstone he qualified fourteenth and climbed to eighth by the finish, at Monaco he survived the first lap mele where many of the drivers were involved in a multi-car pile-up and was looking at scoring points until a late race retirement with an oil pipe problem and in the Swiss GP he suffered more car trouble with a gearbox forced retirement.
For the Belgian GP Phi Phi was prmotoed to the factory team after the nasty crash suffered by Eugène Martin meant he couldn't race but the Talbot-Lago suffered over-heating problems, a weakness of Talbot-Lago's, resulting in retirement.
At his home French GP, Phi Phi was back as a privateer and shared his car with Eugène Chaboud who drove to fifth, sharing the 2 world championship points and this result was backed up with a fifth at Monza, without Chaboud, finishing the championship on three points.
Death
[
]
Philippe died of old age on October 13, 1981.
Formula One Statistical Overview
[
]
Formula One Record
[
]
Career Statistics
[
]
Career Results
[
]
Complete Formula One Results
Year
1
2
3
4
5
6
7
8
Pts
Pos
1950
3
18th
8th
Ret
Ret
Ret
5th
5th
1951
0
NC
10th
Ret
Ret
Ret
8th
1952
0
NC
8th
Key
Symbol
Meaning
Symbol
Meaning
1st
Winner
Ret
Retired
2nd
Podium finish
DSQ
Disqualified
3rd
DNQ
Did not qualify
5th
Points finish
DNPQ
Did not pre-qualify
14th
Non-points finish
TD
Test driver
Italics
Scored point(s) for Fastest Lap
DNS
Did not start
18th†
Classified finish (retired with >90% race distance)
NC
Non-classified finish (<90% race distance)
4thP
Qualified for pole position
[+] More Symbols
Notes
[
]