Whitehead who was born into a wealthy business family raced in World Championship races in the early 1950's.
A podium finisher in the 1950 French Grand Prix when he started from the back, his most note worthy motor racing success was achieved at the 1951 Le Mans 24 Hour where he achieved outright victory driving a Jaguar.
Before Formula 1 World Championship
[
]
Whitehead was able to fund his racing from family wealth and in 1936 he brought an ERA. Whilst on touring business Whitehead won the 1938 Australian Grand Prix.
Whitehead was the first person Enzo Ferrari ever sold a Grand Prix car to which he used in championship and non-championship races like the BRDC Trophy at Silverstone and the San Remo Grand Prix.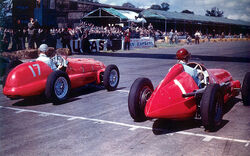 Formula One Career
[
]
1950
[
]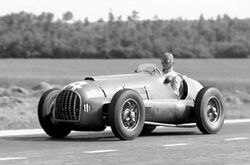 Whitehead, using his privateer Ferrari 125 was listed as an entry but did not start the Monaco GP when his car suffered an oil leak before the race but would start at the French Grand Prix and really shone.
With the Ferrari team pulling out of the race, Whitehead's privateer Ferrari was the only Ferrari on track. Starting from the back of the grid after missing practice, he wowed the crowd with his progress through the field. Whitehead made it past all the Talbot-Lago's, all the Maserati's and Robert Manzon in his Simca-Gordini. Whitehead ended the race on the podium, third behind Juan Manuel Fangio and Luigi Fagioli.
Whitehead also took part at Monza but finished the Italian GP a disappointing 7th, the last classified finisher but his impressive drive in France had earned him 9th in the Championship.
Whitehead continued to use his Ferrari 125 into 1951.
Whitehead was killed during the 1958 Tour de France car rally, when his car crashed into a ravine.
Formula One Statistical Overview
[
]
Formula One Record
[
]
Career Statistics
[
]
Race Wins
[
]
Win Number
Grand Prix
Non-championship
1

1949 Czechoslovakian Grand Prix

2

1950 J.C.C. Jersey Road Race

3

1950 Ulster Trophy
Career Results
[
]
Complete Formula One Results
Year
1
2
3
4
5
6
7
8
9
Pts
Pos
1950
4
9th
DNS
3rd
7th
1951
0
NC
13th
Ret
9th
Ret
DNA
1952
0
NC
Ret
10th
DNQ
1953
0
NC
9th
1954
0
NC
Ret
Key
Symbol
Meaning
Symbol
Meaning
1st
Winner
Ret
Retired
2nd
Podium finish
DSQ
Disqualified
3rd
DNQ
Did not qualify
5th
Points finish
DNPQ
Did not pre-qualify
14th
Non-points finish
TD
Test driver
Italics
Scored point(s) for Fastest Lap
DNS
Did not start
18th†
Classified finish (retired with >90% race distance)
NC
Non-classified finish (<90% race distance)
4thP
Qualified for pole position
[+] More Symbols
Notes
[
]