Ontario Motor Speedway was a race track in the state of California, about 30 miles east of Los Angeles. Opened in 1970, it featured a virtual copy of the 2.5 mile oval at Indianapolis Motor Speedway, plus a road course that measured almost 3.2 miles, using part of the oval plus much of the infield. The pit lane was wide enough to be used for side-by-side drag racing.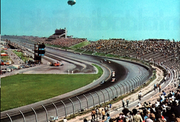 Ontario was financed by more than $25 million in construction bonds. Sadly, the track spent most of it's existence just barely making the minimum payments. In 1979, some shrewd operators at Chevron Land Corp. realized that the track, which still owed well over $10 on the bonds, was sitting on real estate that had become worth more than $100 million. Chevron managed to buy up the outstanding bonds for less than $5 million, and foreclosed on the track in 1980. The track was demolished by sections, taking about a year for complete removal.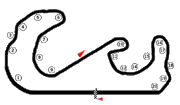 About 80% of the area that the track sat on has been developed with condominiums, corporate office and an 11,000 seat sports arena. Aerial photos still show the path of turn three of the oval, near the intersection of Fourth Street and Haven Avenue.
Community content is available under
CC-BY-SA
unless otherwise noted.