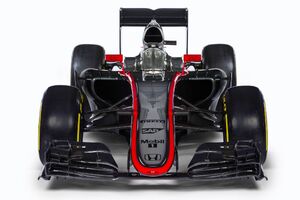 The McLaren MP4-30 is a Formula One racing car designed by McLaren to compete in the 2015 Formula One season. It was driven by Fernando Alonso and Jenson Button, which made McLaren get the single most experienced driver line-up in the history of Formula One.
The MP4-30 was launched on 29 January 2015. The livery is similar to the livery that McLaren had back in their seasons with German tobacco brand West. It was later changed for the Spanish Grand Prix, with one notable difference being the main chrome paint changed to darker "graphite-grey".[1]
The MP4-30 was the slowest car in the Jerez test. It had problems various times during the tests, except that it managed to complete 100 laps during the second day of the second Barcelona test.
Season
[
]
The car had problems during practice for the 2015 Australian Grand Prix, and in the race, Kevin Magnussen failed to start the race due to an engine blowout on his warm-up lap. Meanwhile, Jenson Button finished 11th and last in the race.
Fernando Alonso returned for the 2nd race at the Malaysian Grand Prix, with both Alonso and Button retiring from the race due to a power unit and a turbo problem respectively.
Throughout the season, Alonso endured a DNF streak of four races, retiring from a brake problem in Spain, gearbox problem in Monaco, exhaust problem in Canada and a crash with Ferrari's Kimi Räikkönen in Austria.
Alonso achieved McLaren's highest finish at the Hungarian Grand Prix, ahead of both Mercedes cars of Lewis Hamilton and Nico Rosberg. Button finished in 9th place, which it also marked McLaren's first double points finish this season.
McLaren finished the 2015 season in 9th with 27 points, their lowest since 1980.
Complete Formula One Results
[
]
Complete Formula One Results
Year
Driver
Tyre
1
2
3
4
5
6
7
8
9
10
11
12
13
14
15
16
17
18
19
2015
Alonso

P

INJ
Ret
12th
11th
Ret
Ret
Ret
Ret
10th
5th
13th
18th†
Ret
11th
11th‡
11th
Ret
15th
17th
Magnussen
DNS
Button
11th
Ret
14th‡
DNS
16th
8th
Ret
Ret
Ret
9th
14th
14th
Ret
16th
9th
6th‡
14th
14th
12th‡
Notes
[
]
† — Driver failed to finish the race, but was classified as they had completed more than 90& of the winner's race distance.
‡ — Results adjusted post-race following the application of penalties.