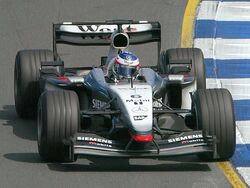 The McLaren MP4-17 was a car built designed by McLaren for the 2002 and 2003 Formula One Season. It was driven by Scot David Coulthard and Finn Kimi Räikkönen. Jean Alesi and Alexander Wurz are the team's test drivers.
They used a developed version of their 2002 car for the 2003 season, dubbed the MP4-17D.
MP4-17 (2002)
[
]
McLaren started their 2002 season with an unsuccessful and unreliable car. Kimi Räikkönen retired from most of the races, meanwhile Coulthard retired from only a few.
Räikkönen finished 3rd on his first McLaren race at the season-opening Australian Grand Prix, meanwhile Coulthard went on to win the Monaco Grand Prix ahead of Ferrari's Michael Schumacher.
McLaren secured their first and only double podium of the season at France, a race that Michael Schumacher would win his 5th title at.
McLaren finished 3rd in the Constructors' Championship with 65 points, a single win and 10 podium finishes.
Staff
[
]
MP4-17D (2003)
[
]
McLaren originally developed the McLaren MP4-18 for the 2003 season, but several problems during tests; crashing several times, engine cooldown issues and failing the FIA side impact crash tests twice, the MP4-18 never raced, and McLaren used their developed version of their car, the MP4-17D.
In the season, Kimi Räikkönen got consistent results, including his first victory at the 2003 Malaysian Grand Prix and two pole positions at Nürburgring and Indianapolis. However, he would lose out to Michael Schumacher in the final race of the season.
McLaren finished their 2003 season with another 3rd place in the Constructors' Championship with 142 points.
Staff
[
]
Complete Formula One results
[
]
Complete Formula One results
Year
Driver
Tyre
1
2
3
4
5
6
7
8
9
10
11
12
13
14
15
16
17
2002
Coulthard

G

Ret
Ret
3rd
6th
3rd
6th
1st
2nd
Ret
10th
3rd
5th
5th
4th
7th
3rd
Ret
Räikkönen
3rd
Ret
12th
Ret
Ret
Ret
Ret
4th
3rd
Ret
2nd
Ret
4th
Ret
Ret
Ret
3rd
2003
Coulthard

G

1st
Ret
4th
5th
Ret
5th
7th
Ret
15th
5th
5th
2nd
5th
Ret
Ret
3rd
Räikkönen
3rd
1st
2nd
2nd
Ret
2nd
2nd
6th
Ret
4th
3rd
Ret
2nd
4th
2nd
2nd
Notes
[
]