Marcus Ericsson (born 2 September 1990[1] in Kumla, Kumla Municipality, Örebro County, Sweden) is a Swedish racing driver who drove for Sauber until the end of 2018. He made his début for the Caterham-Renault team at the 2014 Australian Grand Prix. He previously drove in the GP2 Series.
In 2019, Ericsson made a switch to the IndyCar Series. He won the 2022 Indianapolis 500.
Formula One Career
[
]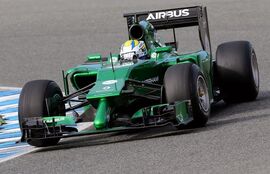 Ericsson drove the Brawn BGP 001 at the 2009 Young Driver Test.
In 2014, Ericsson signed to drive for Caterham. After the Russian Grand Prix, the team went to administration, and Ericsson signed for Sauber for the 2015 season.
Ericsson started his second season at Sauber with an 8th place finish at the season-opening Australian Grand Prix. He scored furthermore points, and he finished his 2015 season in 18th with 9 points.
Driving Style
[
]
Peter Windsor
[
]
Windsor conducted a driving analysis of the different Formula One drivers' during February 2015's pre-season testing.[2] Windsor watched the drivers' as they entered and exited the highly technical corners of turns two and three of the Circuit de Catalunya.[2]
He noted that Ericsson had a "very wide entry into three, he is probably leaning on the left rear quite a lot."[2] Windsor believing Ericsson's style meant he would be compromised further on in the lap.[2] Ericsson was described as "fun to watch", however would likely encounter "differences" in approach from the other drivers'.[2]
Formula One Statistical Overview
[
]
Formula One Record
[
]
Career Statistics
[
]
Correct as of the 2018 Abu Dhabi Grand Prix qualifying
Career Results
[
]
Complete Formula One Results
Year
1
2
3
4
5
6
7
8
9
10
11
12
13
14
15
16
17
18
19
20
21
Pts
Pos
2014
0
19th
Ret
14th
Ret
20th
20th
11th
Ret
18th
Ret
18th
Ret
17th
20th
15th
17th
19th
2015
9
18th
8th
Ret
10th
14th
14th
13th
14th
13th
11th
10th
10th
9th
11th
14th
Ret
Ret
12th
16th
14th
2016
0
22nd
Ret
12th
16th
14th
12th
Ret
15th
17th
15th
Ret
20th
18th
Ret
16th
17th
12th
15th
14th
11th
Ret
15th
2017
0
20th
Ret
15th
Ret
15th
11th
Ret
13th
11th
15th
14th
16th
16th
18th
Ret
18th
Ret
15th
Ret
13th
17th
2018
9
17th
Ret
9th
16th
11th
13th
11th
15th
13th
10th
Ret
9th
15th
10th
15th
11th
13th
12th
10th
9th
Ret
Ret
Key
Symbol
Meaning
Symbol
Meaning
1st
Winner
Ret
Retired
2nd
Podium finish
DSQ
Disqualified
3rd
DNQ
Did not qualify
5th
Points finish
DNPQ
Did not pre-qualify
14th
Non-points finish
TD
Test driver
Italics
Scored point(s) for Fastest Lap
DNS
Did not start
18th†
Classified finish (retired with >90% race distance)
NC
Non-classified finish (<90% race distance)
4thP
Qualified for pole position
[+] More Symbols
Notes
[
]
External links
[
]