Louis Rosier (ROSE-ee-ay; born November 5, 1905 in Chapdes-Beaufort, Puy-de-Dôme, Auvergne, France – died October 29, 1956 in Neuilly-sur-Seine, Hauts-de-Seine, Île-de-France, France) was a French driver who competed in Formula One at the sport's inception.
Before Formula One World Championship
[
edit
|
edit source
]
Louis was from the Auvergne region of central France and was the son of a wine merchant where he started driving the company's truck becoming an apprentice in the garage. Louis started competing in Hill climbs on a Harley Davidson in 1927 and opened his own transport company in Clermont-Ferrard. In 1938 he tried racing cars and entered the Le Mans 24 Hour.
During the war Louis worked with the French Resistance. Whilst France was occupied his wife and daughter were taken hostage and sent to Germany. After the war, Louis traveled to Germany to find them.
In 1946 Louis entered the Monte Carlos rally in a Talbot and started racing a Talbot-Lago in French national championships and took his first victories in Albi 1947 and Forez 1948.
In 1949 Louis took his highest profile race win in the Belgian GP and won the French national championship.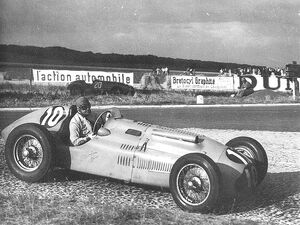 During 1950 Louis drove for a Talbot-Lago, sometimes as a privateer and sometimes for the factory team and was the manufacturers most successful driver that season.
At Silverstone, the first race of the season, driving a privately entered Talbot, Rosier came 4th behind the dominant Alfa Romeo's and another Talbot-Lago of Yves Giraud Cabantous securing 2 early championship points.
The championship moved onto Monaco where on the first lap, second placed Nino Farina spun his Alfa Romeo on the Tabac corner which had been flooded by a tidal wave. Rosier was one of the many retirements in the multi-car accident.
In Bremgarten Rosier proved the fastet Talbot-Lago's when the Ferrari's and Juan Manuel Fangio retired promoting him to a  podium & another 4 points.
Onto Belgium and Rosier had been promoted to the factory team after Eugène Martin had suffered horrendous injuries during a crash in Switzerland. In Belgium Rosier proved a match for the Ferrari's, battling with them from the outset but it was Raymond Sommer in another Talbot-Lago who was stealing the show, briefly leading until he blew his engine. When Farina hot trouble and slowed, Rosier, who had now gapped the Ferrari's was able to pass the Alfa and secure another third place finish and now 4th in the Championship.
In his home Grand Prix, Rosier was just outside the points in 6th and in the final race of the season, although being out driven by Raymond Sommer in the sister Talbot-Lago, he again was the highest placed Talbot finisher in 4th, securing his 4th place finish in the Championship.
Rosier had a strong year, although he was never the fastest Talbot-Lago, he seemed to have a better understanding of the cars limits and impressively beat the factory drivers of Ferrari and Maserati. His only retirement coming in the multi-car pile-up at Monaco.
Rosiers skill for knowing the cars limits was never more apparent than during is 1950 Le Mans 24 Hour success at the wheel of a privately entered Talbot with his son Jean-Louis Rosier. Rosier senior driving for 23 hours and 15 minutes of the enduro.
Formula One Statistical Overview
[
edit
|
edit source
]
Year
Entrant
Team

WDC

Points

WDC

Pos.
Report
Complete Formula One results
Year
1
2
3
4
5
6
7
8
9
Pts
Pos
1950
13
4th
5th
Ret
3rd
3rd
Ret
6th[1]
4th
1951
3
13th
9th
4th
Ret
10th
8th
7th
7th
1952
0
NC
Ret
Ret
Ret
DNA
10th
1953
0
NC
7th
8th
8th
10th
10th
Ret
16th
1954
0
NC
Ret
Ret
Ret
8th
8th
7th
1955
0
NC
Ret
9th
9th
1956
2
19th
Ret
8th
6th
Ret
5th
Key
Symbol
Meaning
Symbol
Meaning
1st
Winner
Ret
Retired
2nd
Podium finish
DSQ
Disqualified
3rd
DNQ
Did not qualify
5th
Points finish
DNPQ
Did not pre-qualify
14th
Non-points finish
TD
Test driver
NC
Non-classified finish (<90% race distance)
DNS
Did not start
Italics
Scored point(s) for Fastest Lap
[+] More Symbols
Community content is available under
CC-BY-SA
unless otherwise noted.