Alexandre Louis Chiron (born 3 August 1899, died 22 June 1979 in Monte Carlo, Monaco) was a Monegasque racing driver who competed in numerous Grand Prix from 1926 until 1938, before entering the Formula One World Championship in 1950. Chiron competed in nineteen Formula One Grands Prix between 1950 and 1958, securing one podium finish during his career, at his home Grand Prix in 1950.
In addition to his Grand Prix racing, Chiron also competed in nine editions of the 24 Hours of Le Mans, but failed to finish each time. He would, however, claim victory in the Monte Carlo Rally of 1954, becoming one of the oldest ever winners of the rally, aged 55.[1] Chiron would claim another age related record when he became the oldest driver to compete in a Grand Prix, the 1958 Monaco Grand Prix, at the age of 58, although the veteran racer failed to qualify.
After his retirement from Formula One in 1958 Chiron continued to be active in motor racing, helping with the organisation of the Monaco Grand Prix through to the mid-1970s, often waving the starting flag. In 1979, Chiron died in his home town of Monte Carlo at the age of 79.
In 2016 French supercar manufacturer Bugatti would name their newest supercar after the Monegasque racer, whose exploits in pre-war Bugattis had made him one of the standout names in the "Age of the Titans".[2][1]
Before Formula 1 World Championship
[
edit
|
edit source
]
As a teenager, Monegasque Louis Chiron fell in love with racing cars. He learned to drive at a young age and joined the Grand Prix circuit after WWI when he had worked as a chauffeur for the French artillery.
In 1926 he won his first local race and from then on he drove Bugattis and Alfa Romeos to important wins in Marseille and Spain, he partnered up with endurance specialist Luigi Chinetti to win the Spa 24 Hour in 1933, and he took 7th in the 1929 Indianapolis 500 in a Delage.

His most famous victory came in 1931 where he took the nimble Bugatti Type 35 to an extraordinary win at Monaco. This was against the powerful factory Alfa of Luigi Fagioli, which resulted in the Bugatti team manager leaping the barrier and running on the track to greet his charge.
Chiron officially retired in 1938 before the onset of war, but made a comeback after the war racing for the French Talbot-Lago team, winning two French Grands Prix before signing for Maserati.
In 1949, after finishing second in the Monte Carlos Rally, Louis denounced female driver Helle Nice as having been a Gestapo Agent during WWII at an awards ceremony party. His unsubstantiated allegations destroyed Nice's career.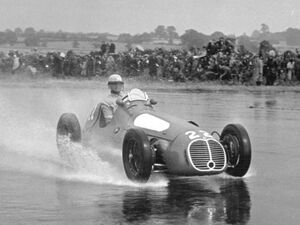 In 1950 Louis Chiron raced for the factory Maserati team in a Maserati 4CLT/48 which struggled throughout the season to match the pace of the Ferrari 125, Talbot-Lago 26C and Alfa Romeo 158 entries.
Chiron did however pick-up Maserati's only podium of the season when he picked his way through the mele at Tabac corner at Monaco when the track became flooded by a tidal wave that crashed across the circuit on the first lap.
Chiron struggled through the rest of the season, often out paced by other Maserati's like Felice Bonetto and Prince Bira but his fine podium at Monaco was enough to earn him joint 9th in the championship.
Formula One Statistical Overview
[
edit
|
edit source
]
Year
Entrant
Team

WDC

Pts.

WDC

Pos.

Report
1950
Officine Alfieri Maserati
Maserati
4
10th
Report
1951
Enrico Platé
Maserati
0
NC
Report
Ecurie Rosier
Talbot-Lago-Talbot
1953
Louis Chiron
OSCA
0
NC
Report
1955
Scuderia Lancia
Lancia
0
NC
Report
1956
Scuderia Centro Sud
Maserati
0
NC
Report
1958
André Testut
Maserati
0
NC
Report
Complete Formula One results
Year
1
2
3
4
5
6
7
8
9
10
11
Pts
Pos
1950
4
10th
Ret
3rd
9th
Ret
Ret
1951
0
NC
7th
Ret
6th
Ret
Ret
Ret
Ret
1952: Did not compete
1953
0
NC
15th
DNS
DNS
10th
1954: Did not compete
1955
0
NC
6th
C
C
C
C
1956
0
NC
DNS
1957: Did not compete
1958
0
NC
DNQ
Key
Symbol
Meaning
Symbol
Meaning
1st
Winner
Ret
Retired
2nd
Podium finish
DSQ
Disqualified
3rd
DNQ
Did not qualify
5th
Points finish
DNPQ
Did not pre-qualify
14th
Non-points finish
TD
Test driver
NC
Non-classified finish (<90% race distance)
DNS
Did not start
Italics
Scored point(s) for Fastest Lap
[+] More Symbols
Community content is available under
CC-BY-SA
unless otherwise noted.