This article has been nominated for Featured Article status. If you'd like to view and comment on this discussion, it can be found
here
.
"Hamilton" redirects here. For other uses, see Hamilton (disambiguation).
Sir Lewis Carl Davidson Hamilton MBE HonFREng (born 7 January 1985 in Stevenage, Hertfordshire, England, United Kingdom) is a British racing driver who currently drives in Formula One for the Mercedes team, having driven for McLaren from 2007 to 2012. He is a seven-time Formula One World Drivers' Champion, taking the title in 2008 with McLaren, and in 2014, 2015, 2017, 2018, 2019 and 2020 with Mercedes.
He was quite successful in kart racing, securing a Formula One contract at a very young age after being entered into the McLaren development program. He was the youngest driver to win the Formula One World Championship at the age of 23 years and 300 days, a record that has since then been broken by rival Sebastian Vettel.
Hamilton is the first black Formula One racing driver. As a result, he has been subjected to racist abuse throughout his career. In 2008, he was racially, verbally attacked by fans in Spain and a website. This led to the Race Against Racism campaign, launched by the FIA. He however, was not the first black driver in Formula One, as former IndyCar racer Willie T. Ribbs first tested F1 in the 1980s. Hamilton is the first black driver to receive a full-time drive.
Throughout his career, he has had a fair bit of visits to the stewards. At one point during his 2009 season, he considered leaving the sport after lying to the stewards about an incident during the 2009 Australian Grand Prix.
During the 2011 season, he had a strong rivalry with Brazilian driver Felipe Massa on Ferrari. The pair came together several times during the season, but later patched things up.
In 2013, he signed a contract with Mercedes for three years. He replaced the retiring Michael Schumacher, as Nico Rosberg's teammate. The two had previously been partnered in their karting careers.
For the 2014 season, drivers were required to choose a permanent racing number. Hamilton chose 44 because that had been his number during his karting career.
At the 2017 Belgian Grand Prix, he equalled Michael Schumacher's record of having the most pole positions overall, and broke the same record at the following race in Italy, then broke the record of most front row starts at the 2017 United States Grand Prix. He then equalled Schumacher's record of most victories at the 2020 Eifel Grand Prix, and broke it at the Portuguese Grand Prix. Schumacher's record of most championships was later equaled a few races later at the Turkish Grand Prix. At the 2021 Spanish Grand Prix, Hamilton achieved his 100th pole position, before achieving his 100th race victory at the 2021 Russian Grand Prix. He is by far the only driver to have won at least one race in every season entered.
Hamilton was awarded a knighthood by the Queen in 2021, becoming the first active driver to be knighted. He also runs the Team X44 in the newly-established Extreme E series in 2021.
Background
[
]
Lewis Carl Davidson Hamilton was born in Stevenage, Hertfordshire, England, UK to Carmen Larbalestier and Anthony Hamilton. Hamilton was named after the American runner Carl Lewis. His parents divorced when he was two years old and was raised by his mother with his half-sisters Nicola and Samantha.
When he was twelve years old, his father gained custody for Hamilton. He was raised by his father and step-mother Linda and lived with his step-brother Nicolas Hamilton. His step brother began his racing career in 2011 racing in the Renault Clio Cup.
Hamilton's father was responsible for Lewis' interest in racing, after he purchased him a remote controlled racing car. Hamilton entered this car in many competitions in 1991, winning some against adult competitors.
Formula One Career
[
]
Before Formula One
[
]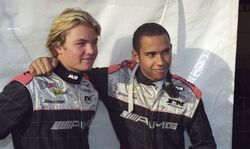 In 1993, Hamilton began his racing career racing karts in the Cadet class championship. He first met the McLaren team boss, Ron Dennis at the age of ten when Hamilton asked him for an autograph. Dennis called Hamilton after he had won the Super One series championship and signed him to the McLaren development program. This program was a contract that promised Hamilton a seat with the McLaren Formula One team at a later date, which made Hamilton to the youngest driver to secure a Formula One contract.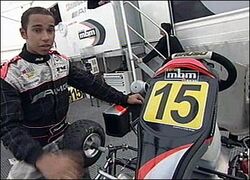 Hamilton advanced through the different ranks of karts and eventually joined the TeamMBM.com karting team in 2000, where he was partnered with Nico Rosberg. In 2001, Michael Schumacher made a special appearance in kart racing and raced against Hamilton.
"He's a quality driver, very strong and only 16. If he keeps this up I'm sure he will reach F1. It's something special to see a kid of his age out on the circuit. He's clearly got the right racing mentality." - Michael Schumacher
In 2004, Hamilton was signed with the Formula Three team Manor Motorsport. He returned the sport again the following year with ASM Formule 3, managing to win 75% of his races that season and winning the championship.
Because of his success in Formula Three, ART Grand Prix signed him for the 2006 in GP2. He was dominant and won the season. In late September 2006, he was signed with the McLaren Formula One team as the secondary driver.
2007
[
]
Hamilton was offered a position on McLaren for the 2007 season, racing alongside the defending World Champion, Fernando Alonso. Hamilton became a piece of history during his first Formula One race at the Australian Grand Prix, as he finished on the podium (3rd position) and became the thirteenth driver to finish on the podium in their début, the first driver since Jacques Villeneuve to finish on the podium on debut.
Hamilton then placed second in the following four grand prix events, taking the lead in the World Championship and becoming the youngest driver to lead the World Championship.
He earned his first pole position in the Canadian Grand Prix, followed by his first victory on race day. This was followed by another victory at the United States Grand Prix the next weekend.
Following his third place finish in his home Grand Prix, he tied Jim Clark's record of 9 consecutive podium finishes.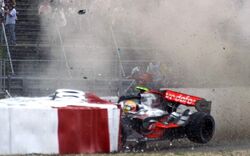 Later in the season, he was in a serious accident while qualifying for the European Grand Prix. He was later released from the medical centre and cleared to race. During the race, the weather conditions deteriorated and Hamilton slid off of the track and into a gravel trap. He was lifted from the trap with a crane and placed on the track to rejoin the race. He was the only driver to rejoin the race after receiving mechanical assistance before the FIA banned this action. The race was later stopped because the conditions were too severe, meaning Hamilton finished in 9th position. This was the first time that he was not on the podium since joining Formula One.
Hamilton faced his first race retirement during the Chinese Grand Prix after skidding off the track and into a gravel trap on lap 30. Unable to receive mechanical assistance, he was stuck in the trap.
Hamilton was unable to win the World Championship, finishing only one point behind Kimi Räikkönen.
2008
[
]
During pre-season testing in the Circuit de Barcelona-Catalunya for the upcoming season, Hamilton was verbally abused by Spanish spectators wearing black wigs, face-paint and t-shirts. In response to these attacks, the FIA began the "Race Against Racism" campaign. The attacks originated because of Hamilton's rivalry with his previous teammate, Fernando Alonso.
"In 2008 we cannot have these kind of people in our world. It's not only formula one, not only sport, it's normal life as well." - Fernando Alonso
At the start of the 2008 season, Hamilton signed a five-year, multi-million pound contract with McLaren. His teammate for the season would be Heikki Kovalainen after leaving Renault at the end of the 2007 season.
Hamilton was off to a great start of the season after gaining the pole position and winning the Australian Grand Prix. He regained the lead of the World Championship standings after winning the Monaco Grand Prix. He however had a few scruffy moments, such as crashing to the rear of Alonso at Bahrain, damaging his front wing and retiring in Canada after ramming onto the rear of Raikkonen at the pit lane exit.
He later gained the most meaningful win of his career in the British Grand Prix under poor weather conditions.
"It is by far the best victory I've ever had. The conditions were bad and as I was driving I thought, 'If I win this, it will be the best race I've ever done'. On my last lap, I could see the crowd starting to rise to their feet, and I was just praying, praying, praying I could get the car round. I want to dedicate this to my family because we all know I've had some troubles of late, so this is for them." - Lewis Hamilton
Hamilton won the Belgian Grand Prix, but would later lose this victory after the FIA penalized him for cutting a chicane to avoid hitting Räikkönen. He was handed a 25-second penalty and dropped down to third position.
Hamilton won the World Championship in the Brazilian Grand Prix. Hamilton required a 5th place finish in the race to win the Championship. It looked as though he was not going to complete his goal, as he was in 6th position on the final lap, but he managed to make a pass on the final corner over the Toyota of Timo Glock, and become the youngest World Champion. He grabbed the Championship only one point above Felipe Massa.
2009
[
]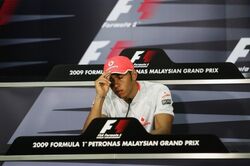 It seemed like Hamilton would have a poor start to the 2009 season when he started from 18th position on the grid because the team decided to change gearboxes during the qualification session. He had better luck in the race, finishing 3rd after Jarno Trulli received a penalty for passing Hamilton while the safety car was on the track. During the stewards' hearing for Trulli's penalty, Hamilton and McLaren told the FIA that they did not allow Trulli to pass, but a later investigation proved the opposite. Hamilton was then disqualified from the 2009 Australian Grand Prix and lost his 3rd position.
According to Hamilton, this was the "hardest week of his life" and he had considered leaving Formula One. To prevent Hamilton from leaving the sport, McLaren's sporting director, Dave Ryan was forced to take full blame for the incident.
The further first half of the season was poor, as McLaren attempted to catch up to the rest of the teams' technologically, but their fortunes would be eventually reversed in the other half of the season. Hamilton took his first win of the season in Hungary, his first as a world champion, and his first since the 2008 Chinese Grand Prix. He looked set to win from pole at Valencia, until a pit stop error made him concede the win to the Brawn GP of Rubens Barrichello. After suffering two consecutive retirements, being eliminated in a first lap accident at Belgium, and crashed out in the closing laps at Monza, Hamilton managed to win from pole in Singapore. Hamilton would then accomplish two more podium finishes at Japan and Brazil before suffering his first mechanical retirement in his Formula One career during the inaugural 2009 Abu Dhabi Grand Prix.
He managed to finish 5th in the World Championship, a weaker finish than his previous seasons.
2010
[
]
For the 2010 season, Hamilton would be racing alongside a new teammate, Jenson Button, who was crowned world champion the previous season.
The 2010 season was followed by frequent visits to the stewards for warnings. He first visited the stewards after the Malaysian Grand Prix, after weaving down a straight to prevent Vitaly Petrov from using the slipstream to gain time on Hamilton. He again visited the stewards in China after he was involved in a pit accident with Sebastian Vettel, but he managed to keep his 2nd place finish. His first win of the season came at Turkey, after both Red Bull drivers collided while fighting for the lead and briefly battling with Button for the remainder of the race.
Hamilton was reprimanded and his team fined during qualifying for the Canadian Grand Prix when he was forced to stop his car on the track because of a lack of fuel. He went on to win the race and earn McLaren their third 1-2 finish of the season.
Drama sparked in the European Grand Prix between his ex-teammate, Fernando Alonso. Alonso accused Hamilton of not following the safety car to gain time. This led to a drive-through penalty for Hamilton after a lengthy investigation, but he still managed to remain and come in second, thanks to the Sauber of the Japanese driver Kamui Kobayashi holding up the field behind him. Ferrari were still angry because they claimed that the penalty did not alter the race results. The pair later made up:
"We are in touch – he has my number and I have his number. I just messaged him to see how he was doing and he said everything's cool. He knows how the racing world works, and this is a tough year." - Lewis Hamilton
Hamilton's record as the youngest driver to win the World Drivers' Championship was broken during the Abu Dhabi Grand Prix by Red Bull's Sebastian Vettel.
2011
[
]
During a press conference, Hamilton received some negative attention after calling Red Bull "just a drinks company":
"I am 100 per cent certain that neither McLaren nor Ferrari will ever let that happen. They have not been there as long as our teams. Our teams have got status they would like to keep.
For many, many years it has been McLaren and Ferrari at the front and now we have got a new team that has come and knocked us off the top. But I am really certain that either team will do absolutely everything in their power to make sure they can remain at the top.
Red Bull are not a manufacturer, they are a drinks company. It's a drinks company versus McLaren/Ferrari history. I don't know what their plan is. Our team is building to become a bigger manufacturer, like Ferrari, and I can only see our team being there for a ridiculous amount of time. It is a pure-bred racing team." - Lewis Hamilton
Hamilton won his first race of the season in China.
He was punished by the stewards multiple times during the season. He felt that he was being attacked by the FIA:
"It's an absolute f******' joke. I've been to see the stewards five times out of six this season.
Maybe it's because I'm black. That's what Ali G says." - Lewis Hamilton
Hamilton was involved in the dramatic Monaco Grand Prix. He bumped Felipe Massa in the hotel hairpin and received a 20 second penalty, but was later crashed by Jaime Alguersuari. His car would have been damaged out of the race, but a red flag for another accident allowed the team to repair the damaged rear wing.
Tempers flared after his teammate, Jenson Button bumped him into the pit wall while defending his position in Canada. The pair later made up.
That year also saw Hamilton clashing a few more times with his 2008 title rival Massa. After clashing at the final lap at Silverstone, there would be more drama after Hamilton wrecked Massa in the Singapore Grand Prix. Massa stated that Hamilton was "incapable of using his brain". A small confrontation occurred during Hamilton's post-race interview, when Massa came behind him and sarcastically telling him "Good job", leading to Hamilton telling Massa to leave him alone, saying, "Don't touch me, man!". He tangled again with Massa in the Japanese Grand Prix that year where he told the press that Massa needed to "grow up" and insulted the Brazilian's career. This feud continued for the duration of the season, the pair colliding again in India (this time, it was Massa who received a penalty), until the final race of the season in Brazil where the pair hugged during the post-race conference.
"I was pleased that Lewis came around to see me. It was a very nice gesture on his part." - Felipe Massa
2012
[
]
Hamilton continued his McLaren career alongside Jenson Button. The 2012 season was off to a great start, after Hamilton qualified for pole position for the first race of the season in Australia. However, he was unable to win the race and finished the race in 3rd position. The same thing happened in the following race at Malaysia, gaining pole and 3rd place finish.
Hamilton finished 3rd once again in the next race at China, making this his third consecutive third place finish. This streak came to an end in the 2012 Bahrain Grand Prix, when Hamilton finished in 8th position after suffering from many poor pitstops. There was controversy after Hamilton was forced off of the track while attempting to overtake Nico Rosberg. No penalty was given to either driver and Rosberg won the Grand Prix.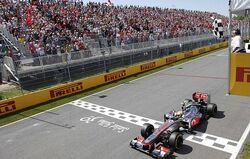 Hamilton had qualified in pole position for the 2012 Spanish Grand Prix, but was forced to stop track-side because of low fuel. After this incident had occurred during the 2010 Canadian Grand Prix qualifying, the FIA had introduced a new rule banned this. Hamilton was then excluded from the qualifying results and forced to start for P24 on the grid. Despite this set back, he still managed to finish inside the points positions.
After the drama in Monaco this previous season, it was important for Hamilton to had a clean and high finishing race. He succeeded in doing so, finishing the event in 5th position.
His first victory of the season came in the 2012 Canadian Grand Prix, after he took the lead from Fernando Alonso with only 6 laps remaining. He snatched he second win of the season in the Hungarian Grand Prix, with pole position and the win.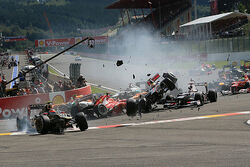 In the following race at Belgium, Hamilton and three others were involved in an accident in the first corner. After an investigation, it was determined that Romain Grosjean was the cause of the accident and was handed a one race suspension.
Following this unfortunate accident, Hamilton was gifted with his third win of the season in the following race in Italy. He was set to win another race in Singapore, but suffered a mechanical failure midway through the race.
In late September, it was announced that the 2012 season would be Hamilton's final season with McLaren, as the five year contract signed in 2008 would expire at the end of the season. McLaren would not be renewing the contract. Shortly after this announcement, Hamilton signed a three-year contract with Mercedes, starting for the 2013 season. He would be replacing the legendary Michael Schumacher who was retiring once again from the sport.
Hamilton won the United States Grand Prix and gained a pole position for the final race of the season in Brazil. He was involved in an accident during the closing laps for the race and was forced to retire, putting him into 4th position for the drivers' championship.
2013
[
]
Hamilton's three year contract with Mercedes began for the 2013 season, as he partnered with Nico Rosberg.
The season began average for Hamilton, managing to earn and fifth position and two third positions in the first three races of the season. On the third race of the season, in China Hamilton earned his first pole position with team Mercedes.
At the Monaco Grand Prix, teams Red Bull and Ferrari filed a complaint with the FIA. They claimed that Mercedes had participated in an illegal tyre test. The FIA did not penalize the drivers or team, but did warn the team about breaking the regulations.
Hamilton achieved a pole position and win in the Hungarian Grand Prix, his first win for the team and the first British Mercedes driver to win a race since Stirling Moss in 1955.
Hamilton suffered his first and only retirement of the season in the Japanese Grand Prix, after colliding with Sebastian Vettel on the first lap of the race.
Hamilton finished the season in 4th position in the Drivers' Championship, finishing two positions above his teammate who finished 6th. The combined effort of Hamilton and Rosberg placed Mercedes in 2nd position for the Constructors' Championship, this being the teams highest finish since their return to the sport.
2014
[
]
With the return of the V6 turbocharged engines, all of the teams taking part in the 2014 season were required to redesign their cars. During pre-season testing, Mercedes had the best cars and were able to put in the most miles.
For the 2014 season, drivers were also required to select a permanent number for their car. Hamilton chose number 44 because it was his number when he races karts.
For the first race of the season, Hamilton snatched the pole position and was predicted to win the race since he had the most competitive car. However, things when poorly when Hamilton lost the lead to his teammate Nico Rosberg right off of the grid. Hamilton suffered from some engine issues, and was forced to retire to the pits on lap 2, leaving his teammate to win the race.
Things improved in the next four races, winning all four of them and putting him in the lead of the World Championship.
In the final qualifying session in Monaco, his teammate Nico Rosberg spun off the track, which brought out yellow flags and stopped Hamilton from getting pole position.[1] There was controversy over this, as many felt Rosberg spun off the track to prevent Hamilton from getting pole position. However, Rosberg kept pole position after the stewards ruled that he did not commit an offense.[2] Hamilton finished second behind Rosberg in the race.[3] While driving in the first qualifying session for the German Grand Prix, Hamilton crashed into the barrier at the Sachs corner after suffering a brake failure, having qualified 15th.[4] However, a gearbox change dropped him down to 20th,[5] but he managed to finish the race in third place.[6][7] He was forced to start from the pit lane in Hungary when an oil leak caused his car to set on fire before he could set a time during qualifying.[8] However, he was able to finish the race in third place ahead of Rosberg, even though he was given team orders to let Rosberg overtake him.[9]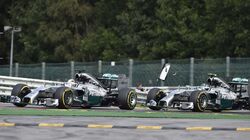 In the Belgian Grand Prix, Hamilton snatched the lead from Rosberg at the start, but later received a puncture on lap 2 after Rosberg clipped his tyre at Les Combes. The debris damaged his car floor, forcing him to eventually retire from the race at the end of lap 39.[10] Hamilton set pole position in Italy, but fell back into fourth place at the start due to a technical problem. However, he was to able to catch up, and took the lead after Rosberg went straight across the chicane at Turn 1, going on to win the race.[11] Hamilton took his seventh win of 2014 as well as the Drivers' Championship in the Singapore Grand Prix,[12] after Rosberg retired with electrical problems.[13] Hamilton went on to take three more consecutive wins in Japan,[14] Russia[15] and the United States, earning his 32nd career victory compared to other British drivers.[16][17] He finished second behind Rosberg in Brazil, after he spun off the track on lap 28 while Rosberg was taking a pit stop, which Hamilton took his pit stop at the end of the same lap the spin occurred on.[18] He won the final race in Abu Dhabi, becoming World Champion of 2014 as well as the fourth British driver to win more than one title. He stated in the podium interview that "it is the greatest day of my life."[19]
2015
[
]
Despite being able to choose #1 for 2015 after becoming World Champion in 2014, Hamilton decided to keep #44 as his racing number, explaining that it is his favourite number and had been used in his previous days of kart racing,[20] and later saying that #1 is irrelevant for him.[21][22] He also wrote an exclusive column of the season for BBC Sport.[23] In pre-season testing, the Mercedes F1 W06 Hybrid made more laps than any other car, and used just one power unit.[24]
Hamilton enjoyed a continuation of Mercedes's dominance heading into the 2015 season, as the new W06 Hybrid completed more laps in pre-season testing than any rival car, and did so using just one power unit. At the opening race in Australia, Hamilton qualified in pole position, 0.594 seconds quicker than teammate Rosberg and 1.391 seconds clear of Felipe Massa's Williams in third. Hamilton then won the race ahead of Rosberg in second, with Sebastian Vettel's Ferrari in third, 34 seconds back. In Monaco he lost first position to his teammate Rosberg after leading the race for 65 laps due to a pit-stop error made by his team, eventually finishing third.
Ahead of the Monaco Grand Prix, Mercedes announced they had extended the contract with Hamilton for three additional years, keeping him at the squad until the end of the 2018 season. This followed months of widely publicised contract talks between the driver, who chose to negotiate on his own behalf, and the team. The deal is reportedly worth more than 100 million pounds over the full three years, making Hamilton one of the best paid drivers in Formula One. It was also reported that the extension contract granted Hamilton the right to maintain his own image rights, which is considered unusual in the sport, and keep his championship winning cars as well as the trophies he collects.
After a win-less start to the European round, Hamilton went on to win the British Grand Prix for the second time in a row and third overall, also surpassing Jackie Stewart's 45-year-old record of laps led in eighteen consecutive Grands Prix. He finished 6th in an eventful Hungarian Grand Prix, ending his run of 16 consecutive podium finishes, the second-longest in F1 history. Hamilton won the next two races at Spa and Monza and extended his championship lead over Nico Rosberg, who was forced to retire in the latter race due to engine failure, to 53 points. At the Singapore Grand Prix, Hamilton was only able qualify in 5th ahead of teammate Nico Rosberg, and had moved up to 4th in the race before he was forced to retire due to a power unit issue. By winning the United States Grand Prix, Hamilton secured his third Drivers' Championship with three races left to run.
2016
[
]
2016 started rather poorly for Hamilton. Despite taking pole for the first two races at Australia and Bahrain, be was beaten to the flag by Rosberg, who went on to take four consecutive victories from the start of the season. Hamilton suffered a technical issue in China and did not set a time in qualifying, and had to start from the back of the grid, but raced to 7th place.
At the Spanish Grand Prix, Hamilton managed to achieve pole position, but at the start of the race, he was overtaken by Rosberg. As he attempted to regain the lead, he was forced off-track by Rosberg before Turn 4, causing him to lose control and collect his team mate, ultimately forcing them both into retirement.
Hamilton was finally able to take the first victory of the season at Monaco, thanks to a lengthy pit stop for polesitter Daniel Ricciardo. He won again in Canada but finished 5th at Baku due to an accident he had in qualifying. Hamilton and Rosberg clashed again in Austria, when both of them made contact at Turn 3 of the circuit on the final lap. Hamilton went on to win, while Rosberg limped to 4th place and was penalized for the incident. The controversy prompted Mercedes team principal Toto Wolff to threaten to suspend the drivers or impose team orders.
"Someone needs to give me some answers because this is not acceptable. We are fighting for the championship and only my engines are failing. It does not sit right with me."
Lewis Hamilton
, on his suspicion that a conspiracy was planned on preventing him on winning the world championship, following his retirement in the
2016 Malaysian Grand Prix
After three further victories, Hamilton found himself behind Rosberg again for three races at after the end of the summer break. Hamilton took pole at Malaysia, but on Lap 41, with 16 laps remaining, Hamilton's engine failed, and he cried "Oh no, no!" on the team radio. Hamilton finished a difficult third in Japan, having met with controversy for playing with his Snapchat during the pre-race press conference. Despite winning the following races, Rosberg finished behind Hamilton, and at Abu Dhabi, Hamilton needed to win with Rosberg finishing fourth or below to be crowned champion. In the closing stages of the race, Hamilton tried holding up Rosberg so that he could be overtaken by other chasing rivals, but it was less successful, and Rosberg was declared champion, scoring five points over Hamilton's.
2017
[
]
For the 2017 season, Hamilton was partnered by Valtteri Bottas, who replaced Rosberg who announced his retirement after winning the driver's title. Hamilton took pole in the season-opener as usual in Australia, but it was the Ferrari of Vettel who took victory due to a different pit stop strategy. The season would see a rivalry between Hamilton and Vettel, with their rivalry reaching a climax at Baku, where Vettel collided into the rear of Hamilton during a safety car period, pulling up to the his side and ran into him, accusing the latter of "brake-testing" him. Hamilton looked set to win the race until he was forced to pit due to a headrest problem. He finished 5th behind Vettel.
At Singapore, on a technical track which meant that the Mercedes could not run well due to their longer car base (as they had been in Monaco), Hamilton took an unexpected victory, helped by both Ferraris and Max Verstappen retiring from a Lap 1 collision. Further technical issues with Vettel meant that Hamilton took his fourth driver's title in Mexico, surpassing Jackie Stewart as the most successful British champion.
2018
[
]
Hamilton's rivalry with Vettel continued in 2018, where in the season-opener in Australia, Vettel won again despite Hamilton taking pole, thanks to a timely virtual safety car. Several other low points for Hamilton in the season include retiring in Austria due to mechanical issues with Bottas, and being denied victory at Silverstone after being tipped into a spin on the first lap.
Despite having a faster car, Vettel was subject to a number of on-track mistakes. After losing out to Vettel in Bahrain due to a grid penalty, and also a fifth place in China, Hamilton took victory at Baku after Vettel locked up while attempting to pass Bottas for the lead after a safety car session, having been off the pace for most of the weekend, and Bottas retiring from a puncture. Hamilton won at Paul Ricard after Vettel spun upon making contact with Bottas on the first lap. Hamilton started 14th at Hockenheim due to a technical issue during qualifying, leaving Vettel to take pole on his home Grand Prix. As Hamilton charged through the field during the race, rain began to fall, and Vettel crashed out, having caught by the rainy conditions. This left Hamilton to take victory, despite aborting a planned pit stop due to a miscommunication with the pit crew.
After losing to Vettel again at Belgium, Hamilton took victory in Italy after Vettel made yet another error and spun attempting to defend from Hamilton on the first lap, and made a move on polesitter Kimi Raikkonen in the closing laps. Hamilton won in Russia but with controversy as Bottas, who took pole, was asked to let Hamilton by. Further mistakes from Vettel in the next few races meant that Hamilton was crowned champion again at Mexico.
It was during this time in 2018, when Hamilton had extended his contract with Mercedes until 2020.
2019
[
]
2019 saw Hamilton continue in his dominant form, but despite the Ferraris and Max Verstappen posing a threat to him, it was his team-mate Valtteri Bottas who was his closest competitor.
Hamilton took pole again at the season-opening race at Australia, but it was Bottas who got a better start and won, with Hamilton nursing back with a damaged car floor and holding Max Verstappen off. He qualified third behind the Ferraris at Bahrain but gained the race win after Vettel spun while battling with him and Vettel's team-mate Charles Leclerc developing an engine issue in the closing stages. Bottas took consecutive poles at China, Baku and Barcelona with Hamilton winning from Bottas in these races except Baku.
Hamilton won from pole at Monaco whilst holding off Verstappen (who had been issued a penalty for a pit incident with Bottas) with worn medium tires, dedicating his victory to Niki Lauda, who passed away before the race weekend. He was beaten to pole by Vettel at Canada but inherited the race win after Vettel was controversially issued with a penalty for an unsafe rejoin. After a win from pole at Paul Ricard, Hamilton and Mercedes struggled once again at Austria. He qualified second but was penalized to fourth place due to impeding Raikkonen, and could only come in 5th. After being narrowly beaten to pole by Bottas at Silverstone, he made use of a safety car period to pit during the race and took the lead and win.
Hamilton took pole at Hockenheim whilst the Ferraris, the favorites for pole, were unable to qualify on the front spot due to technical issues. However, a wet race saw many of the drivers spinning out, including Hamilton, who broke his front wing slipping off at the final turn. Hamilton suffered several more misfortunes, being penalized for entering the pit lane outside the bollard and spinning again, forcing him to pit again. He crossed the line in 11th place but was reclassified as 9th after both Alfa Romeos were penalized, ensuring that he continued his points scoring streak.
At Hungary, Hamilton started in 3rd while Verstappen took his maiden pole position. Hamilton later took an extra stop and managed to pass Verstappen into the lead in the closing stages, the Dutchman having been struggling with worn tires.
Hamilton finished behind Leclerc who took his maiden race win at Belgium. He battled with Leclerc for the lead at Monza, with Leclerc forcing him off from a chicane at one point. A further lock-up from Hamilton allowed Bottas to pass and finish second, with Lewis finishing in third. Hamilton and Bottas struggled again in Singapore, finishing 4th and 5th respectively as Vettel led home Leclerc a Ferrari 1-2. Hamilton and Bottas managed to finish 1-2 at Russia, following a pit stop during a virtual safety car period due to Vettel retiring from an engine issue, having passed polesitter Leclerc for the lead at the start.
Hamilton came in 3rd at Japan, having dealt with tire degradation issues, but nonetheless helped secured Mercedes' 6th constructors' title. After a Lap 1 clash with Verstappen at the start, Hamilton won in Mexico after running a long stint, but Bottas finishing in third meant that he would have to wait for the next round to secure the drivers' title. He started fifth while Bottas took pole at Austin, but took the lead running on a one-stop strategy. He was passed by Bottas in the closing stages of the race and looked like he was about to be passed by Verstappen as well, but a late yellow flag helped Hamilton cross the line in second, enough for him to secure his sixth drivers' championship title.
Hamilton qualified third in Sao Paulo as Verstappen took pole. An undercut saw him emerge out of Verstappen during the safety car stops, but Verstappen repassed him after the safety car restarts. In the closing stages, he tipped Verstappen's team-mate Alexander Albon into a spin, denying Albon his first podium and earning himself a post-race penalty, dropping from third to seventh after battling with the Toro Rosso of Pierre Gasly for second to the line, the penalty promoting the McLaren of Carlos Sainz, Jr. to his maiden podium alongside Gasly. Hamilton however took pole, dominated and won the season finale at Abu Dhabi, taking his sixth career Grand Chelem.
2020
[
]
As Formula One entered lockdown due to the COVID-19 pandemic, which caused the season-opening Australian Grand Prix to be canceled and subsequent races postponed or canceled, American black citizen George Floyd was killed by a white police officer who knelt on his neck for about nine and a half minutes on May 25, leading to protests against racism worldwide. This has caused Hamilton to criticize the F1 industry on their silence on the matter, writing on Instagram:
"I see those of you who are staying silent, some of you the biggest of stars yet you stay silent in the midst of injustice. Not a sign from anybody in my industry which of course is a white dominated sport. I'm one of the only people of colour there yet I stand alone.
I would have thought by now you would see why this happens and say something about it but you can't stand alongside us. Just know I know who you are and I see you…
I do not stand with those looting and burning buildings but those who are protesting peacefully. There can be no peace until our so called leaders make change. This is not just America, this is the UK, this is Spain, this is Italy and all over.
The way minorities are treated has to change, how you educate those in your country of equality, racism, classism and that we are all the same. We are not born with racism and hate in our hearts, it is taught by those we look up to." - Lewis Hamilton
This has prompted other drivers to release their own statements on the killing, and have them supporting the Black Lives Matter movement, and support was expressed from Mercedes, Toto Wolff and F1 managing director Ross Brawn[25]. Hamilton has since launched his own commission to increase diversity. Formula One has also launched the #WeRaceAsOne initiative in response, with Mercedes having their cars painted black to support the cause. Hamilton was eventually included in the TIME Magazine's Top 100 influential people of 2020 for his efforts to voice out about diversity.
Hamilton qualified second behind team-mate Bottas in the opening race at Austria, but was later given a grid penalty for ignoring yellow flags that was shown when Bottas had a spin in the dying seconds of qualifying. He then managed to recover to second close behind Bottas in the race, but after a safety car restart, he tipped Albon into a spin again, the second time in three races the two have collided, resulting Hamilton in receiving a post-race penalty and dropping to fourth, promoting Charles Leclerc and Lando Norris onto the podium, Norris taking his maiden career podium. He managed to take pole by 1.216 seconds in a wet qualifying in the double-header race on the same place, and eventually won. He took pole and won again in the next race in Hungary.
Hamilton took pole ahead of Bottas at Silverstone, despite having a spin during the qualifying period, but on the final lap of the race, his left front tire punctured after running a long stint, the same problem happening to Bottas and Sainz a few laps previously, but he managed to hold on and just able to win ahead of a charging Max Verstappen by 5.8 seconds on three remaining tires. He and Bottas would lose the win to Verstappen on the second double-header round, with fast tire wear and Verstappen out-strategizing the Mercedes, but then took pole and won for two consecutive races at Spain and Spa.
At Monza, Hamilton again took pole, but unknowingly entered the pit lane while it was closed while marshals were retrieving the stricken Haas of Kevin Magnussen, resulting in Hamilton being given a stop/go penalty, dropping him back, but he managed to recover to 7th, while AlphaTauri's Gasly took a shock maiden win. He was able to win the next race at Mugello, taking his 90th race win, despite Bottas being fastest in all free practice sessions, passing him at the start and a series of incidents causing the race to be red-flagged twice.
At Russia, Hamilton looked set to equal Michael Schumacher's record of all-time wins when he was issued a 10-second penalty for doing practice starts at incorrect places in the pit lane, finishing third and losing the win to Bottas, having managed to narrowly escape Q2 during qualifying after having his lap time deleted for track limits infringements and a red flag caused by Sebastian Vettel crashing.
Hamilton managed to equal Schumacher's all-time win record of 91 at the Eifel Grand Prix at Nurburgring, after pole-sitter Bottas retired. He was presented a helmet of Schumacher by Schumacher's son Mick as a commemoration. Schumacher's all-time record wins was broken after Hamilton won the next round in Portugal.
At Imola, Hamilton won ahead of pole-sitter Bottas after running a longer stint and a timely virtual safety car that allowed him to stop without losing position, the result helping Mercedes securing their 7th constructors' title.
Hamilton and Mercedes struggled at the Turkish Grand Prix, with the track being newly-resurfaced and qualifying 6th in a wet session. He later capitalized a few drivers making additional stops and having their own misfortunes to take the lead in the race, and eventually won and being crowned the world champion of 2020, his seventh and ultimately equaling Michael Schumacher's title record.
Two days after winning the Bahrain Grand Prix, Hamilton was tested positive for COVID-19, hence missing the Sakhir Grand Prix while he recovers.[26] His seat was taken over by fellow countryman and Williams driver George Russell.[27] He recovered and returned for the season finale at Abu Dhabi and finished in third.
2021
[
]
Following long weeks of speculation after delays in contract extension, it was announced on February 8 that Hamilton would continue for another year in 2021, having signed the extension. Prior to the announcement, Hamilton was knighted in the Queen's New Years Honors List on New Year's Eve.
Personal life
[
]
Hamilton announced in October 2007 that he had plans to move to Switzerland because he wanted to keep away from the media scrutiny experiencing him while he was living in the United Kingdom. He also explained on the Parkinson television show that another reason was because of taxation along with wanting more privacy.[28]
Hamilton began a relationship with Pussycat Dolls lead singer Nicole Scherzinger in November 2007 after first meeting her at the 2007 MTV Europe Music Awards, where he was one of the presenters.[29] It was announced in January 2010 that they broke up so to focus on their different careers,[30] although they were both seen together at the 2010 Turkish[31] and Canadian Grands Prix.[32] They split for a second time in 2011,[33] but reunited again in January 2012.[34] However, they broke up again in July 2013,[35][36] but appeared to get back together in November 2013,[37] being a couple through November 2014.[38][39] However, in February 2015, they were reported to have broke up for a fourth time.[40] In late October 2016, Scherzinger confirmed that they were no longer in touch, but that she wished him "happiness and success".[41]
In early 2012, Hamilton transferred his personal residence from Switzerland to Monaco, also being a tax haven.[42][43][44]
A waxwork of Hamilton in his McLaren race suit was unveiled by Madame Tussauds on 18 March 2009, costing about £150,000 and taking over six months to make.[45] Hamilton lent his voice to the car version of himself in the 2011 Disney/Pixar film Cars 2.[46] He also starred in McLaren's animated series Tooned alongside Jenson Button and Alexander Armstrong,[47] and appears as a character in Call of Duty: Infinite Warfare.[48] He even makes a cameo in Zoolander 2,[49] and voiced a different character called Hamilton in Cars 3.[50][51]
Driving Style
[
]
Peter Windsor
[
]
In 2015, Windsor conducted a driving analysis of the different Formula One drivers' during February pre-season testing.[52] Windsor watched the drivers' as they entered and exited the highly technical corners of turns two and three of the Circuit de Catalunya.[52]
Hamilton was noted to have made the entry and exit of turn two and three look as if it were "very, very easy."[52] Windsor admitted the qualities of the Mercedes may have be enhancing this, however he further noted "but that is how Lewis drives, its how he drives every car I've seen him steer."[52] Windsor noting that he had the perfect balance "through the steering and the throttle."[52] Windsor, however further noted that there was not a lot of visible difference between him and teammate, Nico Rosberg.[52]
Formula One Statistical Overview
[
]
Managers
[
]
A list of the managers responsible for managing Lewis Hamilton's business affairs:
| Name | Years |
| --- | --- |
| Anthony Hamilton | 1993–2010 |
| Simon Fuller | 2011–2014 |
| Richard Goddard | 2015–present |
Race Engineers
[
]
A list of the primary race engineers responsible for managing Lewis Hamilton's car:
* Due to medical issues, Bonnington was temporarily replaced by Marcus Dudley at the 2019 Mexican Grand Prix.
Formula One Record
[
]
Career Statistics
[
]
Statistics correct as of 2022 Canadian Grand Prix
Wins
[
]
Career Results
[
]
Complete Formula One Results
Year
1
2
3
4
5
6
7
8
9
10
11
12
13
14
15
16
17
18
19
20
21
22
23
Pts
Pos
2007
109
2nd
3rd
2nd
2nd
2nd
2nd
1st
1st
3rd
3rd
9th
1st
5th
2nd
4th
1st
Ret
7th
2008
98
1st
1st
5th
13th
3rd
2nd
1st
Ret
10th
1st
1st
5th
2nd
3rd
7th
3rd
12th
1st
5th
2009
49
5th
DSQ
7th
[53]
6th
4th
9th
12th
13th
16th
18th
1st
2nd
Ret
12th
1st
3rd
3rd
Ret
2010
240
4th
3rd
6th
6th
2nd
14th
5th
1st
1st
2nd
2nd
4th
Ret
1st
Ret
Ret
5th
2nd
4th
2nd
2011
237
5th
C
2nd
8th
1st
4th
2nd
6th
Ret
4th
4th
1st
4th
Ret
4th
5th
5th
2nd
7th
1st
Ret
2012
190
4th
3rd
3rd
3rd
8th
8th
5th
1st
19th
8th
Ret
1st
Ret
1st
Ret
5th
10th
4th
Ret
1st
Ret
2013
189
4th
5th
3rd
3rd
5th
12th
4th
3rd
4th
5th
1st
3rd
9th
5th
5th
Ret
6th
7th
4th
9th
2014
384
1st
Ret
1st
1st
1st
1st
2nd
Ret
2nd
1st
3rd
3rd
Ret
1st
1st
1st
1st
1st
2nd
1st
2015
381
1st
1st
2nd
1st
1st
2nd
3rd
1st
2nd
1st
6th
1st
1st
Ret
1st
1st
1st
2nd
2nd
2nd
2016
380
2nd
2nd
3rd
7th
2nd
Ret
1st
1st
5th
1st
1st
1st
1st
3rd
2nd
3rd
Ret
3rd
1st
1st
1st
1st
2017
363
1st
2nd
1st
2nd
4th
1st
7th
1st
5th
4th
1st
4th
1st
1st
1st
2nd
1st
1st
9th
4th
2nd
2018
408
1st
2nd
3rd
4th
1st
1st
3rd
5th
1st
Ret
2nd
1st
1st
2nd
1st
1st
1st
1st
3rd
4th
1st
1st
2019
413
1st
2nd
1st
1st
2nd
1st
1st
1st
1st
5th
1st
9th
1st
2nd
3rd
4th
1st
3rd
1st
2nd
7th
1st
2020
347
1st
4th
1st
1st
1st
2nd
1st
1st
7th
1st
3rd
1st
1st
1st
1st
1st
ILL
3rd
2021
387.5
2nd
1st
2ndP
1st
1stP
7th
15th
2nd
2nd
4th
1st
2ndP
3rd
[54]
2nd
Ret
1st
5thP
2nd
2nd
1st
1st
1st
2nd
2022
77
6th
3rd
10th
4th
13th
6th
5th
8th
4th
3rd
C
Key
Symbol
Meaning
Symbol
Meaning
1st
Winner
Ret
Retired
2nd
Podium finish
DSQ
Disqualified
3rd
DNQ
Did not qualify
5th
Points finish
DNPQ
Did not pre-qualify
14th
Non-points finish
TD
Test driver
Italics
Scored point(s) for Fastest Lap
DNS
Did not start
18th†
Classified finish (retired with >90% race distance)
NC
Non-classified finish (<90% race distance)
4thP
Qualified for pole position
[+] More Symbols
Notes
[
]
External links
[
]