Lance Stroll (born 29 October 1998 in Montréal, Quebec, Canada) is a Canadian racing driver who was signed to drive for Williams-Mercedes starting from the 2017 Formula One season. He made his Formula One début aged 18 at the 2017 Australian Grand Prix, becoming one of the youngest drivers in F1 history. He took his first two points at his home Grand Prix in Canada in the same year. At the following race in Azerbaijan, he scored his first podium, becoming the youngest rookie in Formula One to score one.[1] At the Italian Grand Prix, he became the youngest front row starter at 18 years, 10 months and 3 days. He then became the youngest to take pole position at the 2020 Turkish Grand Prix.
Stroll, the son of Canadian billionaire businessman Lawrence Stroll,[2] started karting aged 8 and joined the Ferrari Driver Academy in 2010. He begun single-seater racing in 2014 and won the Italian Formula 4 title that season, taking four wins in the progress. In 2015 he moved to European Formula 3 and finished the season in 5th place, with a solitary win. For 2016, Stroll left the Ferrari Driver Academy and joined Williams as a development driver, while remaining in European Formula 3. He proceeded to dominate the season, securing eleven victories while winning the title by over 100 points ahead of Maximilian Günther.
Following the retirement of Felipe Massa at the end of 2016, Stroll replaced the Brazilian at the Grove team,[3] though Massa would later come back to the team and replace Valtteri Bottas.[4] Stroll later moved to Racing Point for 2019. The team was later renamed Aston Martin in 2021.
Lance Stroll was born on the 29th October 1998 in Montréal, Canada. The son of billionaire businessman Lawrence Stroll and Claire-Ann Stroll, a fashion businesswoman[5]. Lance would have one sibling, his sister, Chloe. Lance would grow up as being bilingual, speaking both the French and English languages.
Lance's father, Lawrence made his fortune by investing into a number of international fashion businesses.[6] He was described by his business partner Silas Chou to have a 'golden touch' in his investment strategies.[7]Stroll is also a renowned motor racing enthusiast and in 1999 took over the ownership of the Circuit Mont-Tremblant inn Quebec, Canada.[8] He is also a renowned Ferrari enthusiast, owning a Ferrari dealership and owning a collection of some of the most rare and expensive Ferrari's in the world.[9] Before the Liberty Media takeover of Formula One, in 2014, Bernie Ecclestone had encouraged Stroll to buy ownership into Delta Topco, a company that CVC Capital Partners, who own Formula One are invested in.[10] Stroll ultimately decided against this, as well as an opportunity to buy the Sauber F1 team.[11] Stroll ultimately, had more personal ambitions for the career of his son.
Ever since his father had bought him a Go-Kart for his fifth birthday, Lance Stroll had harboured dreams of competing in Formula One. He like, his father was a huge Ferrari fan and was a big supporter of Michael Schumacher.[12] His early Kart career was showing to be incredibly promising in Micro Max and Mini Max categories. In 2008, he won the prize for Rookie of the Year by the  Fédération de Sport Automobile du Québec after winning the Canadian Karting championship. The following year he won Driver of the Year albeit he finished the championship in second place.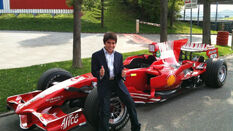 However in 2010, he reclaimed the title of Canadian Karting champion as well as winning the prestigious Florida Winter Tour. Whilst the influence of his father meant that Stroll was easily one of the best backed competitors in the competition, those that had witnessed his early racing described him as a 'natural talent'. His first team boss, Hugo Mousseau of Scuderia Karting describing him as a 'great driver' who has 'a little something extra that makes him the top driver of his age'.[13]
In order to further advance, Lance's career, the Stroll family relocated to Geneva, Switzerland to compete in the European championships. In July 2010, Stroll was admitted into the Ferrari Driver Academy.[14] Commenting on his admittance, the Head of the Academy, Luca Baldisseri, noted on Stroll "He is very young, but he has already shown in karting that he is exceptionally talented.We will follow him step by step in his forthcoming events in North America and he will soon also take part in our courses at Maranello."
In 2011, Stroll began to compete in the European Karting Championships now with the additional backing of Ferrari. Despite his backing, Stroll did not produce many high level results. He was a mid-tier driver in both the Italian and German Karting Championships. In Masters events he had finished behind drivers such as Charles Leclerc, George Russell and Esteban Ocon.
2012 was proving to be another difficult year without commendable result until Stroll suddenly took victory ahead of karting prodigy, George Russell in an event organised by Russell's father. However, although Stroll achieved a second place in the Trofeo Andrea Magutti at the end of 2012, he had not significantly distinguished himself beyond a midfield runner in the Karting Championships. Stroll would continue to compete in European Karting Championships in 2013, however once again would primarily run within the midfield.
At fifteen years of age, Stroll would now be ready to graduate to the single seater category. The Ferrari Driver Academy had organised a Formula 4 event for up and coming young drivers in Florida, USA known as the Florida Winter Series. Antonio Fuoco and Raffaele Marciello from the Ferrari Driver Academy were also in attendance, however both drivers had prior single seater experience. Stroll, alongside Max Verstappen were among only a handful of drivers to start their single seater career in the 2014 Florida Winter Series. Out of the fourteen drivers in the series, Stroll finished only eighth in the series and did not beat either Fuoco or Marciello. Stroll's performance was somewhat average, especially considering fellow single seater debutant, Verstappen would take third overall in the series.
Upon returning to Europe, Stroll signed to be apart of the inaugral Italian Formula 4 Championship. His influence from his father and Ferrari allowed him to gain a seat with Prema Powerteam, one of Italy's best junior category racing teams. His teammate was Brandon Maïsano, formerly of the Ferrari Driver Academy. The series was designed adolescents to make their karting debut. Maïsano aged 21, was therefore ineligibile to score points in the championship. Both Stroll and Maïsano dominated the season, with Stroll being declared the inaugral Italian Formula 4 champion. Stroll finished the championship, 94 points ahead of his nearest rival. He had won seven of the eighteen rounds, however he missed the last three rounds at Misano, when he was injured in the final round at Monza.
2015: Toyota Racing Series
[
edit
|
edit source
]
Throughout January and February 2015, Stroll and Maïsano, after their domination in Formula 4 were sent to compete in New Zealand in the Toyota Racing Series in preparation for their Formula 3 debut later that year. A number of Europe's rising talent were sent to compete among the New Zealand locals in the Toyota Racing Series. Stroll and Maïsano working as teammates at M2 Competition would go on to dominate the series.
The championship was a two-man race. Maïsano would claim more race victories, with five wins, however whilst Stroll had only claimed four wins, he had been overall more consistent in his race results than Maïsano. Stroll would take the laurels as the championship victor. Between Stroll and Maïsano, they had won nine of the sixteen rounds for M2 Competition. Other future F3 rivals, Santino Ferrucchi, Arjun Maini and Sam McLeod had all managed to take one win apiece. The local New Zealand drivers were only able to claim two wins in their home country.
Both Stroll and Maïsano had been promoted to the Prema Powerteam European Formula 3 Team. Prema were expected to be one of the championship favourites. The team's lead drivers, Felix Rosenqvist and Jake Dennis had previously competed in Formula 3. Therefore both Stroll and Maïsano would start as the team's rookie drivers. Also competing and making their debut in the series, his old karting rivals, Charles Leclerc, racing for Van Amersfoot Racing and George Russell for Carlin. Stroll had set a goal of finishing within the top five of the championship in his first season.
Stroll was cautious in the opening rounds of the championship. He amassed a number of points positions, however he was not fighting for wins like his more experienced teammates, Rosenqvist and Dennis. Whilst he was consistently within the minor points range, he was not producing spectacular results. Charles Leclerc had taken all the attention with his outstanding start to his F3 career. Unlike, the other rookies, Leclerc was consistently fighting among the series leaders, Rosenqvist, Dennis and Carlin's Antonio Giovinazzi. Stroll was consistent, however had not produced many staggering results.
By mid-season, at the Norisring, Leclerc was making headlines. He was dominating the rookie championship and was fighting to take the series title. He had taken four wins in the overall series as well as ten wins in the rookie championship. George Russell had shown some flare early in the season, to take a win, he too putting in some impressive performances for a rookie. Other leading rookies, Alexander Albon, Maximilian Günther and Mikkel Jensen had all recorded rookie wins, and whilst Stroll preceded most of these drivers in the championship. Whilst his consistency was commendable, it was difficult to distinguish himself among the other fast young rookie drivers.
It had not all been so straightforward for Stroll, at Hockenheim, he had his race ruined by an ontrack collision with Santino Ferrucchi. When the team's came to Monza, Stroll hoped to finally make his mark on Formula 3 scene. This was a circuit he had know from his past experience in Formula Four. In the second race, Stroll finally demonstrated his capability as a front runner when he fought with Rosenqvist and Ferrucci for the lead of the race. Stroll, however could not maintain this good performance and fell back, falling behind his rivals of Leclerc, Dennis and Jensen.
However in the approach to the Curva Grande, Stroll refused to give way to faster running Giovanazzi. The two cars made contact and Stroll was tipped into a terrifying barrel roll. Both drivers emerged unscathed and despite being badly shaken in the accident, Stroll would start the third race. After causing an avoidable accident with Jensen, Stroll was disqualified in the final race at Monza.
Stroll had finally garnered some attention after his erratic performance in Monza. He had finally caught the paddock's attention, however for more notorious reasons than he might have liked. At Spa-Francorchamps, Stroll continued his more aggressive race style. The weekend had yielded a new qualifying high, setting the third fastest time on the time sheets. At Spa, he would take the lead of an F3 race for the first time. A safety car period ruined a strong lead and a potential win, thereafter his rivals Rosenqvist and Jensen were snapping at his heels. However, remarkably, the fight became too much and the three cars collided and were out of the race. Stroll was now in the limelight, he once again was making a notorious name for himself. Having been laid the blame for the cause that took the three leaders out of the race, Stroll was banned from the final race at Spa-Francorchamps.
After stirring trouble in Monza and Spa-Francorchamps, Stroll had once again settled into his more consistent self at the Norisring. He kept a low profile and mustered up some more points in the championship. However despite his exciting antics and relatively consistent race style, Stroll had yet to distinguish himself as a rookie winner like his other young rivals. Leclerc was rarely beaten by his fellow rookie competitors, allowing him to be in the fight among the more experienced F3 pilots more often.
However, at Zandvoort, Stroll finally found his pace and clearly outperformed Leclerc throughout the weekend. He had narrowly beaten both Leclerc and Russell to a fourth place finish, then in the second race, both he and Leclerc were taken out of the race when Stroll failed to give way to the attacking Leclerc. Then in the final race, Stroll had once again outpaced Leclerc by beating him to fifth place.
At the Red Bull Ring, Stroll would hope to build on his more positive positive driving skills demonstrated at Zandvoort. Whilst he was not as quick as the leading trio of Rosenqvist, Giovinazzi and Dennis, Stroll was suddenly consistently out performing the other rookie drivers. Leclerc spent another weekend stuck behind the car of Stroll. In the second race of the weekend, Stroll scored his first F3 podium with a third place finish. Like at Zandvoort, Stroll had once again taken the laurels as the overall rookie winner. Less pleased was Brandon Maïsano, he had failed to match the performance of his younger teammate. Conceding defeat to Stroll, Maïsano withdrew midway through the Red Bull Ring weekend and left the F3 series.
Replacing Maïsano as a temporary replacement at Prima was Tim Cassidy, an experienced F3 racer who had just won the Japanese Formula 3 championship. The experienced Cassidy was there to help assist Stroll in understanding how to take the reigns as a lead driver for the following season. At both Algarve and the Nurburgring, under the tutelage of Cassidy, Stroll remained one of the fastest drivers on track. Taking more podium finishes in these races. Rosenqvist had finally taken the F3 title after six seasons at Nurburgring, whilst Leclerc secured the Rookie Title at the same race.
Stroll had proved to be incredibly fast in the latter stages of the season, however Leclerc's early season charge allowed him to take the title, even though he was slower than Stroll in every race in the final five rounds of the championship. In fact, Stroll's poor early season was not enough to secure the runner-up spot in the Rookie title, a strong early season from Russell had meant he too finished ahead of Stroll in the standings.
At the final round of the 2015 championship, Stroll secured his first F3 race win when he beat his leading teammates Dennis and Rosenqvist to the finishing line at the finale at Hockenheim. For 2016, Prema expected him to take the role of lead driver with both Dennis and Rosenqvist graduating from the series.
Stroll's new deal as a development driver for the Williams Formula One team had meant that it had become essential that Stroll win the Formula 3 championship in 2016 in order to keep his Formula One prospects alive. After leaving the Ferrari Driver Academy, Lawrence Stroll had convinced the Academy's Head, Luca Baldisserri, to quit his job and oversee Stroll's 2016 season. The former race engineer to Michael Schumacher and former trusted right hand of Ross Brawn had been recruited by the wealth of Lawrence Stroll to oversee the success of his son's 2016 Formula 3 campaign.
Tim Cassidy would return as a teammate to Stroll in 2016, however would serve as a number two in a mentoring capacity to Stroll's campaign. At the end of 2015, Prima had recruited Maximilian Günther, another young impressive F3 pilot to join Stroll for the final race of the season at Hockenheim. Whilst Stroll had taken victory in the first race, Günther had proved faster in the final two races of the season.
However, this would prove to be no concern of Stroll's. With his father's influence he had molded Prema into his own personal race team. Lawrence was ensuring that his son would have the best chance possible to ensure he won the up coming championship. Aside from the technical assistance of Williams race engineers, Lawrence Stroll had funded the development of a new race simulator by Williams designed specifically for Formula 3. Luca Baldisserri had also been placed in charge of developing Stroll's race strategies.
In the opening three rounds of the championship at Le Castellet, Hungaroring and Pau, Stroll did not make a huge impression. He had won the opening race of the season at Le Castellet, however the results were not impressive. By the Hungaroring, teammate Günther had already taken two victories and was leading the championship.
At Pau, Stroll scored an impressive pole position in the wet, however in the race he made a terrible getaway and dropped down to ninth. He scored another fourth place finish, before a second place in the final race. His third podium of the season. Stroll stated he was not taking any "unnecessary risks". His consistency at Pau had allowed Stroll to take the championship lead from Günther whom after scoring a third place in the first race, had languished outside the points in the final two races. Stroll was back in command of the championship, however his teammates Günther and Cassidy were not far off his points tally.
At the Red Bull Ring, Stroll qualified third behind Illot and Günther for the first race. He would thereafter take a second position in the first race, behind Illot. He would then go on to dominate both the qualifying and the races for the final two races. Stroll therefore got the opportunity to further extend his title lead. Following his victory in Austria, Stroll was inducted into the British Racing Drivers' Club as one of their 'rising stars'.
It was another strong performance at the Norisring, Stroll took pole in two of the three races, Anthony Hubaine having beaten him to pole position for the second qualifying. He dominated the first and third races, however Hubaine who had beaten him to pole in the second race, would thereafter take the victory with Stroll trailing him in second.
Stroll was once again on the pace at Zandvoort, he had largely dominated the practice and qualifying for the first race, however in the final minutes he dropped down to fourth as Illot, Cassidy and Günther were able to go faster in the dying minutes of the session. Stroll then got a magnificent start and took the lead into the first corner and thereafter went on to dominate the race. However in qualifying for the second and third race, his Prema team was found to be running an illegal suspension system in these sessions and thereafter he had his times deleted and he would be forced to start from the back of the grid. From the back of the grid, Stroll struggled and he went on to retire in both the remaining races at Zandvoort.
Stroll took pole position in a wet Spa-Francorchamps and then went on to dominate the race, winning for the first time in the wet. Thereafter the rain had cleared, his qualifying for the final races saw him only manage fourth position. In the second race, he was brought out of the running with a puncture. For the third race, he ran third behind Joel Eriksson and Anthony Hubaine, he then lost the position to George Russell. Stroll fought back to reclaim the position, however Russell overtook him once again and he dropped down to fourth.
Formula One Statistical Overview
[
edit
|
edit source
]
Correct as of the 2021 French Grand Prix qualifying
Complete Formula One results
Year
1
2
3
4
5
6
7
8
9
10
11
12
13
14
15
16
17
18
19
20
21
22
Pts
Pos
2017
40
12th
Ret
Ret
Ret
11th
16th
15th
9th
3rd
10th
16th
14th
11th
7th
8th
9th
Ret
11th
6th
16th
18th
2018
6
18th
14th
14th
14th
8th
11th
17th
Ret
17th
13th
12th
Ret
17th
13th
9th
14th
15th
17th
14th
12th
18th
13th
2019
21
15th
9th
14th
12th
9th
Ret
16th
9th
13th
14th
13th
4th
17th
10th
12th
13th
11th
9th
12th
13th
19th
Ret
2020
75
11th
Ret
7th
4th
9th
6th
4th
9th
3rd
Ret
Ret
WD
Ret
13th
9th
Ret
3rd
10th
Key
Symbol
Meaning
Symbol
Meaning
1st
Winner
Ret
Retired
2nd
Podium finish
DSQ
Disqualified
3rd
DNQ
Did not qualify
5th
Points finish
DNPQ
Did not pre-qualify
14th
Non-points finish
TD
Test driver
NC
Non-classified finish (<90% race distance)
DNS
Did not start
Italics
Scored point(s) for Fastest Lap
[+] More Symbols
Community content is available under
CC-BY-SA
unless otherwise noted.