Kurtis Kraft designed cars for oval racing and with the Indianapolis 500 being included as a Formula One World Championship round from 1950 - 1960, the marque jotted up many entries and a handful of wins.
99 of the marques starts were in the Indianapolis event bar one, when Rodger Ward competed his car in the 1959 United States Grand Prix at Sebring.
Background
[
]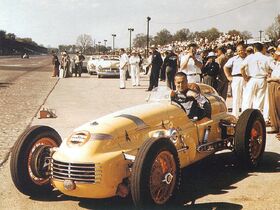 Kurtis Kraft lightweight fibre-glass cars with a low centre of gravity for the Oval Racing market from 1949 to 1955.
In total, the marque created over 550 ready-to-run midget cars, and 600 kits featuring an Offenhauser motor. Kurtis-Kraft created 120 Indianapolis 500 cars, including five winners. The combination has been described as "virtually unbeatable for over twenty years."
Formula One World Championship
[
]
Kurtis-Kraft cars were driven to 5 Indy 500 wins, thus they have 5 Formula 1 World Championship wins. 99 of the 100 championship entries were at this event over the 11 years it counted towards the points, the exception being one car entered at the 1959 United States Grand Prix by Rodger Ward.
F1 Summary
[
]
| Year | Entrant | Engine | Tyre | Drivers | Rounds | WCC Pts | WCC Pos | Test drivers | Report |
| --- | --- | --- | --- | --- | --- | --- | --- | --- | --- |
List of race wins
[
]
Statistics
[
]
Complete Formula One Results
[
]
Notes
[
]