Jerry Unser (born November 15, 1932 in Colorado Springs, Colorado, USA – died May 17, 1959 at the Indianapolis Motor Speedway, Speedway, Indiana, USA) was an United States driver. He was killed while practicing for the 1959 Indianapolis 500.
Career
[
]
Before Formula One
[
]
Unser raced in USAC Stock Car and later became the 1957 1957 USAC Stock Car champion. He was the older brother of drivers Bobby and Al Unser.
1958
[
]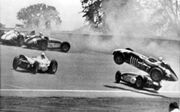 Unser competed in his first Formula One race in 1958 when he started the Indianapolis 500. He was unable to complete the race after being involved in a massive pile-up on the first lap and flipping over the outside wall. This is the same accident in which Pat O'Connor was fatally injured.
1959
[
]
Unser again entered into the 1959 Indianapolis 500, but would not be able to compete because of a fatal accident during practice.
Death
[
]
While practicing for the 1959 Indianapolis 500, Unser lost control of his car, causing it to spin and hit the wall in turn 4. The car was sent somersaulting down the front straight away and caught fire. Unser died of burns two weeks later in the hospital.
Formula One Statistical Overview
[
]
Formula One Record
[
]
Career Statistics
[
]
Career Results
[
]
Complete Formula One Results
Year
1
2
3
4
5
6
7
8
9
10
11
Pts
Pos
1958
0
NC
Ret
1959
0
NC
DNQ
Key
Symbol
Meaning
Symbol
Meaning
1st
Winner
Ret
Retired
2nd
Podium finish
DSQ
Disqualified
3rd
DNQ
Did not qualify
5th
Points finish
DNPQ
Did not pre-qualify
14th
Non-points finish
TD
Test driver
Italics
Scored point(s) for Fastest Lap
DNS
Did not start
18th†
Classified finish (retired with >90% race distance)
NC
Non-classified finish (<90% race distance)
4thP
Qualified for pole position
[+] More Symbols
Notes
[
]
External links
[
]