The Honda RA302 was built by Honda Racing and entered in the 1968 French Grand Prix by Honda France, on the orders of Soichiro Honda, who wanted to develop an air-cooled 3 liter Formula One engine. Honda wished to prove that they could build a Formula One car from the ground up, as it was well known that the team's existing RA301 chassis was built by Lola.

1968 French Grand Prix
Edit
The arrival of one of the two RA302 cars at the circuit was a surprise to most. John Surtees was vocal about the car not being ready to race, and unsafe in it's present form, but Honda France was starting a major sales campaign, and racing a 100% Honda car was seen as good publicity. A popular French F2 driver, Jo Schlesser, was given the drive. Schlesser had driven in the German Grand Prix twice in F2 cars, but this was his first ride in an actual Formula One car. At 40, Schlesser would be retiring soon, and this drive was a reward for long and faithful service.

Practice showed that the car still needed a great deal of work, with Schlesser 17th fastest of 18 drivers, more than eight seconds behind polesitter Jochen Rindt. Observers felt that the car had plenty of power, but was easily the slowest in the corners, with Schlesser seen exerting much effort to try to make the car handle. Raceday started with a light drizzle before the start, with most cars on intermediate tires. Just after the start the drizzle became a serious downpour, with conditions becoming treacherous.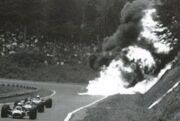 On lap 3, Schlesser was going through the fast downhill righthander known as
Six Freres
, or six brothers. The back end swung out, then swung back with the car headed directly for a bank. The left front wheel hit first, getting knocked back into the chassis and puncturing the fuel tank as the car was climbing the bank and overturning. Burning fuel went everywhere, including the spectator area (causing some injuries) and flowing across the track. Poor Schlesser was trapped in the wreckage (which itself was mostly magnesium, causing it to burn even hotter) and could not be extricated until the race ended. The other RA302 was used for tests in Japan, to try to understand the accident. A modified version was run briefly at
Monza
but Surtees soon hopped out and refused to continue. The car was consigned to a museum forever. Honda withdrew from F1 at the end of the season, not returning until
2006
.
Complete Formula One Results
Edit
Entreat
Drivers
Tires
1
2
3
4
5
6
7
8
9
10
11
12
WCC Points
WCC Pos.
1968
Honda Racing
Jo Schlesser†

F

Ret†
14[1]
6th
John Surtees
PO
↑ All 14 points scored by Honda RA301 entries.
Community content is available under
CC-BY-SA
unless otherwise noted.