Helmuth Koinigg (born 3 November 1948 – died 6 October 1974) was a Austrian racing driver who was killed at Watkins Glen International on only the second start of his career.
Although his racing career in Formula One was short, his death was in part responsible for important safety upgrades at Watkins Glen International.
Helmet Design
[
]
Koinigg used a plain black helmet with no sponsors or other designs.
Formula One Career
[
]
Pre-Formula One
[
]
Koinigg purchased his first racing car from racing legend Niki Lauda. The Mini Cooper was also Lauda's first race car.
Koinigg entered into the touring cars, Formula Vee and Formula Ford. After competing in theses series, he moved to sports car racing when he earned money to finance his Formula One dream.
1974
[
]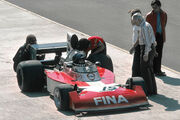 For his home grand prix, Koinigg was able to gather enough money to buy a seat with the Scuderia Finotto Formula One team. Koinigg did not qualify for the race.
Shortly after his appearance in his home grand prix, the racing team Surtees gave him a contract for the final two races of the season. He then finished 10th in the Canadian Grand Prix and was tragically killed during the United States Grand Prix.
Death
[
]
Warning: Text contained within this section contains graphical imagery.
While racing near the rear of the field in the 1974 United States Grand Prix, the suspension of Koinigg's car failed sending him into the barrier on the outside of Turn 6. The barriers were the standard steel guardrails that could be found on public roads.
Although the speed of the accident was slow, the guardrail was not maintained properly. As a result, the bottom half of the barrier failed allowing the car to crash through. Unfortunately, the top half did not do the same, decapitating Koinigg and killing him instantly. No medical procedures or hospitalization were given to Koinigg because the accident was so severe.
The previous year, Formula One driver François Cevert was killed during qualifying at the opposite end of the circuit, but with an almost identical failure of the guardrail. Because of the accidents, the track management, at the behest of the FIA, substantially upgraded the level of safety around the track.
Film Appearance
[
]
In the 2013 movie Rush, Koinigg's accident is portrayed with a mixture of what is believed to be Koinigg and Cevert's accidents combined together.
Formula One Statistical Overview
[
]
Formula One Record
[
]
Career Statistics
[
]
Career Results
[
]
Complete Formula One Results
Year
1
2
3
4
5
6
7
8
9
10
11
12
13
14
15
Pts
Pos
1974
0
NC
DNQ
10th
Ret
Key
Symbol
Meaning
Symbol
Meaning
1st
Winner
Ret
Retired
2nd
Podium finish
DSQ
Disqualified
3rd
DNQ
Did not qualify
5th
Points finish
DNPQ
Did not pre-qualify
14th
Non-points finish
TD
Test driver
Italics
Scored point(s) for Fastest Lap
DNS
Did not start
18th†
Classified finish (retired with >90% race distance)
NC
Non-classified finish (<90% race distance)
4thP
Qualified for pole position
[+] More Symbols
External links
[
]