The Ferrari 375 was a Formula One produced by Ferrari for the 1950 and 1951 Seasons. Alberto Ascari also drove a 375 in the 1952 Indianapolis 500. After finishing second on its debut, it won 3 races from 9 entries.
Ferrari 375 in action
[
]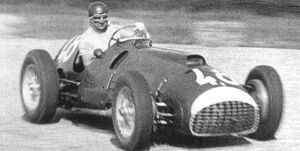 The Ferrari 125 which Ferrari had entered the 1950 season with had earned the team its first World Championship podiums but after being withdrawn from the French Grand Prix due to its uncompetitiveness, Ferrari introduced the Ferrari 375 after a successful test at Geneva and took it to the season ending Italian Grand Prix at Monza but factory driverLuigi Villoresi had been involved in a traffic accident on the way back from the Geneva test and would not be able to race at Monza.
Ferrari asked Raymond Sommer back but organisers would not allow it so Ferrari recruited former bike racing star Dorino Serafini to drive the car. The new Ferrari 375 was strong and allowed Alberto Ascari to qualify second and really race the Alfa Romeo's for the first time, flying away at the front in a battle with Nino Farina in the Alfa Romeo.
When the Alfa pitted, Ascari lead on the cars debut for several laps until he retired the car. Ascari then took over Serafini's car which was running third and passed the Alfa Romeo of Luigi Fagioli for second.
Complete Formula One Results
[
]
Year
Driver
Tyre
1
2
3
4
5
6
7
8
1950

Dorino Serafini

P

2
Alberto Ascari
1951

Peter Whitehead

D




P

9
DNA
[1]
Alberto Ascari
6
2
2
Ret
1
1
4
José Froilán González
1
3
2
2
Luigi Villoresi
Ret
3
3
3
4
4
Ret
Piero Taruffi
2
Ret
5
5
Ret
Reg Parnell
DNA
4
Chico Landi
Ret
1952

Alberto Ascari

F

Ret