Felice Bonetto (June 9, 1903 - November 21, 1953) was a courageous Italian racer who earned the nickname Il Pirata (The Pirate). He came to the attention of Italian racers in the 1930's and internationally in the 1940's, enjoying success at the Mille Miglia, and grand prix successes driving a Ferrari and a Cisitilia.
During his Formula 1 career, Il Pirata raced Italian cars, starting with a privateer Maserati team, then the factory Alfa Romeo team and finally with the factory Maserati team and achieved two shared podiums.
Bonetto's greatest successes were in sports cars, including a win at the Targa Florio in 1952, but sadly his career was cut short when he hit his head on the balcony of a house in the 1953 Carrera Panamericana.
Formula One Career
Edit
Before Formula One
Edit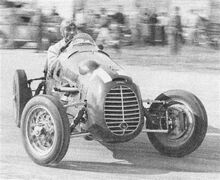 Felice Bonetto was a pre war Alfa Romeo driver but his career really took off post war, racing Cisitilia and Ferrari Grand Prix cars.
In 1949 Bonetto came second in the Naples GP and also took sports car success with second at the Mille Miglia.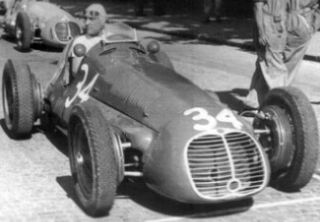 Felice Bonetto drove the 1950 season in his
Maserati 4CLT/50
under his
Scuderia Milano
banner in which he contested the last three of the last four races of the season.
His World Championship debut was at the Swiss Grand Prix and Felice qualified 12th but managed to battle with the factory and Enrico Plate teams to a strong 5th, one place behind the experienced Prince Bira and a place ahead of Toulo de Graffenreid. This trio finished a lap ahead of factory Maserati's Nello Pagani and Louis Chiron to pick up 2 World Championship points.
Moving onto France, Il Pirata suffered engine problems on lap 14 and his final race of the season, with a special engine, Bonetto did not start.
The highlight of 1950 came when Il Pirata won the non-championship Oporto GP, and he continued his sportscar success by leading the Mille Miglia in an Alfa Romeo.
Formula One Statistical Overview
Edit
Formula One Record
Edit
Career Statistics
Edit
Career Results
Edit
Complete Formula One results
Year
1
2
3
4
5
6
7
8
9
Pts
Pos
1950
2
19th
DNA
5th
Ret
DNS
1951
7
8th
4th
Ret
3rd
5th
1952
2
16th
DSQ
5th
1953
6.5
9th
Ret
3rd
Ret
6th
4th
4th
Ret
Key
Symbol
Meaning
Symbol
Meaning
1st
Winner
Ret
Retired
2nd
Podium finish
DSQ
Disqualified
3rd
DNQ
Did not qualify
5th
Points finish
DNPQ
Did not pre-qualify
14th
Non-points finish
TD
Test driver
NC
Non-classified finish (<90% race distance)
DNS
Did not start
Italics
Scored point(s) for Fastest Lap
[+] More Symbols
Community content is available under
CC-BY-SA
unless otherwise noted.