Eugène Martin (March 24, 1915 in Suresnes – October 12, 2006 in Aytre) was a racing driver from France. He participated in two Formula One World Championship Grands Prix, debuting on May 13, 1950. Although Martin scored no championship points he enjoyed success in several of the pre-war grands prix.
In the 1950s Martin embarked on a brief career as an car manufacturer, working at the Paris based garage he owned with his father to produce the Martin-Spéciale.
The car was exhibited at the 1952 Paris Motor Show but never progressed to series production.
Formula One Career
[
]
1950
[
]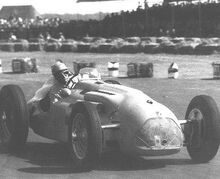 Eugène Martin took part in the first world championship race, the 1950 British Grand Prix qualifying 7th, only 4.6 seconds behind the pole position time set by Nino Farina in his Alfa.
In the race Martin had to retire early with oil pressure but he appeared again with the factory Talbot-Lago team at round 4, the 1950 Swiss Grand Prix, but on the nineteenth lap Martin suffered a serious accident when he was thrown from his car and broke one of his legs upon impact with the ground. 
After Formula 1
[
]
The injuries Martin sustained at the Swiss Grand Prix would keep him out of action until 1952 when he made his motor racing comeback with the Veritas team in Formula 2. Whilst Martin's professional motor racing career was over, he continued to race on a part-time basis and in 1953 competed in the 24 Hours of Le Mans.
In 1954 he made a brief return to Formula One in which he competed in the non-championship Pau Grand Prix for the Gordini team. However Martin would once again crash out of this race as well, this was his final appearance in a Formula One car. Martin finally retired from motor racing completely in 1958 in which his final outing in a motor race took place at that year's 24 Hours of Le Mans.
Eugène Martin died in 2006 at a hospital near his home in La Rochelle, France.
Formula One Statistical Overview
[
]
Formula One Record
[
]
Year
Entrant
Team

WDC

Points

WDC

Pos.
Report
Pre-Championship

1946

Eugène Martin
BMW
No Grand Prix Championship

1947

Eugène Martin

Fraser-Nash

-BMW
No Formula One Championship
1948
Eugène Martin

CTA-Arsenal

No Formula One Championship
1949
Eugène Martin
BMW
No Formula One Championship
Formula One World Championship
1950
Automobiles Talbot-Darracq

Lago-Talbot

0
NC

Report

1951–1953: Did Not Compete
1954
Equipe Gordini
Gordini
Non-Championship Race Only
Career Statistics
[
]
Race Wins
[
]
Career Results
[
]
Complete Formula One results
Year
1
2
3
4
5
6
7
Pts
Pos
1950
0
NC
Ret
Ret
Key
Symbol
Meaning
Symbol
Meaning
1st
Winner
Ret
Retired
2nd
Podium finish
DSQ
Disqualified
3rd
DNQ
Did not qualify
5th
Points finish
DNPQ
Did not pre-qualify
14th
Non-points finish
TD
Test driver
NC
Non-classified finish (<90% race distance)
DNS
Did not start
Italics
Scored point(s) for Fastest Lap
[+] More Symbols
Notes
[
]