Marius Eugène Chaboud (born April 12, 1907-December 28, 1983) was a French racing driver who started racing with his friend Jean Tremoulet in 1936.
Chaboud competed in three World Championship Grand Prix but his best days were behind him.
A winner at the Le Mans 24 Hour in 1938, Chaboud retired from racing at the same event in 1952 when he tipped his car. It was whilst lying under his car, waiting to be rescued, that he decided to call time on his career.
Before Formula 1 World Championship
[
]
Chaboud was a successful athlete in his youth but after meeting Jean Tremoulet he became interested in motor racing, making his debut in 1936 in a Delahaye sportscar.
The following year he raced in the Le Mans 24 Hours with Tremoulet and then, in 1938 he continued his pairing with Tremoulet again and this time won the great race in a Delahaye.
Also in 1938 Chaboud showed his abilities as an all-rounder by winning the Chamonix Rally in a Lancia. In 1939 he established Ecurie Francia and won a second major victory in the Paris-Nice road race.
His racing career was revived after the war when he took part in the very first postwar race in the Bois de Boulogne, finishing third behind Jean-Pierre Wimille and Raymond Sommer in the Coupe des Prisonniers in his underpowered Delahaye. In 1946 he won the Belgian GP before he was recruited the following year by Ecurie France and became French Champion.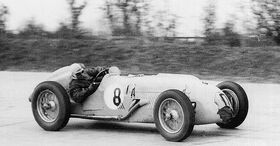 After Ecurie France and Delahaye split in 1947, Chaboud established Ecurie Lutetia with Charles Pozzi and continued to run with Delahayes, racing in a variety of international events.
By 1949 the Delahaye racers were not competitive and for a short time Chaboud concentrated on his secondhand car business but the lure of the sport was strong and he continued to compete at Le Mans and on the Monte Carlo Rally in which he finished second in 1950 in a Simca.
Formula One Career
[
]
1950

[

]
Eugène entered his first World Championship race with his Ecurie Leutitia team at Spa-Francorchamps and qualified towards the back in eleventh, retiring after 22 laps with oil pipe trouble.
He then took his Talbot-Lago to France for the next Grand Prix but did not start the race, taking over the car of Philippe Étancelin and cruising to a 5th place sharing the two points between them leaving Chaboud with one world championship point.
Formula One Statistical Overview
[
]
Formula One Record
[
]
Career Statistics
[
]
Career Results
[
]
Complete Formula One Results
Year
1
2
3
4
5
6
7
8
Pts
Pos
1950
1
20th
Ret
5th
[1]
1951
0
NC
8th
Key
Symbol
Meaning
Symbol
Meaning
1st
Winner
Ret
Retired
2nd
Podium finish
DSQ
Disqualified
3rd
DNQ
Did not qualify
5th
Points finish
DNPQ
Did not pre-qualify
14th
Non-points finish
TD
Test driver
Italics
Scored point(s) for Fastest Lap
DNS
Did not start
18th†
Classified finish (retired with >90% race distance)
NC
Non-classified finish (<90% race distance)
4thP
Qualified for pole position
[+] More Symbols
Notes
[
]