David Wishart Hobbs (born June 9, 1939 in Royal Leamington Spa, England) is a former British racing driver in Formula One. He is most well known for his role as a commentator for Formula One races in the United States, first on ESPN, then Speed Channel and finally on NBC and NBC-Sports Networks.
Formula One Career
[
]
Before Formula One
[
]
1967
[
]
1968
[
]
1971
[
]
1974
[
]
Driving a McLaren M24, Hobbs started ninth and finished fifth at the 1974 Indianapolis 500.
Formula One Broadcaster
[
]
Hobbs was one of the first commentators to doubt the safety improvements made to the Tamburello corner for 1990. Hobbs was doubtful that a concrete run-off area would make any difference in preventing a major accident at the corner. This would fatefully turn out to be correct when Satoru Nakajima and Riccardo Patrese were both injured in accidents at the corner in 1990 and 1992. However, most infamously, Hobbs was certainly proved to be correct when Ayrton Senna was killed at the corner in 1994.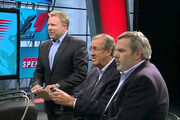 At the end of the broadcast for the 2017 Abu Dhabi Grand Prix, Hobbs announced his retirement from broadcasting.
Formula One Statistical Overview
[
]
Formula One Record
[
]
Italic donates as non-championship entries.
* Classified as a Formula Two entry.
† Classified as a

Formula 5000

entry.
Career Statistics
[
]
Career Results
[
]
Complete Formula One Results
Year
1
2
3
4
5
6
7
8
9
10
11
12
13
14
15
Pts
Pos
1967
0
NC
8th
10th
9th
1968
0
NC
Ret
1971
0
NC
10th
1974
0
NC
7th
9th
Key
Symbol
Meaning
Symbol
Meaning
1st
Winner
Ret
Retired
2nd
Podium finish
DSQ
Disqualified
3rd
DNQ
Did not qualify
5th
Points finish
DNPQ
Did not pre-qualify
14th
Non-points finish
TD
Test driver
Italics
Scored point(s) for Fastest Lap
DNS
Did not start
18th†
Classified finish (retired with >90% race distance)
NC
Non-classified finish (<90% race distance)
4thP
Qualified for pole position
[+] More Symbols
External links
[
]
Quotes
[
]
Commentary
[
]
"Well I must say that the weight limit in these cars is so low, it makes for ridiculously light drivers. I really think they should weigh the car and the driver just like they do in horse racing." - Discussing the new weight regulations. ESPN. 1990 Brazilian Grand Prix. 
"I'm not sure of the overall safety of that." On the safety improvements to the Tamburello corner. ESPN. 1990 San Marino Grand Prix.
The Lotus team and the Camel people all think extremely highly of a young Martin Donnelly. Of course, he learned it all from a certain older driver when they drove together in a Porsche 962 at Nurburgring, a couple of years ago. I can't remember who that driver is now.... "  ESPN. 1990 San Marino Grand Prix.
"I consider anything above 15 [mph] a big moment." Discussing what is considered a major loss of control in a car. ESPN. 1990 San Marino Grand Prix.