Daniel Ricciardo (REE-car-doe; born 1 July 1989 in Perth, Western Australia, Australia) is an Australian Formula One driver who currently drives Red Bull-Renault in 2015, having driven for HRT in the second half of 2011, and Toro Rosso in 2012 and 2013. He was previously been a test driver for Toro Rosso in 2010 and the first half of 2011.
During the 2013 season, he finished seventh in China and Italy, then his highest finish of his Formula One career.
In 2014, he was promoted to the full Red Bull team, with his car number being #3 for the season. His first podium came in his first race for Red Bull at his home race, but he was disqualified for exceeding the maximum allowed fuel flow on his car. His first podium was finally achieved four races later at the Spanish Grand Prix.
At the 2014 Canadian Grand Prix, Ricciardo claimed his first win after climbing from sixth on the grid to take the lead from Nico Rosberg a few laps from the end. He won again at 2014 Hungarian Grand Prix and the 2014 Belgian Grand Prix.
Formula One Career
Initial Tests (2009-2011)
In 2008, Ricciardo was appointed to the Red Bull Junior Team, a program run by Red Bull aimed at assisting and  promoting young racing talent to the higher racing categories. After his achievements in winning the 2008 Formula Renault 2.0 championship and the 2009 British Formula Three Championship, Ricciardo was invited by Red Bull to partake in the 2009 Young Driver's Test for Formula One during December 2009. The test which took place at the Circuito de Jerez saw Ricciardo as the quickest driver by the conclusion of the test at the end of day three. Ricciardo's success in the test saw Red Bull opt to promote Ricciardo to the test and reserve driver for the Red Bull and Toro Rosso teams for the 2010 season alongside New Zealander Brendon Hartley. 
Ricciardo and Hartley attended many grand prix's that season as the Red Bull reserve driver's but Ricciardo would not get to drive the car again until the 2010 Young Driver's Test. Whilst Ricciardo had impressed coming runner up in the Formula Renault 3.5 category, fellow reserve driver Hartley was dropped by Red Bull after disappointing results. This meant he would be driving the Young Driver's Test all by himself. The test taking place in Abu Dhabi during November saw Ricciardo dominate the time sheets.
A week following the end of the test, Red Bull confirmed that he would be the Toro Rosso third driver for 2011, replacing race driver's Jaime Alguersuari and Sebastien Buemi in at least one of the practice sessions each grand prix for the entire season. Ricciardo the first nine rounds of the 2011 season as the Toro Rosso third driver. With his performances in practice, he often outpaced his teammates in Buemi and Alguersuari, leading many to speculate that Ricciardo would replace one of them for the 2012 season, perhaps even earlier mid-way through the 2011 season.
2011: HRT
Red Bull management were eager to get Ricciardo in a race seat as soon as possible. However they were not ready to replace either Buemi or Alguersuari in Toro Rosso, instead they opted to sponsor and financially assist the backmarker HRT team if they ran Ricciardo for the second half of the Formula One season. It was then announced that Ricciardo would race for HRT, replacing Narain Karthikeyan from the British Grand Prix onwards. Ricciardo was partnered by Vitantonio Liuzzi within the team and would race in all grand prix's with the exception of the Indian Grand Prix where Ricciardo would make way for Karthikeyan due to contractual obligations.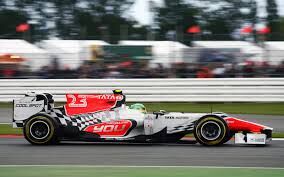 The HRT's were the slowest cars on the grid, Ricciardo qualifying in last place directly behind teammate Liuzzi for his first Formula One race. Ricciardo finished the race in last place, a lap adrift of teammate Liuzzi who finished ahead of him. Ricciardo aimed to be closer to the front for the next race in Germany. Ricciardo faired better in Germany, he was only two tenths slower than Liuzzi in qualifying, the HRT's still lining up at the back of the grid however. With teammate Liuzzi retiring from the race, Ricciardo was the sole running HRT in the race. He managed to overtake the Lotus car of Karun Chandhok, for the first time not finishing last of the classified runners.
Further improvements came in Hungary when Ricciardo managed to beat a car for the first time in qualifying, Ricciardo outqualified the rival Virgin car of Jerome D'Ambrosio. In the race Ricciardo proved faster than teammate Liuzzi and overtook him in the race. Ricciardo finished ahead of both Liuzzi and D'Ambrosio come the chequered flag. In Belgium, Ricciardo qualified in last position but ran a strong race overtaking both the Virgin cars of D'Ambrosio and Timo Glock as well as the two Lotus cars of Heikki Kovalainen and Jarno Trulli. However a vibration issue saw Ricciardo suffer his first Formula One retirement.
In Italy, Ricciardo outqualified teammate Liuzzi for the first time, starting in twenty third place. Ricciardo would however be forced to retire from the race with fourteen laps to go. In Singapore, Ricciardo outqualified Liuzzi again, however at the start Ricciardo hit the back of Timo Glock's Virgin forcing him to pit for a new wing. Despite this Ricciardo fought back and overtook Liuzzi finishing ahead of his teammate once again. In Japan Ricciardo qualified in twenty second and finished the race only ahead of teammate Liuzzi. Korea was the next venue, due to an electrical problem Ricciardo was unable to set a time in qualifying. In the race however he fought passed both Liuzzi and D'Ambrosio to nineteenth place. HRT also incurred a 5 000 euro fine due to an unsafe release during one of Ricciardo's pit stops.
Ricciardo was forced to relinquish the seat to Karthikeyan in India, however returned to the seat for the Abu Dhabi race. Ricciardo outqualifed both D'Ambrosio and Liuzzi once again. He made a good start getting past Glock, however botched an overtake on Trulli which forced him to relinquish positions to Glock and Liuzzi. He managed to overtake Glock, but Liuzzi proved too strong and Ricciardo retired anyway on lap 47 with an alternator failure. The last race of the season was held in Brazil, the two HRT's outqualifed the two Virgin cars however Ricciardo was beaten by Liuzzi. In the race Ricciardo would go on to finish last of the classified runners.
It proved to be a successful debut season for Ricciardo, he had generally outpaced his more experienced teammate Vitantonio Liuzzi in both qualifying and race performance, providing him with some valuable initial race experience within Formula One.
2012-2013: Toro Rosso
2012
As was expected, Red Bull management promoted Ricciardo to a race seat within the Toro Rosso team. Ricciardo was joined by French driver Jean-Éric Vergne who would be making his Formula One debut in 2012. The first round of the championship was held at Ricciardo's home grand prix in Australia. Ricciardo put in a strong performance in qualifying to start in a competitive tenth position, making it into both Q2 and Q3 for the first time. Teammate Vergne also started from a strong eleventh position. At the start Ricciardo made contact with the Williams of Bruno Senna, which forced both cars to pit at the end of the lap for repairs. Ricciardo staged a comeback and fought his way through the midfield. By the end of the race, Ricciardo had found himself in eleventh place just behind teammate Vergne and Paul di Resta's Force India. The three battled hard for the place, on the last lap Vergne made a mistake going into turn 13 allowing both Di Resta and Ricciardo through. Ricciardo made a run and successfully overtook Di Resta into turn 14, taking a delightful ninth on the last lap of his home race.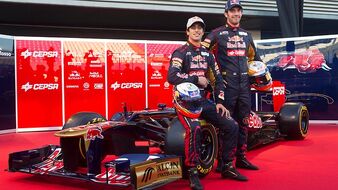 In Malaysia, the two Toro Rosso cars struggled for pace in qualifying, Ricciardo only managing fifteenth on the grid ahead of Vergne in eighteenth. In the race Ricciardo struggled to only an twelfth place finish, whilst teammate Vergne gained his first points of the season with an eighth place finish. When the team's arrived in China, Ricciardo sported some new uprades on his chassis of the Toro Rosso car whilst Vergne still raced in a Malaysia spec chassis. The pair remained uncompetitive in qualifying, Ricciardo edging out Vergne to eighteenth on the grid. Ricciardo would finish the same place he started with Vergne one position ahead of him. 
Bahrain saw Ricciardo put in a phenomenal qualifying performance, putting his midfield running Toro Rosso amongst the front runners with sixth on the grid. The race did not turn out nearly as well, Ricciardo made a terrible start dropping a multitude of places at the start, his Toro Rosso unable to compete with the more powerful machinery around him. He finished the race in a disgruntled fifteenth, one place behind teammate Vergne.
Following a mid-season test in Mugello, the team's arrived in Spain for round 5 of the championship. The Toro Rosso's started fourteenth and fifteenth on the grid, Vergne ahead of Ricciardo. The race saw the pair finish twelfth and thirteenth, Vergne edging out Ricciardo once again. Arriving in Monaco for the next round of the championship, Ricciardo had an unusual sickness going into the race which meant he had lost his voice. He was unable to effectively communicate with his team via the radio for the entire weekend. He qualified a disappointing sixteenth, one place ahead of teammate Vergne. He would go on to retire from the race with steering issues.
In Canada, Ricciardo qualified in fourteenth position, clearly outpacing teammate Vergne who struggled to twentieth. The Toro Rosso proved to be unable to successfully compete with its mid-field rivals once again, Ricciardo made a poor start and dropped a few places. He remained relatively uncompetiive for the remainder of the race and finished where he started, in fourteenth place. Teammate Vergne finished directly behind him in fifteenth. It was another unspectacular qualifying performance in Europe, Ricciardo and Vergne lined up a lowly seventeenth and eighteenth on the grid. It proved to be a more fortuitous race though for Ricciardo, getting a strong getaway and climbing several positions. On the first lap he came close to making contact with the Sauber of Sergio Pérez but managed to avoid a collision. Ricciardo staying out on old tyres much longer than his competitors climbed to as high as third before having to pit for fresh rubber. Towards the end of the race, Ricciardo engaged in a duel with the Caterham of Vitaly Petrov. Ricciardo would hit the back of Petrov's car, however both were able to continue. Ricciardo was able to finish in a reasonable eleventh position, however he just failed to break into a points scoring position.
There was no notable improvements going into the British Grand Prix, Ricciardo was consoled by once again out qualifying teammate Vergne finishing the session in thirteenth. The race would prove to be another struggle for competitiveness, Ricciardo dropped several places at the start including to teammate Vergne. The two Toro Rosso's engaged in a duel as Ricciardo managed to catch up to teammate Vergne. After a short duel Ricciardo was able to overtake his French teammate. Ricciardo finished the race in thirteenth just ahead of Vergne. 
Things looked more positive for Germany, Ricciardo barely missed out on making it into the final qualifying session, starting from eleventh on the grid. Notably significantly ahead of teammate Vergne in eighteenth. Ricciardo made a clean start, however it was immediately evident that his Toro Rosso did not have the pace in comparison to his nearby rivals. After a short duel with the Sauber's of Sergio Perez and Kamui Kobayashi, Ricciardo began to drop down the order. He finished the race in thirteenth, once again only a single place ahead of teammate Vergne.
Ricciardo was unable to maintain his strong qualifying performances in Hungary, struggling to a lowly eighteenth being outqualified by Vergne for the first time since Spain. Ricciardo was able to climb paces at the start, including being able to overtake teammate Vergne. Ricciardo engaged in a duel with Force India's Paul di Resta but when Ricciardo made light contact with the back of Di Resta's car, the Force India began to pull away. Ricciardo finished fifteenth once again a single place ahead of Vergne. 
Ricciardo lost out to Vergne again in qualifying for Belgium, qualifying in sixteenth one place behind his teammate. A large pile-up at the start of the race meant that the Toro Rosso's benefitted immensely. In the confusion, Ricciardo found himself in sixth position after the first corner with teammate Vergne directly behind. Throughout the first two stints of the race, Ricciardo ran strongly getting to as high as fourth position. Following his final pit stop he dropped a few places. Running in eighth position, Ricciardo was challenged and overtaken by teammate Vergne. Ricciardo finished the race in ninth directly behind his teammate.
In Italy, Ricciardo qualified in fifteenth position two places ahead of teammate Vergne. Ricciardo ran a good race getting to as high as tenth, he looked to be on course to score a point, yet towards the end he was put under significant pressure from the two Williams cars of Bruno Senna and Pastor Maldonado. Going into the last corner of the last lap, Ricciardo found he had no acceleration coming out of the corner and both the Williams cars overtook him, stealing the final points position away from him. 
Singapore was the next venue and the two Torro Rosso cars qualified in a seemingly customary fifteenth and sixteenth, Ricciardo ahead of Vergne. It proved to be a strong race for Ricciardo, benefitting immensely due to a safety car period, Ricciardo found himself within the points in eighth place. Towards the end of the race, Ricciardo came under significant pressure from the more powerful machinery of Felipe Massa's Ferrari and Mark Webber's Red Bull. Despite being forced to concede eighth to Massa, Ricciardo was able to hold off his older compatriot to take ninth place. 
Ricciardo lined up fourteenth on the grid for qualifying at the Japanese Grand Prix. Another first corner incident, enabled Ricciardo to make up several places in the confusion. Helped by a safety car period, Ricciardo found himself in ninth place by the end of the second stint. Ricciardo engaged in a duel for eight with Pastor Maldonado's Williams. Ricciardo, however was unable to find a way past and eventually the Williams driver began to pull away from him. For the second race in succession, Ricciardo came under pressure from Mark Webber's Red Bull. Webber being on a different strategy to Ricciardo was able to take ninth away from him. Ricciardo dropping down to tenth and now in the final points position came under significant pressure from Michael Schumacher's Mercedes. Despite attacking hard and being in stronger machinery, Schumacher was unable to find a way past allowing Ricciardo to take tenth in the race. Ricciardo was now a single point behind teammate Vergne in the championship.
In Korea, Ricciardo qualified in sixteenth position however due to an unscheduled gearbox change he was forced to drop five positions on the grid, meaning he would start from twenty first. Ricciardo made a good start, easily disposing of the tail field cars going into the first few corners. Korea saw both Ricciardo and Vergne compete competitively for Toro Rosso, Ricciardo managing to overtake both the Force India's of Paul di Resta and Nico Hülkenberg as well as Michael Schumacher's Mercedes. Ricciardo also managed to overtake teammate Vergne for eighth position where he would hold position without significant threat for the majority of the final stint. However, Ricciardo unexpectedly encountered a braking problem where he notably overshot the first corner by a considerable margin, his problems allowed teammate Vergne to close upon Ricciardo. Ricciardo conceded eighth place to Vergne with little opposition, going on to finish the race in ninth.
India would prove to be an uncompetitive race for Ricciardo and Toro Rosso. He only managed sixteenth in qualifying and at the start he lost a position to Paul di Resta despite overtaking Michael Schumacher. Ricciardo's race would revolve around attempting to get past Di Resta's Force India to no avail. Towards the end he also came under significant pressure from Kamui Kobayashi's Sauber. He held the position to take thirteenth position at the end of the race.
In Abu Dhabi Ricciardo once again qualified in sixteenth place directly ahead of teammate Vergne. Ricciardo made a strong start and managed to gain a few places. Once again he was engaged with a duel with Michael Schumacher however found himself unable to overtake being on the slower prime tyre. Ricciardo was able to gain several places after the first round of pit-stops, including being able to jump Schumacher. During a safety car period, Ricciardo notably had an incident with championship leader Sebastian Vettel, when Ricciardo braked suddenly forcing Vettel in the Red Bull to swerve off the circuit in order to avoid him, hitting a polystyrine board and damaging his front wing. No action was taken against Ricciardo for the incident. Ricciardo found himself in tenth place, however towards the end of the race was being hounded by Schumacher's Mercedes. Ricciardo crossed the line just over a second ahead of Schumacher, taking the final points position.
Ricciardo suffered a disappointing qualifying for the United States Grand Prix, managing only a lowly eighteenth place on the grid. He made a poor start dropping behind the two Marussia cars of Timo Glock and Charles Pic. Despite the poor start Ricciardo staged a strong comeback drive, climbing through the field. Ricciardo ran as high as fifth although he was out of synch with the pit stops. He finished the race in twelfth position.
In Brazil, Ricciardo took his customary sixteenth position ahead of Vergne for the final race of the season. Ricciardo climbed a few places at the start and managed to run as high as eighth. However when the rain came out, Ricciardo who had misjudged the conditions was forced to come in for wet tyres dropping him down the field. He finished the race in twelfth. Vergne took eighth in the race meaning that he had beaten Ricciardo in the championship by six points. Ricciardo's final championship position was eighteenth, one place behind Vergne.
2013
For the 2013 season, both Ricciardo and Vergne were retained by Toro Rosso, the team hoping to progress from their position at the tail end of the mid-field. In qualifying for the first race in Australia, Ricciardo started from fourteenth on the grid, one place behind teammate Vergne. It turned out to be a disappointing home race for Ricciardo who struggled with problems with his exhaust throughout the race. He was forced to retire on lap 39 when the problem became terminal after a largely uncompetitive run.
In Malaysia Ricciardo qualified in thirteenth position, four places above teammate Vergne. Ricciardo made a strong start climbing to tenth, however going into turn 3, the wet conditions caused him to aquaplane off the circuit. He retained the position, however suffered damage to the bodywork which hampered his performance. Ricciardo briefly defended his position by keeping the two Lotus of Kimi Räikkönen and Romain Grosjean behind him, however eventually the two Lotus cars got past. For the second race in succession Ricciardo retired with five laps to go due to an exhaust issue related to his opening lap misadventure. It was another disappointing race as Ricciardo saw teammate Vergne take tenth and his first points of the year.
Fortunes improved for Ricciardo in China, qualifying in a strong seventh position being amongst the front running cars on the grid. Ricciardo ran a clean race, maintaining a strong race performance as he had done in qualifying, holding on to his seventh place. Towards the end of the race Ricciardo began to chase down and managed to close in on Felipe Massa's Ferrari, putting the Ferrari driver under pressure but was unable to get past. Ricciardo finished in seventh position, his best F1 position at that point in his career.
In Bahrain, Ricciardo qualified in thirteenth position, three places ahead of Vergne. Ricciardo made a strong start getting ahead of Lotus's Romain Grosjean, however going into turn 3 Grosjean retook the position as well as Sauber's Nico Hülkenberg managing to find a way past as well. Ricciardo struggled throughout the race, the Toro Rosso struggling to get heat into its tyres and suffering from an overall lack of downforce. Ricciardo finished the race in sixteenth, one lap down on the leaders.
Spain was the next venue on the calendar, Ricciardo just missed out on getting into Q3 with an eleventh place qualifying position, one place ahead of teammate Vergne. Like in Bahrain Ricciardo struggled for initial pace dropping down the field significantly. However after his first pit-stop the team changed his wing settings which helped improve his pace. Ricciardo managed to climb as high as eighth position, however towards the end of the race he began struggling for pace and lost positions to the McLaren's of Jenson Button and Sergio Pérez. Towards the end of the race Ricciardo came under significant pressure from Sauber's Esteban Gutiérrez, however he was able to fend off his Sauber rival and take the final points position.
In Monaco Ricciardo qualified in twelfth position, Vergne getting the upperhand with a tenth place qualifying position. Ricciardo lost a place at the start to Valtteri Bottas's Williams, like in the previous races Ricciardo struggled to get heat into his prime tyres and was largely uncompetitive. Ricicardo proved to be more competitive on the option tyres in the later stints of the race but being in Monaco it proved difficult for him to get past the train of cars ahead of him. Ricciardo also came under significant pressure from Romain Grosjean's Lotus, on lap 66 Grosjean attempted to overtake Ricciardo coming out of the tunnel. Ricciardo defended his line but Grosjean lost control of his manoeuvere and smashed into the back of Ricciardo's Toro Rosso. Both driver's suffered terminal damage and were forced to retire from the race.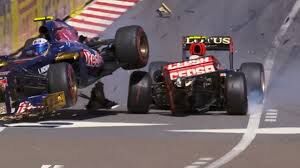 For Canada, Ricciardo and Kimi Räikkönen were handed two place grid penalties after straying out of the designated lane during the qualifying session whilst waiting to be allowed out onto track. This meant he dropped to eleventh after qualifying in tenth position. Ricciardo made a strong start to the race getitng past Räikkönen and Adrian Sutil's Force India. Ricciardo appeared to be competitive in the opening laps but after the first stint he suffered severe tyre degradation and dropped off the pace significantly. Ricciardo would eventually finish the race in a lowly fifteenth.
Ahead of the British Grand Prix, Red Bull driver and fellow Australian Mark Webber announced his retirement from Formula One. Red Bull team principal Christian Horner announced that both Ricciardo and Vergne were candidates to replace Webber for 2014 as well as Lotus driver and former world champion Kimi Räikkönen. The remainder of the 2013 season would prove to be a battle in order to prove his worthiness for the most sought after F1 seat at the time. In Britain Ricciardo proved to be competitive throughout practice and in qualifying he managed to put his car into an outstanding fifth position on the grid, amongst the frontrunners. Ricciardo made a poor start and proved to be less than competitive in the first stint. However after the first set of pit-stops Ricciardo began to regain ground climbing back up to eighth. Towards the end of the race Ricciardo began to put pressure on Adrian Sutil and Felipe Massa yet was unable to find a way past these two drivers.
Germany saw Ricciardo put in another strong performance qualifying in sixth position. The race would prove to be a disappointment though, Ricciardo whilst able to hold position in the initial stages of the race began to suffer from severe tyre degradation dropping back significantly. Ricciardo finished the race outside of the points in twelfth. 
Following the German GP, Ricciardo was invited by Red Bull to conduct a test session with the team to evaluate his performance for the 2014 drive. When asked by a journalist, Christian Horner announced that the candidates were mainly Ricciardo and Räikkönen for the drive, effectively eliminating Ricciardo's Toro Rosso teammate Jean-Eric Vergne. Despite a spin Ricciardo impressively ran quickest on the second day of the test.
In Hungary, Ricciardo once again made it into the top ten qualifying eighth on the grid. Once again the Toro Rosso proved to be uncompetitive in race trim and Ricciardo began to drop back unable to compete with his nearby rivals. He finished the race in thirteenth position.
Ricciardo qualified a disappointing eighteenth on the grid in Belgium, one place behind teammate Vergne. The wet session in Q1 meant that Toro Rosso misjudged their tyre choices sending their drivers out on full wets rather than the intermediates. Ricciardo however proved to be competitive during the race and managed to climb through the field, eventually finishing in a reasonable tenth position. 
Ahead of the Italian Grand Prix, Ricciardo was finally announced as Mark Webber's replacement in the Red Bull Racing team in a three year deal beginning in 2014. Chief designer Adrian Newey stating the team felt it preferred the "young blood" approach over the mature and experieced Kimi Räikkönen feeling Ricciardo can be developed over the years to perform at a very high standard. For qualifying in Italy, Ricciardo put in a strong performance to qualify in seventh. He had a quiet race being able to maintain his position going on to finish in the same place he started.
Before the Singapore Grand Prix, Ricciardo conducted a 2014 compound Pirelli tyre test with the Red Bull team alongside the team's test driver Sebastien Buemi, providing him with a further chance to familiarise himself with the team ahead of 2014. For Singapore Ricciardo qualified in a strong ninth position. The race turned out to be less fortunate, Ricciardo made a poor start dropping to fourteenth position. Whilst he had strong race pace, Ricciardo evidently began pushing too hard and on lap 23, Ricciardo made an uncharacteristic mistake into turn 12 and hit the wall, causing his retirement. 
In Korea the Toro Rosso's appeared relatively off the pace, Ricciardo could only manage thirteenth in qualifying. Ricciardo had better race pace and was managing to hold ninth position when in the later stages of the race he began developing a braking issue with the left front. With only four laps to go Ricciardo suffered a front left braking failure and speared off the circuit into retirement. One lap later teammate Vergne retired with a similar issue. It was an overall disappointing result for the Toro Rosso team.
The Toro Rosso's continued to struggle in qualifying for Japan with Ricciardo only managing sixteenth on the grid. The race would fair better as he would slowly climb up the order. Ricciardo engaged in an intense duel with Valtteri Bottas's Williams for the final points placing before finally overtaking for the position. Ricciardo would then begin hunting down the Force India of Adrian Sutil for ninth. Midway through the race Ricciardo overtook Sutil going around the outside of 130R at the first corner. However the stewards deemed Ricciardo had conducted an illegal overtake as he had strayed off track whilst conducting the manoeuvere. Ricciardo was handed a drive through penalty and dropped to thirteenth outside of the points where he would remain for the remainder of the race.
In India Ricciardo had a better qualifying performance finishing the session in eleventh position. He ran a quiet race in tenth position throughout the race. Ricciardo at the end of the race began closing on the Force India's of Adrian Sutil and Paul Di Resta but was unable to find a way past before the end.
Ricciardo had a stronger qualifying in Abu Dhabi managing a tenth position, however his race certainly did not go as planned. Ricciardo made a poor start dropping multiple places, then dropping further back when he was caught up in a collision in the first corner. Ricciardo remained uncompetitive for the remainder of the race and finished a lowly sixteenth.
At the United States Grand Prix Ricciardo qualified in eleventh position. He ran most of the race in tenth position however towards the end of the race he began to suffer from severe tyre degradation allowing Jenson Button in the McLaren to close and pass in the final laps. Ricciardo went on to finish in eleventh just outside the points.
Toro Rosso appeared competitive going into the final round in Brazil, Ricciardo qualified a strong seventh with teammate Vergne qualifying right behind him in eighth. Ricciardo struggled with front right graining on his tyre throughout the race which allowed the surrounding cars to get past, however Ricciardo managed to bring the car home in tenth place taking the final points position. Ricciardo finished fourteenth in the championship with twenty points. He managed to garner seven more points than teammate Vergne who was directly behind him in the championship.
2014-present: Red Bull Racing
2014
After Mark Webber retired from Formula One at the end of the 2013 season, Ricciardo signed up to take his place, alongside the defending champion Sebastian Vettel. Vergne stayed at Toro Rosso, with GP3 Series champion Daniil Kvyat his new team-mate. The reigning champion's however appeared to be struggling during pre-season testing, the new Red Bull appeared highly unreliable with both Ricciardo and new teammate Vettel getting very limited running throughout pre-season testing.
Despite the testing woes Red Bull appeared to remain quick come the first round in Australia. For his home race Ricciardo qualified a phenomenal second, managing to split the superior Mercedes cars on the grid. His teammate the quadruple world champion Vettel languished in thirteenth on the grid. At the start Ricciardo got passed the  Mercedes of Lewis Hamilton who was struggling with power issues, however the second Mercedes of Nico Rosberg snatched the lead from Ricciardo. Rosberg sprinted away into the lead as Ricciardo ran quiet race in second position where he would remain until the finish. Ricciardo looked to have got his first podium at the Australian Grand Prix on his home track after finishing second, but with the FIA's new fuel flow regulations being put into effect, his fuel flow was believed to have been over the limit and Ricciardo was disqualified. This gave McLaren (who failed to achieve a single podium finish in 2013) a double podium, bettering Kevin Magnussen's debut podium and prevented a first-ever home podium for an Australian driver.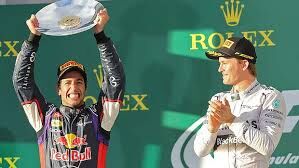 Despite the low after Australia, Ricciardo managed to qualify in a reasonable fifth position, teammate Vettel started the race from second. Ricciardo made a strong start climbing up to third passing teammate Vettel for the position. The two Red Bull cars held station behind the two Mercedes who appeared untouchable. Ricciardo and Vettel engaged in a duel for third, Ricciardo eventually conceding the position to his teammate. Ricciardo held station in fourth until his third pit stop when upon being released from the pits before his front left tyre was properly fastened. This meant Ricciardo had to be pushed back into the pits by his mechanics to correctly fasten the tyre. This mishap dropped him well out of the points and to further his woes Ricciardo suffered a front wing failure and opted to retire on the 49th lap. Following the race Ricciardo was handed a ten place grid penalty for Bahrain due to his unsafe release.

In Bahrain Ricciardo qualified in third position behind the two Mercedes cars, however due to his grid penalty served in Malaysia Ricciardo would start from thirteenth, three places behind teammate Vettel. Red Bull were competitive in the race and Ricciardo and Vettel began swiftly climbing up the field. Ricciardo once again entered an intense duel with teammate Vettel, Ricciardo managed to get the better of Vettel to take fourth position from his teammate. He came close to securing a podium, gaining within half a second on the Force India of  Sergio Pérez but was unable to overtake before the end. Ricciardo finishes two places above Vettel in the race.
China was the next venue and Red Bull looked strong again, Ricciardo starting from second on the grid with teammate Vettel in third. Once again they were unable to match the pace of Lewis Hamilton in the Mercedes who took pole. Ricciardo made a poor start off the line and let the Ferrari of Fernando Alonso and teammate Vettel through. The two Red Bull's raced wheel to wheel once again, Ricciardo being the faster of the two attempted to get by. Red Bull management ordered Vettel to let Ricciardo past and whilst Vettel initially resisted the order he eventually complied. Ricciardo began to close on Alonso for third but was unable to get close enough before the end of the race. 
In Spain, the Mercedes cars once again proved superior in pace as Ricciardo lined up third in best of the rest behind Hamilton and Rosberg. In the race the Mercedes cars were too quick for Ricciardo to match and began to pull away dramatically. Ricciardo, whilst not having the pace to get anywhere near the Mercedes ran significantly faster than the rest of the field and ran a lonely race in third. He finished where he started with very little action during the race for him. In securing third, Ricciardo secured his first legitimate podium.
In Abu Dhabi, Ricciardo qualified 5th but he was excluded after the qualifying for having an illegal front wing. He went on to finish the race 4th after starting from the pit-lane, ending the season third in the championship.
Formula One Statistic Overview
F1 Career Record
Statistics
Correct as of the 2012 Brazilian Grand Prix
Race wins
Career Results
Template:Career Results/2015
Complete Formula One results
Year
1
2
3
4
5
6
7
8
9
10
11
12
13
14
15
16
17
18
19
20
21
Pts
Pos
2011
0
27th
C
TD
TD
TD
TD
TD
TD
TD
TD
19th
19th
18th
Ret
NC
19th
22nd
19th
18th
Ret
20th
2012
10
18th
9th
12th
17th
15th
13th
Ret
14th
11th
13th
13th
15th
9th
12th
9th
10th
9th
13th
10th
12th
13th
2013
20
14th
Ret
18th
7th
16th
10th
Ret
15th
8th
12th
13th
10th
7th
Ret
19th
13th
10th
16th
11th
10th
2014
238
3rd
DSQ
Ret
4th
4th
3rd
3rd
1st
8th
3rd
6th
1st
1st
5th
3rd
4th
7th
3rd
Ret
4th
 
Key
Symbol
Meaning
Symbol
Meaning
1st
Winner
Ret
Retired
2nd
Podium finish
DSQ
Disqualified
3rd
DNQ
Did not qualify
5th
Points finish
DNPQ
Did not pre-qualify
14th
Non-points finish
TD
Test driver
NC
Non-classified finish (<90% race distance)
DNS
Did not start
Italics
Scored point(s) for Fastest Lap
[+] More Symbols
Notes
Community content is available under
CC-BY-SA
unless otherwise noted.