The Circuito de Jerez is a circuit used for several Formula One Grands Prix during the 1980s and '90s. The circuit, located in Andalucía, Spain, is perhaps best remembered for a horrific accident in 1990 which ended the career of Lotus driver, Martin Donnelly, and the controversial 1997 European Grand Prix where Michael Schumacher intentionally collided with Jacques Villeneuve in an attempt to win the World Championship.
The circuit has hosted 5 Spanish Grands Prix and two European Grands Prix before being removed from the calendar following the 1997 Formula One Season.
The circuit is currently used for pre-season testing.
Circuit History
[
]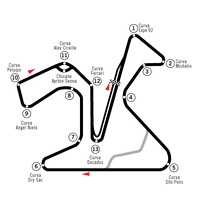 Reportedly Bernie Ecclestone wanted a track in southern Spain, and the layout was sketched on a napkin. Construction started in 1983, and the track opened in December of 1985.
The track has not hosted an F1 race since 1997, due to the mayor of Jerez presenting a trophy at that race instead of an executive from Daimler-Benz, but remains popular for winter testing, due to the climate.
Circuit Layouts
[
]
Previous Layouts
[
]
Before the 1994 race:
A chicane was added to turn 11 after Martin Donnelly's crash in 1990.
The track used to make an "S" bend inside of what is now the Curva Sito Pons (turn 5). The track length was 4.218km.
Current
[
]
Event history
[
]
The following is a list of Formula One World Championship events held at the Jerez circuit:
Notes
[
]
V

T

E
Spanish Grand Prix
Circuits
Pedralbes (1951, 1954), Jarama (1967-1968, 1970, 1972, 1974, 1976-1981), Montjuïc (1969, 1971, 1973, 1975), Jerez (1986-1990), Catalunya (1991-Present)

Races
1951 •

1952–1953

• 1954 •

1955–1967

• 1968 • 1969 • 1970 • 1971 • 1972 • 1973 • 1974 • 1975 • 1976 • 1977 • 1978 • 1979 •

1980

• 1981 •

1982–1987

• 1986 • 1987 • 1988 • 1989 • 1990 • 1991 • 1992 • 1993 • 1994 • 1995 • 1996 • 1997 • 1998 • 1999 • 2000 • 2001 • 2002 • 2003 • 2004 • 2005 • 2006 • 2007 • 2008 • 2009 • 2010 • 2011 • 2012 • 2013 • 2014 • 2015 • 2016 • 2017 • 2018 • 2019 • 2020 • 2021 • 2022
Non-Championship Races

1923

•

1924–1925

•

1926

•

1927

•

1928–1929

•

1930

•

1931–1932

•

1933

•

1934

•

1935

•

1936–1966

• 1967 •

1968–1979

• 1980