Charles "Chas" Van Acker (born March 14, 1912 in Brussels, Belgium – died May 31, 1998 in South Bend, St. Joseph County, Indiana, United States) was a Belgian-American racing driver who drove at the Indianapolis 500.
He made one Formula One World Championship entry, at the 1950 Indianapolis 500, which was made a round of the 1950 Formula One Season. He failed to qualify for the race.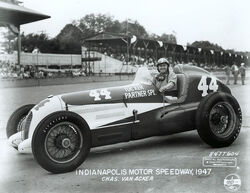 Charles Van Acker drove solely in races in North America, from 1946 to 1950. He entered five Indianapolis 500s, starting the event in 1947, 1948 and 1949, and failing to qualify in 1946 and 1950. He drove a Stevens car sponsored by Tucker Partners in 1947 and a Redmer-sponsored Stevens from 1948 to his retirement.
His Indy starts were not successful, crashing out in 1947 and 1949 and finishing eight laps down in eleventh in 1948. He was declared physically disqualified from the 1950 race following his 1949 crash.[1]
After he stopped racing, he owned South Bend Motor Speedway (in South Bend, Indiana; 200 km from the Indianapolis Motor Speedway).
Formula One Statistical Overview
[
edit
|
edit source
]
Complete Formula One results
Year
1
2
3
4
5
6
7
Pts
Pos
1950
0
NC
DNQ
Key
Symbol
Meaning
Symbol
Meaning
1st
Winner
Ret
Retired
2nd
Podium finish
DSQ
Disqualified
3rd
DNQ
Did not qualify
5th
Points finish
DNPQ
Did not pre-qualify
14th
Non-points finish
TD
Test driver
NC
Non-classified finish (<90% race distance)
DNS
Did not start
Italics
Scored point(s) for Fastest Lap
[+] More Symbols
Community content is available under
CC-BY-SA
unless otherwise noted.