The Circuit de Charade, often simply called "Circuit Louis Rosier" or "Circuit Clermont-Ferrand", is a temporary road circuit in the Auvergne Mountains of central France. It was built on the slope of an extinct volcano, and was described as a faster and twistier version of the Nürburgring.
Circuit History
[
]
The roads through the mountains south of Clermont-Ferrand had been popular with motorcycles and sports cars since before WW2. In the early 1950s, the local council decided to build on that popularity, and in 1957, construction began on an 8km course, using roads that looped around the Puy du Charade, an extinct volcano.

One problem that persisted for a number of years was the presence of a large number of volcanic stones lining the track. When the roads were first built, the stones were thought to be the perfect material for a foundation upon which to lay tarmac. Racing vehicles often use the entire width, however, of a road surface, and stones kicked up by tires would become lethal projectiles to anyone behind them. Finally, during the 1972 French Grand Prix, a stone kicked up when Emerson Fittipaldi got slightly off course pierced the visor of BRM driver Helmut Marko, effectively blinding him in his left eye. That was the last formula one race held at the circuit.
Circuit Layouts
[
]
Previous Layouts
[
]
The original circuit was run in a clockwise direction, heading east on route D5F, on the north slope of the twin cones of Puy du Charade. The eastern end of the circuit is a long series of high speed right hand bends, along which the track joins up with the original route D5. South of the western peak, an artificial section winds down and through a valley where two streams join. After several hairpin bends, the start/finish and pits are on a short, 500m straight leading to a sharp lefthander and an uphill 1.2 km straight (the longest on the track) that rejoins route D5F, near its western junction with route D5.
Current
[
]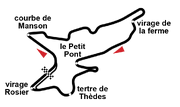 In the 1980s, safety concerns and complaints increased, and the decision was made to shorten the circuit. The high speed loop around the mountain was cut out completely, and a new link was constructed that paralleled the main road, shortening the track to 3.975 km. The new circuit kept all of the twisty parts in the river valley, but cut out the narrow and very high speed sections.
Event history
[
]
The following is a list of Formula One World Championship events held at the Charade circuit:
Notes
[
]
V

T

E
French Grand Prix
Circuits
Reims (1950–1951, 1953–1954, 1956, 1958–1961, 1963, 1966)
Rouen-Les-Essarts (1952, 1957, 1962, 1964, 1968)
Charade Circuit (1965, 1969–1970, 1972)
Bugatti Circuit (1967)
Circuit Paul Ricard (1971, 1973, 1975–1976, 1978, 1980, 1982–1983, 1985–1990, 2018–2019)
Dijon-Prenois (1974, 1977, 1979, 1981, 1984)
Circuit de Nevers Magny-Cours (1991–2008)

Races
1950 • 1951 • 1952 • 1953 • 1954 •

1955

• 1956 • 1957 • 1958 • 1959 • 1960 • 1961 • 1962 • 1963 • 1964 • 1965 • 1966 • 1967 • 1968 • 1969 • 1970 • 1971 • 1972 • 1973 • 1974 • 1975 • 1976 • 1977 • 1978 • 1979 • 1980 • 1981 • 1982 • 1983 • 1984 • 1985 • 1986 • 1987 • 1988 • 1989 • 1990 • 1991 • 1992 • 1993 • 1994 • 1995 • 1996 • 1997 • 1998 • 1999 • 2000 • 2001 • 2002 • 2003 • 2004 • 2005 • 2006 • 2007 • 2008 •

2009–2017

• 2018 • 2019 • 2020 • 2021 •

2022

European Championship Races

1931

•

1932

•

1933–1937

•

1938

• 1939
Non-Championship Races
1906 •

1907

•

1908

•

1909–1911

•

1912

•

1913

•

1914

•

1915–1920

• 1921 •

1922

•

1923

• 1924 • 1925 •

1926

•

1927

•

1928

•

1929

•

1930

•

1931–1932

•

1933

•

1934

•

1935

•

1936

•

1937

•

1938–1946

• 1947 • 1948 • 1949