Bugatti Circuit is a permanent race track located within the legendary Circuit des 24 Heures and named after Ettore Bugatti.
Circuit History
[
]
ue to the age and condition of Autodrome de Linas-Montlhéry, a search was conducted in the early 1960s for a location for a permanent race circuit and test track. Eventually the idea of using the section of the Le Mans 24 hour circuit that did not use public roads was hit upon. A plan for a 4.4 km permanent circuit was created, using the pit straight and first corner of the circuit, and looping back through various campgrounds and parking lots of the property. The track opened in 1965, having taken only a few months to construct. The original layout was 4.430 km long.
Circuit Layouts
[
]
Original
[
]
Just after the Dunlop bridge and part way along the descent towards Tertre Rouge, the new Bugatti course turned right through a tight hairpin and ran parallel to the main course back towards the paddock village area. The then newly-constructed Musée des 24 Heures buildings necessitated the creation of a wide parabolic curve, which turned the course back through more than 180° and onto a new straight to the eastern-most point of the available land. From there another hairpin led onto a long straight with a kink in the middle - the Chemin aux Bœufs - followed by a series of S-bends and yet another hairpin which rejoined the main course just before the pits.
Current
[
]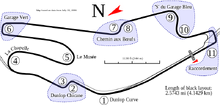 Event history
[
]
The following is a list of Formula One World Championship events held at the Bugatti circuit:
Notes
[
]
V

T

E
French Grand Prix
Circuits
Reims (1950–1951, 1953–1954, 1956, 1958–1961, 1963, 1966)
Rouen-Les-Essarts (1952, 1957, 1962, 1964, 1968)
Charade Circuit (1965, 1969–1970, 1972)
Bugatti Circuit (1967)
Circuit Paul Ricard (1971, 1973, 1975–1976, 1978, 1980, 1982–1983, 1985–1990, 2018–2019)
Dijon-Prenois (1974, 1977, 1979, 1981, 1984)
Circuit de Nevers Magny-Cours (1991–2008)

Races
1950 • 1951 • 1952 • 1953 • 1954 •

1955

• 1956 • 1957 • 1958 • 1959 • 1960 • 1961 • 1962 • 1963 • 1964 • 1965 • 1966 • 1967 • 1968 • 1969 • 1970 • 1971 • 1972 • 1973 • 1974 • 1975 • 1976 • 1977 • 1978 • 1979 • 1980 • 1981 • 1982 • 1983 • 1984 • 1985 • 1986 • 1987 • 1988 • 1989 • 1990 • 1991 • 1992 • 1993 • 1994 • 1995 • 1996 • 1997 • 1998 • 1999 • 2000 • 2001 • 2002 • 2003 • 2004 • 2005 • 2006 • 2007 • 2008 •

2009–2017

• 2018 • 2019 • 2020 • 2021 •

2022

European Championship Races

1931

•

1932

•

1933–1937

•

1938

•

1939

Non-Championship Races
1906 •

1907

•

1908

•

1909–1911

•

1912

•

1913

•

1914

•

1915–1920

• 1921 •

1922

•

1923

• 1924 • 1925 •

1926

•

1927

•

1928

•

1929

•

1930

•

1931–1932

•

1933

•

1934

•

1935

•

1936

•

1937

•

1938–1946

•

1947

• 1948 • 1949