The Alfa Romeo 158 was the car driven by all seven Alfa Romeo drivers during the inaugural season of the F1 World Championship in 1950. As such, it was driven by Giuseppe Farina to the World Drivers' Championship. It was the winning car in every race of that season, apart from the Indianapolis 500 which the team did not enter.
A well developed pre-war GP car, the 158 had a 1.5Litre Supercharged engine and was much lighter than some of its competition and sometimes only lost the lead of races when it came in to re fuel where as some of the opponents did not need to but the speed of the car meant this was not often a problem.
The 158 was succeeded the following season by a more developed version, the Alfa Romeo 159, which Farina used in the final Grand Prix of the 1950 season.
In Competition
[
]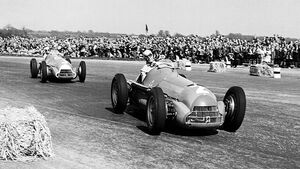 During 1950 the Alfa Romeo 158 was utterly dominant, winning every round except the Indianapolis 500 which it did not enter and the championship came down to a battle between its lead three drivers, Juan Manuel Fangio, Giuseppe Farina and Luigi Fagioli.
Farina won the opening GP at Silverstone with Fagioli second whilst Fangio retired. Onto Monaco and Fangio this time won after Farina had spun out on lap 1 triggering a multi-car pile-up on the flooded Tabac corner.
At Bremgarten Fangio retired again with Farina winning his second race followed home by Fagioli and in Belgium Fangio won from Fagioli, with Farina bringing home a crippled car 4th.
Farina suffered car trouble again in France, finishing out of the points after leading whilst Fangio won from Fagioli ensuring the title lead coming into the season decider.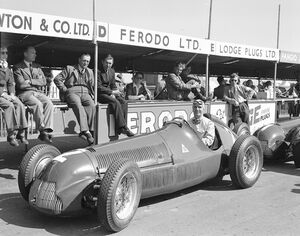 At Monza, Fagioli was an outside bet for the championship, with a string of seconds, the drop score system not favouring him. Farina would have to win with Fangio finishing down the order to seal the championship and he set off at great pace with Ferrari's Alberto Ascari in pursuit. Fangio was driving intelligently, just doing enough to take the title when he suffered car trouble and retired. He later took over a team-mates car and retired that too.
Farina was World Champion and Alfa Romeo would take the top three places in the standings.
The only time Alfa Romeo would not lead was for a handful of laps at Spa and Monza where cars with better fuel economy; Raymond Sommer in a Talbot-Lago and Alberto Ascari in a Ferrari, would pass them at pit-stops. 
Race Victories
[
]
Complete Formula One Results
[
]
All results for Alfa Romeo
Year
Driver
Tyre
1
2
3
4
5
6
7
1950
Giuseppe Farina

P

1st
Ret
1st
4th
7th
Juan Manuel Fangio
Ret
1st
Ret
1st
1st
Ret
Luigi Fagioli
2nd
Ret
2nd
2nd
2nd
3rd
Reg Parnell
3rd
Gianbattista Guidotti
DNS
Consalvo Sanesi
Ret
Piero Taruffi
Ret
Trivia
[
]
The Alfa Romeo 158 appears in Formula One 06 and Formula One Championship Edition.