Alfa Romeo is an Italian Formula 1 team and constructor, which has competed intermittently since the inaugural championship season, along with pre-war Grand Prix racing, and a variety of other motorsports.
It's first stint in racing resulted in two World Championship victories with Nino Farina and Juan Manuel Fangio, before it pulled out at the end of the 1951 season. The team returned in the late seventies and early eighties, without as much success, before withdrawing once again.
In 2019, Sauber rebranded as Alfa Romeo, marking the teams return to Formula One as a constructor for the first time since 1985, with Kimi Räikkönen and Antonio Giovinazzi as its current drivers.
The team also supplied engines to a multitude of teams, such as Osella, McLaren, Brabham and March.
Overall, Alfa Romeo have achieved 10 wins from 131 Grands Prix, taking further two wins as an engine supplier.
Alfa Romeo made their first racing car in 1913 and soon became one the the big names of sport at the time achieving success in GP's at Mugello and the Targa Florio with amongst other, drivers like Enzo Ferrari, Ugo Sivocci and Guiseppe Campari.
It was Sivocci's Alfa, painted with the three leaf clover on a white background that would give the marque its racing emblem and good luck sign.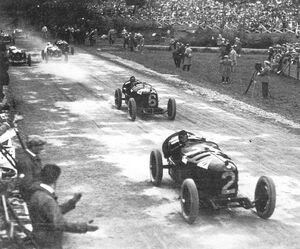 In 1923, Alfa Romeo lured designer Vittorio Jano away from the successful GP Manufacturers FIAT and with his cars, won the 1925 Automobiles World Championship winning 2 of the four rounds; at Spa-Francochamps and Monza with the Alfa Romeo P2. The car proved so dominant at times that at Spa, driver Antonio Ascari had time to enjoy a sandwich during his pit-stop on his way to victory.
In 1932, Jano produced the P3 which won 6 Grands Prix in its debut year with driver Tazio Nuvolari and Rudolf Caracciola but in 1933 the factory team closed.
Racing continued for the Alfa Romeo cars, transfered to Enzo Ferrari and his Scuderia Ferrari team. Enzo in charge of development of the cars continued the successes winning many GP including the high profile Italain and Spanish GP's.
1934 saw the emergence of the German Silver Arrows which would dominate GP racing but victories stil came in the period upto the war for Nuvolari and Louis Chiron.
Alfa also dominated sports car and endurance racind during this time, winning the Targa Florio 6 times in a row, the Le Mans 24 Hour from 1931 - 34 and every Mille Miglia from 1928 - 38 (barring 1931).
After the war and with the absence of the German marques, Alfa dominated Grand Prix racing with their 158 that they continued to develop, their main competition coming from Maserati.
Formula One World Championship
[
edit
|
edit source
]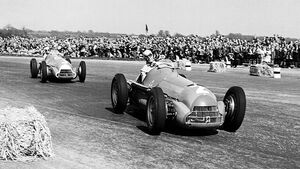 Alfa Romeo dominated the inaugural season of the Formula 1 Championship with it's pre war 158, powered by a supercharged 1.5 Litre Straight-8 engine. The team had three regular entries for Giuseppe Farina, Juan Manuel Fangio and Luigi Fagioli, known as the "Three Fs". It was between these three drivers that the first Driver's Championship was fought.
Farina won the opening race of the season at Silverstone, with Fagioli second and guest driver Reg Parnell third in his home race. Fangio suffered from engine problems and retired with eight laps to go. Gianbattista Guidotti was officially entered as a substitute driver for Fagioli. Fangio led from start to finish at round two at Monaco, with the other two drivers eliminated in the first lap pileup at Tabac.
The team, much like most of the European teams, missed the third round of the championship, the Indianapolis 500. Fangio took pole next time out in Switzerland, although Farina ultimately dominated the race. Fagioli took another second place while Fangio suffered yet more mechanical trouble and retired. It was Farina's turn to suffer mechanical difficulties at the following round at Belgium, although he did manage to coax his car home in fourth. Fangio led a yet another 1-2 with Fagioli again scoring a second place.
A second consecutive victory for Fangio at the next race at Reims meant he took the championship lead off of Farina going into the final round after yet more issues for the Italian. Fagioli maintained a slim chance at the title with another podium finish. Going into the final round, the team's home race at Monza, Fangio needed at top two finish to guarantee the crown, with Farina needing a win with Fangio lower than second. Outsider Luigi Fagioli needed to win, with Fangio failing to finish and Farina no higher than third.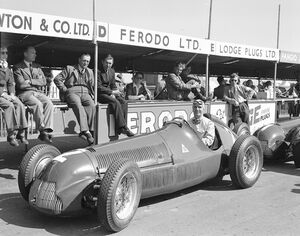 Alfa bolstered their lineup with two extra cars for home drivers Piero Taruffi and Consalvo Sanesi. Fangio took another pole position but it was Farina who dominated the race, taking victory and with it the driver's championship. Fangio retired his car with gearbox issues, and took over Taruffi's car but again succumbed to poor reliability. Fagioli was on the podium again in third and Sanesi was an early retirement.
It was a very successful season for the team, leading nearly every lap and taking a clean sweep of wins and pole positions, barring the anomolous Indianapolis 500. Farina won the Championship ahead of Fangio and Fagioli in second and third respectively. There was no Constructor's championship until 1958, although had it been held this year, Alfa Romeo would have came out on top.
Alfa Romeo upgraded it's existing machinery to type 159s, maintaining the supercharged engines of the season before. The team entered four cars at all races bar the Belgian Grand Prix, with star drivers Nino Farina and Juan Manuel Fangio retained as it's two regular drivers. Fagioli did not return for a second full season although he was one of the many drivers to occupy the third and fourth seats.
Alfa began the season as it had ended the last, winning the first three races of the year, excluding the Indianapolis 500. Fangio won the opening race in Switzerland from pole position while Farina could only manage third position. In Belgium, Farina took his final race victory for Alfa Romeo, as Fangio could only finish last after suffering reliability problems during the race.
At Reims it was another win for Fangio, this time shared with Luigi Fagioli, after the pair swapped cars after Fangio's original car developed a misfire. Farina struggled home to fifth as it was clear that Ferrari was quickly catching up in terms of pace. This was confirmed as Alfa Romeo lost it's monopoly over Grand Prix wins, with a solitary car on the podium at each of the next three races, Fangio second in Britain and Germany, Farina claiming third at Monza.
This combined with strong results from Ferrari left Fangio only two points clear of Alberto Ascari going into the final race in Spain. However, the Alfa driver capitalised on poor tyre choice by Ferrari to take victory and with it his first World Title, outgoing champion Farina in third.
The third and fourth seats on the team were often rotated, with only once in the season the same two drivers retained for consecutive races. Consalvo Sanesi and Toulo de Graffenreid both scored points at the opening round, before the team downsized to three cars for the following race, with Sanesi the benefactor. The Italian failed to score points for the rest of the season, missing the German Grand Prix to make way for home driver Paul Pietsch, who crashed out. Sanesi was due to return at Monza, but was replaced by de Graffenreid for the rest of the season due to injury. Fagioli returned at Reims, sharing his car to victory with Juan Manuel Fangio, but left the team due to this move. Felice Bonetto replaced him for the remainder of the season, taking a shared third place at Monza and scoring points on two further occasions.
By the end of the season, it was clear that a completely new car would be required to compete with the Ferraris going forward. Without the funds to do so, Alfa Romeo announced at the end of the season that they would be withdrawing from Formula 1.
In 1977, Carlo Chiti's Autodelta began developing a new Formula One car on the behalf of Alfa Romeo. The resulting 177, complete with the Flat-12 engine that had been supplied to Brabham since 1976, would make its debut in 1979. The team would use Goodyear tyres. This marked the team's first appearence as a constructor since it withdrew at the end of 1951.
Bruno Giacomelli would drive the car in two midseason Grand Prix. He retired after a crash with Elio de Angelis in Belgium, and finished 17th in France. The team did not appear for the next four races as it developed a new car, the 179, complete with a brand new V12 engine. The new engine layout allowed for more space for venturi tunnels, meaning that ground effect could be exploited for the new car. The 179 was a long-serving machine, lasting until the beginning of the 1982 season.
Alfa Romeo returned at it's home race at Monza as an expanded two car team, with Giacomelli in a 179 and Vittorio Brambilla driving the old 177. The new car retired when Giacomelli spun off while Brambilla finished 12th on the final appearence of the 177. Disagreements with the FIA over pre-qualifying meant only Brambilla started at Watkins Glen, with the team hit with an another retirement. Brambilla failed to qualify for the final race of the season while Giacomelli was wiped out in a first lap collision with Keke Rosberg.
The Italian marque retained the 179, which was effectively in a B spec, for its first full season back in Formula One. Bruno Giacomelli would continue and would be joined by French racewinner Patrick Depailler. Progress was also made on the commercial front as a sponsorship deal was signed with Marlboro, which led to the cars been painted in deference to the cigarette company.
Both drivers were off the pace at the opening round in Argentina although Giacomelli scored Alfa Romeo's first constructors points with fifth place. Revisions to the car at the South African Grand Prix caused an upturn in qualifying performance, illustrated by Depailler lining up third at Long Beach and Giacomelli close behind. However, reliability deserted the team with Depailler especially impacted, suffering eight mechanical retirements from the first eight races of the season. After his points score at the opening round, Giacomelli only managed one more finish, a 13th place in Brazil. The Italian was involved in crashes at Long Beach and Monaco, and also span out of the British Grand Prix.
Patrick Depailler was testing ahead of the German Grand Prix at Hockenheim when he crashed off at the Ostkurve. He hit the barrier head on and was killed on impact, aged 35. A single car was entered for Giacomelli at the following two races, and the mood was lifted a little by another fifth place at the same track where Depailler was killed. Reliability continued to plague Giacomelli and he failed to register another finish in 1980. He did show some good form however, qualifying fourth in Imola and running in the podium positions at Zandvoort. He qualified on pole and dominated the season closing United States Grand Prix, until electrical issues halted him at half distance.
Vittorio Brambilla returned as Depailler's replacement, crashing out of the final two races of his career before he himself was replaced by Andrea de Cesaris for the North American rounds. De Cesaris likewise failed to finish both races but impressed by qualifying inside the top ten for both. Alfa Romeo showed promise in 1980, but problems with reliability restricted the team to only four points and 11th in the constructors championship
Bruno Giacomelli and the 179, now in C spec, were retained for a third consecutive year as Alfa Romeo looked to build on an encouraging 1980 season. 1978 Champion Mario Andretti was recruited to drive as Patrick Depailler's long term successor and the team switched to Michelin tyres.
The team started well, both cars qualifying in the top ten at the opening couple of rounds. Andretti started well on his debut with his team, finishing in fourth, although this would eventually be his only points score of the season. Giacomelli was involved in race-ending incidents at two of the first four races, and hit mechanical issues when he didn't crash. Andretti likewise was wiped out in a first corner incident at Long Beach, but did finish in eighth in Argentina.
Alfa Romeo scored it's first double finish since it's return at the Belgian Grand Prix, Giacomelli and Andretti in ninth and tenth respectively. Both drivers crashed out in Monaco but the team had for the first time partially got on top of it's reliability, with three double finishes in four races, albeit never in the points. The odd race out was at Brands Hatch where both cars retired, a result that would reoccur in Austria and the Netherlands, where both drivers again crashed out. Mario Andretti never recaptured the form that saw him win races in the 1970s, and he departed for Champ Cars at the end of the season. A third car was entered for Mauro Baldi in Austria, although the Italian did not compete.
Bruno Giacomelli was in fine form at the end of the year, losing out on a podium at Monza with gearbox issues, and finally took his first points of the season at the penultimate round in Canada. He scored the first and only podium of his career at the season-closing Ceasars Palace Grand Prix, which was enough to the lft the team to ninth in the Championship. Although Alfa Romeo scored more points and finished higher than they did in 1980, three points finishes was a meagre return when taking into consideration the promise of the previous year and quality of the driver lineup. It was clear further improvement was needed going forward.
For 1982, it was clear improvement was needed and Andrea de Cesaris returned to parter Bruno Giacomelli, who was entering his fourth season for the team. The now ancient 179 was sent to the opening race of the season where both drivers started and finished outside the top ten. The Alfa Romeo 182 was introduced at the next round and was used throughout the year. It faltered at it's debut in Brazil but de Cesaris put it on pole and led the first 14 laps at Long Beach, eventually crashing out.
Alfa Romeo's poor finishing record continued, with the 182 not running at the finish at it's first seven races. De Cesaris did score points twice in this time, a third place in Monaco and sixth place in Canada, as he had completed enough laps to be classified before he ran out of fuel. He could well have won the race in Monte Carlo, as he had appeared to have inherited the victory on the final lap before he ran dry. Giacomelli was largely outclassed, crashing out of the race at Long Beach, Spa, Detroit and Montreal.
Reliability issues continued, and even if the cars finish it was usually outside the points. Giacomelli finished fifth in Germany to register his only points score in his final year with Alfa Romeo, and the two drivers wiped each other out on the first lap in Austria as Alfa's season came to a stuttering close. A double finish for the 182 was finally achieved at the Swiss Grand Prix and this feat was repeated at Ceasar's Palace, although no further points were scored. It was another disappointing year for Alfa Romeo, only running in the points at the finish once and falling to eighth in the championship. It was therefore unsurprising when Bruno Giacomelli left after four mostly unsuccessful years with the team.
Amid rumors of Alfa Romeo's withdrawal, the team tested it's turbo engine at Monza in 1982, and the technology would make it's race debut for 1983. The 183T was powered by a V8 engine and Mauro Baldi joined Andrea de Cesaris as Giacomelli's replacement. The Italian marque started the season poorly, de Cesaris excluded from the Brazilian Grand Prix after qualifying and Baldi crashed on his first three outings. De Cesaris was quickest in the opening qualifying session of the French Grand Prix, although the times were cancelled after the fire extinguisher was found to be empty. Baldi finished sixth in Monaco for the team's first point score of the season.
De Cesaris led from the start at Spa, but engine failure scuppered his chances of victory on lap 22. He suffered further engine failures at Detroit and Montreal, and then finished eighth at the British Grand Prix. He followed this up by qualifying third and finishing second at the German Grand Prix, his first point score of the season and Alfa Romeo's best result since their return. Baldi qualified and finished poorly in stark comparison to de Cesaris's improving pace. Double DNFs in Austria and Italy sandwiched Baldi's best result of the season when he finished fifth at Zandvoort.
Andrea de Cesaris scored points at the last two races, fourth at Brands Hatch and a second place at the season finale in South Africa. This was enough for the Italian to end up a career best 8th in the Championship, although he was dropped by the team at the end of the year, to the surprise of many. Baldi struggled all season, rarely close to his teammate, and his departure at the end of the year was more expected. For Alfa Romeo, although sixth was a better result than previous years, it still represented a disappointing return and impatience was building for the team to achieve a breakthrough victory.
It was all change for 1984, with a new car, drivers, tyre supplier and title sponsor joining the team. The team retained it's V8 turbocharged engine and put it in the back of the new 184T, which used Goodyear tyres as Michelin decided to provide tyres to only four teams. Eddie Cheever and Riccardo Patrese were the drivers of the now predominantly green car, Benetton replacing Marlboro as title sponsors. The V8 engine was fuel thirsty and the team were badly hit by the new regulations restricting fuel usage.
Cheever and Patrese finished fourth in Brazil and South Africa respectively, before the team's reliability hit a new low. The team registered 11 double DNFs in a row, with Cheever failing even to qualify in Monaco. The cars were classified on occasion but were not running at the finish as they had ran out of fuel. The low point came at Brands Hatch where Cheever was eliminated in a first lap pileup triggered by a overly optimistic move by Patrese, creating a frosty atmosphere within the team.
An upgraded rear end brought an upturn of pace for the Italian Grand Prix, with Patrese capitalising on Cheever running dry to take a home podium for team and driver in third. Patrese took the final point at the following round as well to put himself into 13th place in the Championship. It was another very underwhelming year for the team, with the annual rumors of withdrawal swirling yet again.
The team retained it's driver pairing despite Patrese and Cheever being hardly on speaking terms. The new car was designated the 185T and retained the turbo charged V8 and Goodyear tyres of the previous year. The season started poorly, with no finished in the first four races and the two drivers crashing into each other in practice for the Portuguese Grand Prix. The Alfas finally finished in Canada, outside the points and off the pace.
After back-to-back tests at the team's test track in Balocco, the Italian squad reverted to the previous season's car. Cheever switched at the German Grand Prix while Patrese did so at the following race at Silverstone. It didn't help matters as classic Alfa Romeo reliability led to no finished for the rest of the year, barring a ninth and eleventh at the European Grand Prix. Cheever and Patrese collided again at the beginning of the South African Grand Prix, and the team ended up unclassified in the Constructor's Championship after failing to score a point. After year upon year of failure, Alfa Romeo finally pulled the plug on it's ill-fated return to the sport at the end of 1985.
After title-sponsoring the Sauber team the previous year, Alfa Romeo returned as a full constructor for the 2019 season, although the core of the team remained the same to the year previous. The team signed 2007 World Champion Kimi Raikkonen alongside Antonio Giovinazzi, who would be completing his first full season in the sport. For the first time in the team's history, they would not use their own engines, instead using the V6 Turbo Hybrid unit provided by Ferrari. The team maintained the Sauber car naming convention, with the 2019 car being designated the C38.
The team started the season off well, with Raikkonen scoring points in the opening four races, his best result being seventh in Bahrain. Alfa Romeo began to fall behind in the development race although Raikkonen did finish seventh in France and a double points score for the team came in Austria, Giovinazzi's tenth his first career points. Raikkonen continued his points scoring run, finishing eighth in Britain and seventh in Hungary, and even was running third at one point of the chaotic German Grand Prix. The team eventually lost a double points finish at that race as both driver's were penalised after irregularities were found relating to the clutch at the start of that race.
Giovinazzi, who struggled to match his more experienced teammate at the beginning of the year, began to do so after the summer break. He was rarely able to convert this into points as the Alfa Romeo car fell behind other midfield runners as the team's smaller development budget came into play, although he did finish ninth at his home race. The team's best result of the year came at the Brazilian Grand Prix, with Raikkonen and Giovinazzi finishing fourth and fifth respectively, after a post race penalty for Lewis Hamilton along with several cars ahead of them suffering retirements. The 22 points garnered represented nearly 40% of the total 57 point haul, enough for the team to secure eighth place upon it's return to the Championship.
Alfa Romeo retained their lineup of the previous year, Kimi Raikkonen and Antonio Giovinazzi, for the 2020 season. Robert Kubica joined as test and reserve driver, piloting the car in pre-season testing and several practice sessions throughout the year, and also brought Polish company Orlen as title sponsors to the title. German driver Mick Schumacher, nephew of race winner Ralf, was entered to drive in FP1 of the Eifel Grand Prix, but never hit the track due to adverse weather conditions.
They spent the season mired at the back of the grid after being hamstrung by a underpowered Ferrari engine, although they were quicker than fellow Ferrari customers Haas and Mercedes powered Williams. At the delayed first round in Austria, Giovinazzi benefitted from a race of attrition to pick up two points for ninth place. Any improvement on that result was hard to come by and the team had to wait until the Tuscan Grand Prix to score again, courtesy of another ninth place by Kimi Raikkonen. Another ninth for Raikkonen at the Eifel Grand Prix along with a double points finish at Imola with ninth and tenth gave Alfa a total of eight points for the season, good enough for eighth in the Championship. They were five ahead of Haas in ninth, and a massive 99 points behind seventh placed team AlphaTauri.
The team will continue in 2021, retaining the same lineup for the third successive year. Additionally, Robert Kubica will stay on in his test and reserve role.
Johnny Mauro entered the 1950 Indianapolis 500 in a aging Alfa Romeo 8C-308, failing to qualify.
Peter de Klerk designed and built a car, deemed the "Alfa Special", around the four cylinder Alfa Romeo Giuletta engine that was commonly used by the South African privateers of the time. De Klerk, an ex-Lotus mechanic, first drove the car at the 1963 South African Grand Prix. He qualified in a modest 16th place and retired with gearbox troubles. De Klerk also drove the car to third in the non-championship Rand Grand Prix.
The Alfa Special was again entered and driven by Peter de Klerk for the South African Grand Prix. Qualifying in 17th, he finished tenth in the car's final championship appearance.
The four cylinder Alfa Romeo Giuletta engine was bought and used by numerous Formula 1 constructors in the early 1960s, mostly used by South African privateers. It was in the hands of an Italian constructor that it first appeared, with De Tomaso making use of the unit in the back of their F1 model. It was initially rebadged as a Conrero, with two such cars appearing at the 1961 Italian Grand Prix, with both suffering engine failures. De Tomaso-Alfa Romeos were entered into a couple other races, but never appeared again.
The Giuletta engine was also used commonly in the South African Formula 1 Championship, as most other F1 engines had more than the maximum four cylinders allowed in that Championship. South African privateers often made appearances at their home Grand Prix, using the same machinery that they used in the national championship. The engine was used in the LDS and Cooper chassis, with very little success. Ray Reed entered his private Realpha machine into the 1965 edition, but failed to appear.
McLaren struck a deal with Alfa Romeo to run a third car powered by the Italian team. Along with the two Ford DFV powered machines, Nanni Galli and Andrea de Adamich would share driving duties using a sportscar based V8 engine. Although it was claimed that the Alfa engine would provide more horsepower, it performed poorly in comparison to the Ford cars, failing to register a single points finish and often failing to even qualify.
Alfa Romeo struck a similar deal with March for 1971, with an Alfa Romeo engined car being run alongside the Ford machinary. The cars were again primarily piloted by de Adamich and Galli, with Ronnie Peterson also driving the car at the French Grand Prix. The results were very similar, again failing to lead to single points finish, and the V8 would not appear again.
Year
Chassis
Engine
Tyre
No.
Drivers
Rounds

WCC

Points

WCC

Pos.
Report
1950
158
159
158 L8 1.5

P

Juan Manuel Fangio
1–2, 4–7
N/A
N/A
Report
Giuseppe Farina
1–2, 4–7
Luigi Fagioli
1, 7–8
Reg Parnell
1, 3–5
Consalvo Sanesi
7
Piero Taruffi
7
1951
159
158 L8 1.5

P

Juan Manuel Fangio
1, 3–8
N/A
N/A
Report
Giuseppe Farina
1, 3–8
Consalvo Sanesi
1, 3–5
Emmanuel de Graffenried
1, 7–8
Luigi Fagioli
4
Felice Bonetto
5–8
Paul Pietsch
6
1952–1978: Did not compete
1979
177
179
115-12 F12 3.0
1260 V12 3.0

G

35
Bruno Giacomelli
6, 8, 13, 15
0
NC
Report
36
Vittorio Brambilla
13–15
1980
179
1260 V12 3.0

G

22
Patrick Depailler
1–8
4
11th
Report
Vittorio Brambilla
11–12
Andrea de Cesaris
13–14
23
Bruno Giacomelli
All
1981
179C
179D
1260 V12 3.0

M

22
Mario Andretti
All
10
9th
Report
23
Bruno Giacomelli
All
1982
179D
182
182B
1260 V12 3.0

M

22
Andrea de Cesaris
All
7
10th
Report
23
Bruno Giacomelli
All
1983
183T
890T V8t 1.5

M

22
Andrea de Cesaris
All
18
6th
Report
23
Mauro Baldi
All
1984
184T
890T V8t 1.5

G

22
Riccardo Patrese
All
11
8th
Report
23
Eddie Cheever
All
1985
184TB
185T
890T V8t 1.5

G

22
Riccardo Patrese
All
0
NC
Report
23
Eddie Cheever
All
1986–2018: Did not compete
2019
C38
Ferrari 064 1.6 L

P

7
Kimi Räikkönen
All
57
8th
Report
99
Antonio Giovinazzi
All
2020
C39
Ferrari 065 1.6 L

P

7
Kimi Räikkönen
All
8
8th
Report
99
Antonio Giovinazzi
All
* Season in progress
| Year | Entrant | Chassis | Engine | Tyre | Drivers | Rounds |
| --- | --- | --- | --- | --- | --- | --- |
| 1950 | Privateer | 8C-308 | 158 L8 1.5 | F | Johnny Mauro | 3 |
| 1963 | Otelle Nucci | Special | Giulietta L4 1.5 | D | Peter de Klerk | 10 |
| 1965 | Otelle Nucci | Special | Giulietta L4 1.5 | D | Peter de Klerk | 1 |
Year
Entrant
Chassis
Engine
Tyre
No.
Drivers
Rounds

WCC

Points

WCC

Pos.
1961
Scuderia Serenissima
De Tomaso F1
Giulietta L4 1.5

D

Nino Vaccarella
7
0
NC
Isobele De Tomaso
Roberto Bussinello
7
1962
Otelle Nucci
LDS Mk1
Giulietta L4 1.5

D

Doug Serrurier
9
0
NC
Privateer
Cooper T53
Mike Harris
9
0
NC
1963
Otelle Nucci
LDS Mk1
Giulietta L4 1.5

D

Doug Serrurier
10
0
NC
Privateer
Sam Tingle
10
1964: Did not compete
1965
Privateer
LDS Mk1
Giulietta L4 1.5

D

Sam Tingle
1
0
NC
Privateer
Jackie Pretorius
1
1966–1969: Did not compete
1970
Bruce McLaren Motor Racing
McLaren M7D
McLaren M14D
T33 V8 3.0

G

Andrea de Adamich
2–3, 5–12
0
NC
Nanni Galli
10
1971
STP March Racing Team
March 711
T33 V8 3.0

F

Andrea de Adamich
1–2, 5–7, 9, 11
0
NC
Nanni Galli
3–4, 7–8
Ronnie Peterson
5
1976
Martini Racing
Brabham BT45
115-12 F12 3.0

G

7
Carlos Reutemann
1-12
9
9th
Rolf Stommelen
10, 13
Larry Perkins
14-16
8
Carlos Pace
All
1977
Martini Racing
Brabham BT45
115-12 F12 3.0
' '

G

7
John Watson
All
27
5th
8
Carlos Pace
1-3
Hans Stuck
4-17
21
Giorgio Francia
14
1978
Parmalat Racing Team
Brabham BT45B

115-12 F12 3.0

G

1
Niki Lauda
All
53
3rd
2
John Watson
All
66
Nelson Piquet
16
1979
Parmalat Racing Team
Brabham BT46
Brabham BT48
115-12 F12 3.0
' '

G

5
Niki Lauda
1-13
7
8th
6
Nelson Piquet
1-13
1980-1982: Works team only
1983
Osella Squadra Corse
Osella FA1E
1260 V12 3.0

M

31
Corrado Fabi
9-15
0
NC
32
Piercarlo Ghinzani
4-15
1984
Osella Squadra Corse
Osella FA1F
890T V8t 1.5

P

24
Piercarlo Ghinzani
All
2
12th
30
Jo Gartner
10-16
Osella FA1E
1260 V12 3.0
4
1985
Osella Squadra Corse
Osella FA1F
890T V8t 1.5

P

24
Piercarlo Ghinzani
1-8
0
NC
Huub Rothengatter
9-16
1986
Osella Squadra Corse
Osella FA1G
890T V8t 1.5

P

21
Piercarlo Ghinzani
All
0
NC
22
Christian Danner
1-6
Allen Berg
7-12, 14-16
Alex Caffi
13
1987
Osella Squadra Corse
Osella FA1I
890T V8t 1.5
' '

G

21
Alex Caffi
All
0
NC
22
Gabriele Tarquini
2
Franco Forini
11-13
Ligier Loto
Ligier JS29
415T L4t 1.5
25
René Arnoux
1
0
NC
1988-Present: Did not compete
Correct as of the 2021 French Grand Prix qualifying
Complete Formula One Results
[
edit
|
edit source
]
Main article: Alfa Romeo/Results
Community content is available under
CC-BY-SA
unless otherwise noted.