Melbourne Grand Prix Circuit, also called Albert Park, is a racing circuit in Melbourne, Australia, and is the current home of the Australian Grand Prix.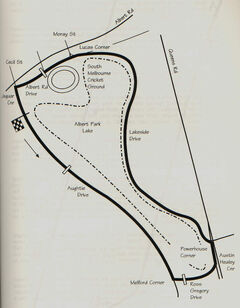 Racing at the Melbourne Street Circuit started in the 1950s roughly on the plan of the modern circuit. Racing there ended when problems regarding racing in public parks came up. However, the circuit was rebuilt in 1996 with several changes: the direction of travel was reversed; the Jaguar Curve looped off and replaced with the Sports Centre Esses; the Chicane on the back stretch was axed in favour of a kink; the Clark Chicane was added; and the circuit's front straightaway was moved away from the lake in the infield. The race was plagued by environmental issues that reduced the usability for the park. Despite this, racing has thrived there. Albert Park is a well-liked circuit among drivers for its fast flowing layout, although the difficulty in passing remains a concern.
On 21 March 2018, the start/finish straight was named the Walker Straight, in honour of the late ex-Australian Grand Prix promoter Ron Walker.[2]
↑

Contracted to 2023

↑ "Walker Straight unveiled at Albert Park". Formula1.com. Formula One Administration. 21 March 2018. https://www.formula1.com/en/latest/headlines/2018/3/walker-straight-unveiled-at-albert-park.html

. Retrieved 22 March 2018

.
Community content is available under
CC-BY-SA
unless otherwise noted.