The 2021 Saudi Arabian Grand Prix (officially the Formula 1 stc Saudi Arabian Grand Prix 2021) was the 21st race of the 2021 FIA Formula One World Championship, held at the Jeddah Corniche Circuit between December 3 and December 5 2021. It was the inaugural F1 race held in Saudi Arabia.
Background
[
]
In August 2019, plans for a permanent motorsports complex to be built in the city of Qiddiya were made public. The project was conceived by Test and Training International, a motorsports consultancy headed by former Formula One driver Alexander Wurz, with the objective of creating a world-class circuit capable of hosting all FIA categories through to Formula One.[1] In January 2020, plans for a race track in Qiddiya were officially confirmed at an event, where track designer Wurz, appeared alongside current and former Formula One drivers who were given the opportunity to drive on the layout in a racing simulator.[2] During the event, it was confirmed that the track was designed to FIA and FIM Grade 1 standards. At the time, Formula One declined to comment on the possibility of a race.[3]
The Saudi Arabian Grand Prix first appeared on the first draft of the 2021 Formula One provisional calendar, which was shown to teams at a Formula One Commission meeting, held in October 2020.[4] The draft calendar saw all 22 races from the original 2020 calendar carried over, with the addition of Saudi Arabia.[5] In November 2020, it was announced that the city of Jeddah would host the inaugural Saudi Arabian Grand Prix, in collaboration with the Saudi Automobile and Motorcycle Federation.[6] The Jeddah Corniche Circuit will be located along the banks of the Red Sea.[7]
The layout of the street circuit was unveiled on March 18 2021. Designed by Hermann Tilke, the track will be held in the Corniche area in Jeddah. With a length of 6.175 km (3.836 miles), and with a projected average speed of 250 km/h (155 mph), the circuit will be the fastest street circuit ever raced.
The Grand Prix has received criticism from Amnesty International on the grounds of human rights in Saudi Arabia. Human Rights Watch also condemned the decision arguing that "It is part of a cynical strategy to distract from Saudi Arabia's human rights abuses." Formula One responded by saying that "[Formula One has] made our position on human rights and other issues clear to all our partners and host countries who commit to respect human rights in the way their events are hosted and delivered." and that "[Formula One has] worked hard to be a positive force everywhere it races, including economic, social and cultural benefits."[8][9] In February 2021, 45 human rights organizations called on Lewis Hamilton to boycott the Grand Prix citing Saudi Arabia's role in the Yemeni Civil War, its detention of woman's rights activists, and the murder of Washington Post journalist Jamal Khashoggi.[10][11] Saudi Arabia has denied the Grand Prix was being used for sportswashing, arguing that the race is part of a process to open up Saudi Arabia to the outside world.[12]
Following a missile interception in Diriyah during the 2021 Diriyah ePrix Formula E race held earlier in the year, questions were raised about the event's viability. Formula One later stated that they would never go to high security risk areas, though stated that they had "every confidence that the Saudi government and its agencies have both the technology and capability to ensure this safety and security."
In the last weeks leading to the race weekend, photos circulated online showed that the circuit construction progress appeared to have been behind schedule. Race officials however assured that the track would be finished in time for the weekend, with the track finally receiving approval from the FIA one day before the first practice session on Friday.
On the week of the race, Sebastian Vettel hosted an all-women karting event to promote awareness for women's' rights and encourage women in Saudi Arabia to participate in motorsports.[13]
I set up my own karting event today under the hashtag #raceforwomen, and I think a group of seven or eight girls and women were on the track. We set up a nice event only for them and I was trying to pass on some of my experiences in life and on track, to do something together to grow their confidence.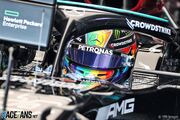 Lewis Hamilton meanwhile continued to wear his rainbow-colored helmet livery, as he similarly wore at the 2021 Qatar Grand Prix, to protest the atrocities committed by the restrictive regimes in Middle Eastern countries against the LGBTQ+ community.[14] In the Kingdom of Saudi Arabia, it is common to be punished by flogging or imprisonment for practicing same-sex behaviors.
On the back it says, 'we stand together' and 'love is love', and it's important for me to represent that community here as I know there are several situations which aren't perfect and need to be highlighted.
One week before the race, Williams co-founder and former owner Frank Williams died at the age of 79. Tributes came in from the motorsport community, with teams sporting tributes on their cars in the weekend, and Alpine sporting a one-off livery to commemorate their 100th race during their partnership with sponsor Castrol. On the eve of the race weekend, Williams CEO Jost Capito was announced to have been tested COVID-positive and therefore missing the weekend.
Entry List
[
]
The full entry list for the 2021 Saudi Arabian Grand Prix is outlined below:
Practice
[
]
FP1
[
]
Lewis Hamilton goes fastest in FP1, followed by Max Verstappen and Valtteri Bottas. Both Ferrari drivers, Charles Leclerc and Carlos Sainz, Jr. outperformed the McLarens. A surprise performance by Antonio Giovinazzi who went 5th fastest and Sergio Pérez performed worse than expected in 11th.[16]
FP2
[
]
Lewis Hamilton was quickest in FP2, followed by Valtteri Bottas, Pierre Gasly, and Max Verstappen. Hamilton and Verstappen's qualifying simulations were constantly interrupted by on-track traffic, with the session ending prematurely with five minutes remaining after Leclerc crashed heavily at Turn 23, totaling his car.[17]
FP3
[
]
Max Verstappen had the fastest lap in FP3, followed by Hamilton, Perez and the two AlphaTauri drivers. Tsunoda and Gasly had a strong performance; in 4th and 5th, respectively. Leclerc took 7th with the help of his Ferrari mechanics working through the night to fix the damages caused by his crash in FP2.[18]
Post-session, Hamilton was summoned to the stewards for two separate incidents. The first incident was that Hamilton allegedly not slowing down during double waved yellow flags, but he was cleared of any wrongdoing after it was deemed that it was caused by system error. The second incident, involving a near miss with Mazepin, left Hamilton with a reprimand and Mercedes fined €25,000.
Practice Results
[
]
Qualifying
[
]
Q1
[
]
In a session beset by traffic in late stages, eliminated from Q1 were Latifi, Vettel, Stroll, Schumacher and Mazepin. Bottas, who was second fastest behind Perez, had issues with his engine and ground to a halt at pit entry, but was able to get going again into the next session. Sainz was impeded by Gasly during the session which left the AlphaTauri Frenchman with a warning.
Q2
[
]
Eliminated from the session were Ricciardo, Raikkonen, Alonso, Russell and Sainz, who spun heavily and damaged his rear wing, compromising his subsequent laps. Raikkonen made contact with Bottas while on the way back to the pits, but no further action was taken.
Q3
[
]
Verstappen set the fastest overall time with the Mercedes duo behind, with Hamilton messing up on his initial flying lap. Hamilton later beat Verstappen's time with Bottas second fastest behind. Verstappen had gone faster than Hamilton in the first two sectors when he locked up a wheel, ran wide and made contact with the wall at the final turn, damaging his suspension and ultimately handing his title rival pole position, being third fastest.
Qualifying Results
[
]
The full qualifying results for the 2021 Saudi Arabian Grand Prix are outlined below:
Pos.

No.

Driver
Team

Q1

Q2

Q3

Grid

Pos.

Time

Pos.

Time

Pos.

Time
1
44
Lewis Hamilton
Mercedes
9
1:28.466
1
1:27.712
1
1:27.511
1
2
77
Valtteri Bottas
Mercedes
2
1:28.057
4
1:28.054
2
1:27.622
2
3
33
Max Verstappen
Red Bull-Honda
5
1:28.285
3
1:27.953
3
1:27.653
3
4
16
Charles Leclerc
Ferrari
6
1:28.310
8
1:28.459
4
1:28.054
4
5
11
Sergio Pérez
Red Bull-Honda
1
1:28.021
2
1:27.946
5
1:28.123
5
6
10
Pierre Gasly
AlphaTauri-Honda
8
1:28.401
6
1:28.314
6
1:28.125
6
7
4
Lando Norris
McLaren-Mercedes
7
1:28.338
7
1:28.344
7
1:28.180
7
8
22
Yuki Tsunoda
AlphaTauri-Honda
10
1:28.503
5
1:28.222
8
1:28.442
8
9
31
Esteban Ocon
Alpine-Renault
11
1:28.752
9
1:28.574
9
1:28.647
9
10
99
Antonio Giovinazzi
Alfa Romeo-Ferrari
13
1:28.899
10
1:28.616
10
1:28.754
10
11
3
Daniel Ricciardo
McLaren-Mercedes
3
1:28.216
11
1:28.668
11
12
7
Kimi Räikkönen
Alfa Romeo-Ferrari
12
1:28.856
12
1:28.885
12
13
14
Fernando Alonso
Alpine-Renault
15
1:28.944
13
1:28.920
13
14
63
George Russell
Williams-Mercedes
14
1:28.926
14
1:29.054
14
15
55
Carlos Sainz
Ferrari
4
1:28.237
15
1:53.652
15
16
6
Nicholas Latifi
Williams-Mercedes
16
1:29.177
16
17
5
Sebastian Vettel
Aston Martin-Mercedes
17
1:29.198
17
18
18
Lance Stroll
Aston Martin-Mercedes
18
1:29.368
18
19
47
Mick Schumacher
Haas-Ferrari
19
1:29.464
19
20
9
Nikita Mazepin
Haas-Ferrari
20
1:30.473
20
107% Time: 1:34.182
Source:[22]
Bold indicates the fastest driver's time in each session.
Grid
[
]
Pos.

Pos.

Driver
Driver
______________
Row 1
______________
1
2
44. Hamilton
77. Bottas
______________
Row 2
______________
3
4
33. Verstappen
16. Leclerc
______________
Row 3
______________
5
6
11. Pérez
10. Gasly
______________
Row 4
______________
7
8
4. Norris
22. Tsunoda
______________
Row 5
______________
9
10
31. Ocon
99. Giovinazzi
______________
Row 6
______________
11
12
3. Ricciardo
7. Räikkönen
______________
Row 7
______________
13
14
14. Alonso
63. Russell
______________
Row 8
______________
15
16
55. Sainz
6. Latifi
______________
Row 9
______________
17
18
5. Vettel
18. Stroll
______________
Row 10
______________
19
20
47. Schumacher
9. Mazepin
______________
Race
[
]
Report
[
]
An hour before the race, a moment of silence was observed in honor of the late Sir Frank Williams. 1996 champion Damon Hill also gave demonstration laps in the 1980 Williams FW08.
Hamilton and Bottas led out of the start; with the top five drivers maintaining their positions, heading into the second lap. A few incidents unfolded behind, with Tsunoda dropping places after making contact with Ocon, and Stroll forced off-track at Turn 5 while running alongside Russell. As the Top 5 began pulling away from the field, Hamilton was constantly setting fastest laps; meanwhile Sainz, who had started in 15th, was making progress pushing through the midfield.
The first incident began on the tenth lap, when Schumacher lost his rear and crashed his Haas heavily into the barriers at Turns 22 and 23 (in the same manner as Leclerc's FP2 crash), deploying the safety car. The Mercedes drivers and several others, including Perez pitted during this period, while Verstappen, who was held up by Bottas in order to facilitate a double-stack from Mercedes, stayed out and took the lead, and he had an added bonus when the red flag was called on Lap 14 to repair the barriers, a move that was criticized by some, including Hamilton, with commentator David Croft calling the red flag a "controversial" decision by race officials. Those who did not pit before the red flag, such as Ocon and Ricciardo, gained a massive advantage in positions; 4th and 5th, respectively.
The race was restarted at 9:15 pm local time, with Verstappen on pole and Hamilton alongside. Hamilton accelerated better than Verstappen on the restart, with Verstappen cutting Turns 1-2 and retaking the lead, Hamilton dropping to behind Ocon in the process, while Bottas locked up and dropped down to 5th behind Ricciardo. More chaos unfolded at Turn 3 as the field traversed the next turns, as Leclerc tagged Perez into spinning and causing the Mexican's retirement, and Mazepin ploughed into Russell who was avoiding Perez, both retiring on the spot as the red flag was deployed once again. During the red flag period, a negotiation with race control decided that Ocon would take the restart on pole, followed by Hamilton and Verstappen.
The second restart took place at 9:40 pm local time, with Verstappen taking the lead again and Hamilton dropping to third behind Ocon as the both cut through Turns 1 and 2. Hamilton made contact with Ocon in the process but with no major damage on his wing, passed him for second at the start of the next lap, now reeling into his rival. A virtual safety car was called on Lap 23, when Tsunoda, who had been advancing in the field, collided with Vettel and broke his front wing, but got going after reversing several times to dislodge it, the Japanese receiving a 5-second time penalty as a result of the collision. Alonso had a spin shortly after the VSC, dropping down to the field.
Another VSC was called on Lap 30 as this time Vettel collided with his former Ferrari team-mate Raikkonen, at this point the Aston Martin now shredding debris all over the track. The green flag did not last long as two more VSCs were called again in order for more debris to be cleared.
Controversy then began on Lap 37, as Hamilton had made use of DRS to pass Verstappen on the main straight, but Verstappen took back the lead cutting Turns 1 and 2, prompting the team to order Verstappen to give back the position. As he did so coming into the final turn, Verstappen abruptly slowed, causing Hamilton to collide into him and damaging his front wing. Despite the damage, Hamilton continued setting fastest laps and closed back into Verstappen again, who ceded the lead to him on the last turn again but reclaiming the lead as Hamilton ran wide. Verstappen was then issued a 5-second time penalty for the corner cutting, before Hamilton finally took back the lead for good on the last corner on Lap 43 as the Dutchman's medium rubber started to lose performance. Bottas meanwhile had cleared Ricciardo for 4th during the chaos, as Vettel retired with a damaged car with five laps remaining.
Hamilton ultimately claimed the win at the inaugural race on the corniche course, with Verstappen finishing nearly seven seconds behind having lost pace on worn rubber, but with five seconds added to his race time due to the penalty from corner-cutting. The drama however was all but not over, as right at the finish line, Bottas nicked the final podium position from Ocon, and Verstappen was then issued a further 10-second time penalty afterwards for causing Hamilton to collide into him, but the gap from Bottas meant that Verstappen retained his second-place finish. Completing the points would be Ricciardo, Gasly, Leclerc, Sainz, Giovinazzi and Norris, who was among those pitted during the safety car and dropped to the back during the red flag periods.
Results
[
]
The full results for the 2021 Saudi Arabian Grand Prix are outlined below:
Pos.

No.

Driver
Constructor

Laps

Time/Retired

Grid

Points

1
44
Lewis Hamilton
Mercedes
50
2:06:15.118
1
26FL
2
33
Max Verstappen
Red Bull-Honda
50
+21.825*
3
18
3
77
Valtteri Bottas
Mercedes
50
+27.531
2
15
4
31
Esteban Ocon
Alpine-Renault
50
+27.633
9
12
5
3
Daniel Ricciardo
McLaren-Mercedes
50
+40.121
11
10
6
10
Pierre Gasly
AlphaTauri-Honda
50
+41.613
6
8
7
16
Charles Leclerc
Ferrari
50
+44.475
4
6
8
55
Carlos Sainz
Ferrari
50
+46.606
15
4
9
99
Antonio Giovinazzi
Alfa Romeo-Ferrari
50
+58.505
10
2
10
4
Lando Norris
McLaren-Mercedes
50
+1:01.358
7
1
11
18
Lance Stroll
Aston Martin-Mercedes
50
+1:17.212
18
12
6
Nicholas Latifi
Williams-Mercedes
50
+1:23.249
16
13
14
Fernando Alonso
Alpine-Renault
49
+1 Lap
13
14
22
Yuki Tsunoda
AlphaTauri-Honda
49
+1 Lap†
8
15
7
Kimi Räikkönen
Alfa Romeo-Ferrari
49
+1 Lap
12
Ret
5
Sebastian Vettel
Aston Martin-Mercedes
44
Collision damage
17
Ret
11
Sergio Pérez
Red Bull-Honda
14
Collision
5
Ret
9
Nikita Mazepin
Haas-Ferrari
14
Collision
20
Ret
63
George Russell
Williams-Mercedes
14
Collision
14
Ret
47
Mick Schumacher
Haas-Ferrari
8
Accident
19
Source:[23]
* Verstappen was first given a five-second time penalty for leaving the track and gaining advantage, before receiving a 10-second post-race time penalty for causing a collision with Hamilton.
† Tsunoda finished 13th, but was given a five-second time penalty for causing a collision with Vettel.
Milestones
[
]
Standings
[
]
The dramatic finish saw Hamilton tying with Verstappen in the drivers' standings heading into the final round; the first time since the 1974 Formula One season, wherein Emerson Fittipaldi won ahead of Clay Regazzoni. However, Verstappen holds an advantage since the tiebreaker considers the number of race wins this season, which Verstappen has 9 compared to Hamilton with 8.
Mercedes extended their lead to 28 points in the constructors' standings from Red Bull, following Perez' retirement and Verstappen unable to strategically deny Hamilton the fastest lap point due to the time penalties imposed. Both McLaren drivers outscored Ferrari by one point after the race, meaning Ferrari were all but guaranteed to secure third in the constructors' championship, heading into Abu Dhabi. Despite losing out the podium position, Ocon closed into within 5 points of his team-mate.
Drivers' World Championship

Pos.

Driver

Pts.

+/-
1
Max Verstappen
369.5
—
2
Lewis Hamilton
369.5
—
3
Valtteri Bottas
218
—
4
Sergio Pérez
190
—
5
Charles Leclerc
158
▲1
6
Lando Norris
154
▼1
7
Carlos Sainz
149.5
—
8
Daniel Ricciardo
115
—
9
Pierre Gasly
100
—
10
Fernando Alonso
77
—
11
Esteban Ocon
72
—
12
Sebastian Vettel
43
—
13
Lance Stroll
34
—
14
Yuki Tsunoda
20
—
15
George Russell
16
—
16
Kimi Räikkönen
10
—
17
Nicholas Latifi
7
—
18
Antonio Giovinazzi
3
—

Constructors' World Championship

Pos.

Team

Pts.

+/-
1
Mercedes
587.5
—
2
Red Bull-Honda
559.5
—
3
Ferrari
307.5
—
4
McLaren-Mercedes
269
—
5
Alpine-Renault
149
—
6
AlphaTauri-Honda
120
—
7
Aston Martin-Mercedes
77
—
8
Williams-Mercedes
23
—
9
Alfa Romeo-Ferrari
13
—
Only point-scoring drivers and constructors are shown.
References
[
]
Images and Videos:
References: