The 1978 Formula One season was the 29th season of FIA Formula One motor racing. Included was the F1 World Championship and one non-championship race. The season commenced on January 15, 1978 in Argentina, and ended on October 8 in Canada after sixteen races.
The World Drivers' Champion was American Mario Andretti, who drove for the Constructors' Champions, Lotus-Ford Cosworth. It would be Andretti's only title, and Lotus' last title.
The season was marred by the death of Andretti's teammate, Ronnie Peterson, at the Italian Grand Prix. Peterson finished second the Championship.
Teams and Drivers
[
]
Entry List
[
]
The full entry list for the 1978 Formula One Season is outlined below:
Constructor
Chassis
Tyre

No.

Driver
Rounds
Team
Engine
Brabham-Alfa Romeo
BT45C


BT46




BT46B

G

1
Niki Lauda
All
Parmalat Racing Team

Alfa Romeo 115-12

F12 3.0
2
John Watson
All
66
Nelson Piquet
16
Tyrrell-Ford Cosworth

008

G

3
Didier Pironi
All
Elf Team Tyrrell
Cosworth DFV V8 3.0
4
Patrick Depailler
All
Lotus-Ford Cosworth

78


79

G

5
Mario Andretti
All
John Player Team Lotus
Cosworth DFV V8 3.0
6
Ronnie Peterson
1–14
55
Jean-Pierre Jarier
15–16
McLaren-Ford Cosworth
M26

G

7
James Hunt
All
Marlboro Team McLaren
Cosworth DFV V8 3.0
8
Patrick Tambay
1–5, 7–16
33
Bruno Giacomelli
6, 9–10, 13–14
ATS-Ford Cosworth

HS1




D1

G

9
Jochen Mass
1–13
ATS Racing Team
F&S Properties/ATS Racing Team
Cosworth DFV V8 3.0
9
10
Michael Bleekemolen
13–16
10
Jean-Pierre Jarier
1–5, 11
10
Alberto Colombo
6–7
10
Keke Rosberg
8–10, 15–16
10
Hans Binder
12
10
Harald Ertl
14
Ferrari

312T2




312T3

M

11
Carlos Reutemann
All
Scuderia Ferrari SpA SEFAC
Cosworth DFV V8 3.0
12
Gilles Villeneuve
All
Fittipaldi-Ford Cosworth

F5A

G

14
Emerson Fittipaldi
All
Fittipaldi Automotive
Cosworth DFV V8 3.0
Renault
RS01

M

15
Jean-Pierre Jabouille
3–16
Equipe Renault Elf
Renault EF1 V6t 1.5
Shadow-Ford Cosworth

DN8


DN9

G

16
Hans-Joachim Stuck
All
Shadow Racing Team
Cosworth DFV V8 3.0
17
Clay Regazzoni
All
Surtees-Ford Cosworth
TS19


TS20

G

18
Rupert Keegan
1–13
Team Surtees
Durex Team Surtees
Beta Team Surtees
Cosworth DFV V8 3.0
18
Gimax
14
18
René Arnoux
15–16
19
Vittorio Brambilla
1–14
19
Beppe Gabbiani
15–16
Wolf-Ford Cosworth

WR1




WR3




WR4




WR5




WR6

G

20
Jody Scheckter
All
Walter Wolf Racing
Cosworth DFV V8 3.0
21
Bobby Rahal
15–16
Ensign-Ford Cosworth
N177

G

22
Danny Ongais
1–2
Team Tissot Ensign
Cosworth DFV V8 3.0
22
23
Lamberto Leoni
1–4
22
Jacky Ickx
5–8
22
Derek Daly
9–10, 12–16
22
Nelson Piquet
11
23
Brett Lunger
15
Ensign-Ford Cosworth

N175

G

23
Geoff Lees
10

Mario Deliotti Racing

Cosworth DFV V8 3.0
Ensign-Ford Cosworth
N177

G

23
Harald Ertl
11–14

Sachs Racing

Cosworth DFV V8 3.0
Hesketh-Ford Cosworth

308E

G

24
Divina Galica
1–2
Olympus Cameras/Hesketh Racing
Cosworth DFV V8 3.0
24
Eddie Cheever
3
24
Derek Daly
4–6
Lotus-Ford Cosworth

78

G

25
Héctor Rebaque
All
Team Rebaque
Cosworth DFV V8 3.0
Ligier-Matra

JS7




JS7/9




JS9

G

26
Jacques Laffite
All
Ligier Gitanes

Matra MS76

V12 3.0


Matra MS78

V12 3.0
Williams-Ford Cosworth

FW06

G

27
Alan Jones
All
Williams Grand Prix Engineering
Cosworth DFV V8 3.0
McLaren-Ford Cosworth

M25

*

G

28
Emilio de Villota
7

Centro Asegurador

Cosworth DFV V8 3.0
McLaren-Ford Cosworth
M23
M26

G

29
Nelson Piquet
12–14
BS Fabrications
Liggett Group/BS Fabrications
Cosworth DFV V8 3.0
30
Brett Lunger
1–14
Martini-Ford Cosworth

MK23

G

31
René Arnoux
3, 5–6, 9–13
Automobiles Martini
Cosworth DFV V8 3.0
Theodore-Ford Cosworth
Wolf-Ford Cosworth

TR1




WR3




WR4

G

32
Eddie Cheever
1–2
Theodore Racing Hong Kong
Cosworth DFV V8 3.0
32
Keke Rosberg
3–7, 11–14
Merzario-Ford Cosworth

A1

G

34
Alberto Colombo
14
Team Merzario
Cosworth DFV V8 3.0
37
Arturo Merzario
All
Arrows-Ford Cosworth

FA1




A1

G

35
Riccardo Patrese
2–14, 16
Arrows Racing Team
Cosworth DFV V8 3.0
36
Rolf Stommelen
3–16
Shadow-Ford Cosworth
DN9

G

39
Danny Ongais
4, 13

Interscope Racing

Cosworth DFV V8 3.0
McLaren-Ford Cosworth
M23

G

40
Tony Trimmer
10
Melchester Racing
Cosworth DFV V8 3.0
Calendar
[
]
World Championship Schedule
[
]
The full World Championship Schedule for 1978 is outlined below:
* The race originally began with 52 laps, but the red flag appeared when the race was shorten to 40 laps after Peterson's fatal accident.
Non-Championship Schedule
[
]
The full Non-Championship Schedule for 1978 is outlined below:
Season Review
[
]
Pre-Season
[
]
The 1979 season opened with the annual trip to the Autódromo Municipal Ciudad de Buenos Aires in Argentina, with several changes to the field prior to the early 15 January start.[1] Regardless, the first pole of the season would be earned by Lotus stalwart Mario Andretti, who duly converted his quali-pace into an early lead.[1] Carlos Reutemann led the chase from second for Ferrari, while John Watson and Niki Lauda led the Brabham-Alfa Romeo charge in third and fourth.[1]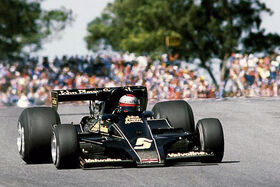 Andretti would soon disappear at the front of the field, aided by some dramatic tyre wear for Reutemann, which ultimately resulted in the Argentine racer slipping out of the top three.[1] Watson duly barged his way through to second, only to drop out of contention with an overheating engine.[1] Lauda therefore inherited second ahead of Peterson, before Peterson himself slipped back behind Patrick Depailler and James Hunt as Andretti claimed a dominant victory.[1]
It was Peterson who grabbed pole for the Brazilian Grand Prix on the 29 January, with Jacarepaguá hosting a Grand Prix for the first time.[2] Yet, unlike his teammate Andretti, Peterson was unable to convert pole into a lead at the start, for Reutemann came charging through from fourth to claim the lead.[2] Peterson got away in second ahead of Hunt and Andretti, while a clash further down put Riccardo Patrese and Watson down the order.[2]
Reutemann would go unchallenged after the opening lap, his Michelin tyres lasting the distance far better than the Goodyears used by the everyone else bar Gilles Villeneuve.[2] Peterson was among those to stuggle, slipping back early on, while Hunt was forced to abandon second when he burned through his tyres.[2] Andretti was then set to claim second, only for his gearbox to jam in the closing stages, allowing Emerson Fittipaldi and Niki Lauda to sweep past and onto the podium.[2]
Kyalami returned to host the third race of the season, and 300th World Championship race, albeit after a five week break since the race in Brazil.[3] In terms of qualifying it was Lauda whom grabbed pole in an updated Brabham, only to get beaten off the line at the start.[3] Indeed, it was Andretti who surged into the lead early on, dragging South African hero Jody Scheckter along with him in the Wolf.[3]
However, attrition would steadily thin the field, allowing Patrese in the new Arrows to seize the lead after battling past Scheckter and Andretti as they hit tyre trouble.[3] Depailler and Lauda also moved forward and onto the podium, only for the latter to hit engine trouble, as did Patrese with fifteen laps to go.[3] That left Depailler on course to take victory, only for a resurgent Peterson to snatch the win away with half a lap to go.[3]
It would be an all Ferrari front row for the United States Grand Prix West in Long Beach, California, with Reutemann edging out the impressive rookie Villeneuve for pole.[4] They would, however, enter an all F12 fight for the lead into turn one at the start, with Lauda and Watson in their Alfa Romeo engined Brabhams pulling alongside off the line.[4] Ultimately it was Villeneuve who snatched the lead from Watson, with Lauda sneaking ahead of Reutemann on the exit.[4]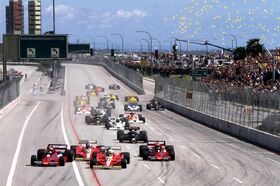 Those four would run nose-to-tail early on, only for Watson and Lauda to drop away with failures, before Villeneuve lost his shot at a maiden triumph when he crashed lapping Clay Regazzoni.[4] All that left Reutemann on his own ahead of Alan Jones, who was set for second until a fuel pressure issue dropped him back down the order.[4] That meant that a charging Andretti finished second ahead of Peterson, as Reutemann reinforced his lead in the Championship.[4]
After a late cancellation to the trip to Fuji for the Japanese Grand Prix, the field convened at the Circuit de Monaco for the start of the European tour, with several new cars on display.[5] One of those cars would be the "ground effect" Lotus 79, although Andretti opted not to use it for the race.[5] Regardless, it was Reutemann who grabbed pole, only to make a poor start and allow Watson and Depailler to streak through into the lead.[5]
Reutemann's race was over before the end of the opening lap, getting bounced into the barriers by Lauda, as Depailler harassed Watson for the lead.[5] Their fight was ultimately resolved when Watson slid down an escape road, handing Depailler a healthy lead over Lauda, who breifly dropped down the order after a tyre change to replace a punctured tyre.[5] He duly charged back through to claim second, aided by a series of retirements, with Scheckter cruising home in third.[5]
The Belgian Grand Prix of 1978 would, however, mark the start of a new era in F1, for it was the first race to be truly dominated by "ground effect".[6] Indeed, after making a brief appearance in Monte Carlo, Andretti used the new Lotus 79 to claim pole by almost a second, before sprinting clear at the start.[6] Villeneuve led the chase in second, while a slow start from Reutemann resulted in a crunch in the middle of the pack, with several drivers including Lauda and Hunt getting knocked out of the race.[6]
Andretti duly pulled out a massive lead over Villeneuve, who had to push hard to keep Peterson, using an older Lotus 78 at bay.[6] Both would subsequently stop for fresh tyres after half distance, with Peterson then making a late charge to leap back into second.[6] He duly passed Reutemann and Jacques Laffite in the closing stages, with the Argentine controversially taking third after knocking Laffite off on the final lap.[6]
The Spanish Grand Prix played host to the seventh round of the 1978 World Championship tour, with Jarama taking the stage.[7] Qualifying would see a repeat of the respective sessions in Belgium, with Andretti again claiming a dominant pole for Lotus, with Peterson, equipped with his own Lotus 79 a close second.[7] Yet, unlike the race in Zolder the two Loti would be beaten off the line, with Hunt streaking into the lead ahead of Reutemann.[7]
Unfortunately for those two the slow start was to be as bad as it got for Andretti, who duly carved past the McLaren and Ferrari to snatch the lead early on.[7] He quickly disappeared into the distance, and ultimately victory, leaving all of the attention on Peterson, who was battling back from ninth after his awful getaway.[7] A series of aggressive moves, plus a spectacular driveshaft failure for Reutemann, ultimately saw the Swede finish second, with Laffite surviving well in the Ligier-Matra to claim third.[7]
A revised Scandinavian Raceway greeted the field for the Swedish Grand Prix of 1978, which saw the controversial debut of the Brabham "Fan Car".[8] Indeed, having failed to replicate Colin Chapman's "ground effect" performance, Brabham designer Gordon Murray used a more agricultural technique to generate a low pressure zone under his car, namely an "extractor fan".[8] The South African designer claimed it was primarily used to cool the car, something which seemed to be true as the red-blue Brabhams failed to beat Andretti in the black-gold Lotus.[8]
After an overnight protest against the Brabhams was waved away it was Andretti whom snatched the lead at the start, fending off Lauda early on.[8] Patrese, meanwhile, go the jump on Watson, as did Peterson in the second Lotus until he picked up a puncture and stopped for fresh tyres.[8] That left Patrese on his own in third, as Andretti and Lauda streaked ahead, running nose-to-tail at a pace no-one could match.[8]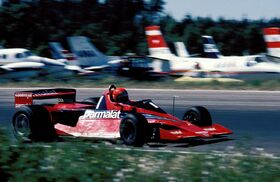 Ultimately the pressure put on Andretti by Lauda told just after half distance, with the American racer slightly misjudging his entry into the Karussell, opening the door for Lauda as his Lotus drifted wide.[8] Lauda quickly pulled away from Andretti, aided by the fact that an oil slick had been dumped on the sweeping middle sector, causing everyone bar Lauda to slow through that section.[8] Andretti duly retired with an engine failure, leaving Patrese a delighted second ahead of Peterson, who just fell shy of the Italian on the final lap.[8]
After the race various appeals to the FIA were made to ban the "Fan Car", but all were rejected.[9] It was only the threat of a split in the ranks of the Formula One Constructors Association that saw the BT46B "banned", with Brabham owner, and F.O.C.A. leader Bernie Ecclestone deciding to withdraw the car on "safety" grounds.[9]
The Le Castellet circuit in Southern France hosted the French Grand Prix of 1978, with Lotus expected to dominate after the Brabham ban.[10] However, it was not to be in qualifying for John Watson, in the down-graded Brabham BT46, claimed pole, with Mario Andretti ending the session second.[10] Furthermore, Watson was able to convert pole into a lead at the start, although Andretti did lunge past the Ulsterman on the Mistral before the end of the opening tour.[10]
With that the race for victory was all but over, for Andretti simply drove clear of Watson over the following laps, aided by a lack of pace from the #2 racer.[10] That allowed Niki Lauda and Ronnie Peterson to sweep past as they duelled during the early stages, only for Lauda's engine to fail after ten laps.[10] That left Peterson clear to grab a lonely second, while James Hunt secured the final podium spot in third just before half-distance.[10]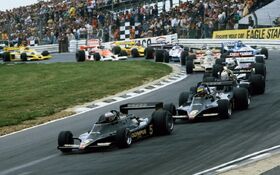 Brands Hatch had its turn to host the British Grand Prix in 1978, a track that was expected to suit the two black-gold Loti once again.[11] Peterson duly snatched pole ahead of Andretti, with a second between the Swede and the rest of the field, which was instantly converted to a one-two at the start, Andretti ahead of Peterson.[11] The pair expertly pulled clear from Jody Scheckter over the early laps, set to claim another imperious one-two.[11]
However, the ever present fable of the fragile Lotus would bite back in Brands, with first Peterson, and then Andretti, dropping out with mechanical strife early on.[11] That handed Scheckter the lead, which became fairly comfortable after Alan Jones retired, only for the South African racer himself to retire with a ruined gearbox.[11] Lauda therefore inherited the lead, but was powerless to prevent Carlos Reutemann sweeping through in the closing stages to claim victory for Ferrari, using the backmarker Bruno Giacomelli to pounce with five laps to go.[11]
Andretti and Peterson again duelled for pole at the German Grand Prix at the Hockenheimring, with the American coming out on top ahead of the Swede.[12] The duo duly disappeared off into the distance at the start, Peterson beating Andretti off the line, leaving Lauda to lead the field from third.[12] Jones, however, proved to be the centre of action, attacking and ultimately passing Lauda early on for third.[12]
Peterson duly relented the lead after the fifth lap, a result of his contract declaring him a "number two" at Lotus.[12] They continued to pull away from the field at a cruise, until the Swede hit trouble with a gearbox issue, forcing him to retire.[12] Andretti was therefore left to claim a lonely victory, with attrition ultimately putting Scheckter and Jacques Laffite onto the podium.[12]
The Österreichring in the Styrian Mountains hosted the twelfth round of the season, with Peterson again beating Andretti in qualifying.[13] They were almost split, however, by the ever improving, turbocharged, Renault of Jean-Pierre Jabouille, who claimed third ahead of Reutemann.[13] Regardless, Peterson would immediately sprint clear at the start, while the Argentine swept ahead of Andretti and Jabouille to claim second.[13]
In his desperation to pass the Argentine, however, Andretti would make a rare mistake, crashing out of the race halfway around the opening tour.[13] However, before Peterson and Reutemann could disappear heavy rain lashed down on the circuit, quickly causing the race to be red flagged after six laps.[13] Several drivers were out before the race was stopped, and were not allowed to take the restart.[13]
Peterson duly aced the restart, in wet conditions, to claim an early lead, and would only briefly lose it when he had to stop for fresh tyres.[13] Patrick Depailler claimed a strong second for Tyrrell, having briefly challenged Peterson, while the two Ferraris were strong, staying out on wets long after everyone else.[13] That allowed Gilles Villeneuve to claim a maiden podium finish, while Reutemann hit trouble late on.[13]
Another race and another all conquering performance from Lotus, with the black-gold cars again dominating amid the dunes of the Circuit Park Zandvoort.[14] Andretti came out on top on their private duel for pole at the Dutch Grand Prix, and duly claimed the lead at the start.[14] There was some minor chaos behind them, with Didier Pironi and Riccardo Patrese making contact in the middle of the pack.[14]
Peterson once again demonstrated that he was the "number two" at Lotus, refusing to attack Andretti despite clearly having equal pace as they ran nose-to-tail.[14] As they cruised on to another one-two, the fight for third was fought between Laffite, Reutemann, Lauda, Watson and Emerson Fittipaldi, with attrition the main factor as the race wore on.[14] ultimately, Lauda held out the longest to finish third ahead of Watson, with Fittipaldi and Villeneuve completing the points.[14]
The result of the Dutch Grand Prix also meant that Lotus were declared as the International Cup for Constructors Champions with three rounds to go.[14]
Unfortunately the 1978 World Championship fight would come to a sad end in Monza, for issues in qualifying and in the warm-up left Peterson down in fifth in an dated Lotus 78.[15] That left the Swede in the middle of a midfield crunch at the start, caused by the starting lights flashing to green before the entire field had lined up on the grid.[15] Contact between Patrese and James Hunt ultimately resulted in Peterson's car getting pitched straight into the barriers, which duly caused the car to burst into flame.[15]
Hunt and Clay Regazzoni quickly sprinted over to pull Peterson clear of the burning wreck, the Swede having sustained severe leg injuries in the collision.[15] He was duly flown to hospital for emergency surgery, while Vittorio Brambilla was taken to Milan by ambulance after getting knocked unconscious after smashing into Peterson's spinning Lotus.[15] Back at the track, meanwhile, the restart of the race was pushed back over an hour due to barrier repairs, only to be delayed further when Scheckter crashed heavily at the Lesmo section.[15]
The additional delay to fix those barriers ultimately meant that the race distance had to be shortened to 40 laps, with fading light a major concern.[15] Another messy start saw Villeneuve and Andretti jump the start, with the Canadian ace snatching the lead.[15] The two duly duelled for victory until the closing stages, before Andretti claimed the win five laps before the "early" chequered flag.[15]
However, one minute time penalties for Andretti and Villeneuve dumped both down the order, meaning Ferrari traitor Lauda claimed victory ahead of teammate Watson.[15] Reutemann was classified in third, while Andretti ended up in sixth with Villeneuve seventh.[15] That result did, however, ensure that Andretti was World Champion, for Peterson was not expected to compete again in 1978 with his injuries.[15]
Unfortunately, Peterson would never recover from the injuries he sustained, for he succumbed to a fat embolism shortly after his surgery on the Monday after the race.[15]
The loss of Peterson caused a universal slump of morale heading into the North American phase of the Championship, beginning with the annual trip to Watkins Glen for the United States Grand Prix in early October.[16] Andretti once again claimed pole position ahead of Reutemann in front of his home fans, while temporary Lotus teammate Jean-Pierre Jarier, using #55 rather than Peterson's #6, qualified in eighth.[16] Andretti would duly sweep into the lead at the start, albeit after taking over Jarier's car after an accident in the warm-up destroyed his car.[16]
Unfortunately for the home fans Andretti was not comfortable with his commandeered car, and duly slipped behind Reutemann and Villeneuve early on.[16] He duly retired after a duel with Lauda, while Jarier slowly gained confidence in the middle of the pack.[16] Reutemann, meanwhile, would claim victory as an engine failure dumped Villeneuve out of contention, meaning Jones and Scheckter completed the podium, albeit only after Jarier's late charge came to an end as he burned through the last of his fuel prematurely.[16]
One week later and the F1 circus headed to the new Circuit Île Notre-Dame, the home of the Canadian Grand Prix and the 1978 season finale.[17] This time it was Jarier who emerged on pole ahead of Scheckter in the Canadian built Wolf, while World Champion Andretti only managed to claim ninth after a troubled run.[17] Indeed, it was a bitterly cold start to the weekend, with most of Friday's running ruled out by heavy rain.[17]
Amid a threat of snow, Jarier blasted clear at the start of the race, leaving Villeneuve to rue a poor start as he slipped behind Scheckter and Jones.[17] Those three duly truelled for second as Andretti took himself and Watson out of contention, while Jarier blasted away out front.[17] Unfortunately for him his hopes of a maiden victory were ended by a brake failure, while a slow puncture for Jones dumped him down the order after a pit stop.[17]
All that allowed Villeneuve to surge into the lead with twenty laps to go, the Canadian sweeping past Scheckter after they had dealt with Jones.[17] He duly cruised home to claim a famous home victory, with Shceckter slipping away to a lonely second ahead of Reutemann.[17] Thus the 1978 World Championship tour came to an end, with a new generation of drivers set to take the stage in 1979 and beyond.[17]
Non-Championship Rounds
[
]
Results
[
]
World Championship
[
]
A run down of results for the 1978 FIA Formula One World Championship is shown below:
Round
Event
Report
Grid
Result
Non-Championship
[
]
Final Standings
[
]
World Championship for Drivers
[
]
Outlined below are the full final standings from the 1978 FIA Formula One World Championship for Drivers:
Pos.*

Driver
1
2
3
4
5
6
7
8
9
10
11
12
13
14
15
16
Pts.†
1st
Andretti
1st
4th
7th
2nd
11th
1st
1st
Ret
1st
Ret
1st
Ret
1st
6th
Ret
10th
64
2nd
Peterson
5th
Ret
1st
4th
Ret
2nd
2nd
3rd
2nd
Ret
Ret
1st
2nd
Ret
51
3rd
Reutemann
7th
1st
Ret
1st
8th
3rd
Ret
10th
18th
1st
Ret
DSQ
7th
3rd
1st
3rd
48
4th
Lauda
2nd
3rd
Ret
Ret
2nd
Ret
Ret
1st
Ret
2nd
Ret
Ret
3rd
1st
Ret
Ret
44
5th
Depailler
3rd
Ret
2nd
3rd
1st
Ret
Ret
Ret
Ret
4th
Ret
2nd
Ret
11th
Ret
5th
34
6th
Watson
Ret
8th
3rd
Ret
4th
Ret
5th
Ret
4th
3rd
7th
7th
4th
2nd
Ret
Ret
25
7th
Scheckter
10th
Ret
Ret
Ret
3rd
Ret
4th
Ret
6th
Ret
2nd
Ret
12th
12th
3rd
2nd
24
8th
Laffite
16th
9th
5th
5th
Ret
5th
3rd
7th
7th
10th
3rd
5th
8th
4th
11th
Ret
19
9th
Villeneuve
8th
Ret
Ret
Ret
Ret
4th
10th
9th
12th
Ret
8th
3rd
6th
7th
Ret
1st
17
10th
Fittipaldi
9th
2nd
Ret
8th
9th
Ret
Ret
6th
Ret
Ret
4th
4th
5th
8th
5th
Ret
17
11th
Jones
Ret
11th
4th
7th
Ret
10th
8th
Ret
5th
Ret
Ret
Ret
Ret
13th
2nd
9th
11
12th
Patrese
10th
Ret
6th
6th
Ret
Ret
2nd
8th
Ret
9th
Ret
Ret
Ret
4th
11
13th
Hunt
4th
Ret
Ret
Ret
Ret
Ret
6th
8th
3rd
Ret
DSQ
Ret
10th
Ret
7th
Ret
8
14th
Tambay
6th
Ret
Ret
12th
7th
Ret
4th
9th
6th
Ret
Ret
9th
5th
6th
8th
8
15th
Pironi
14th
6th
6th
Ret
5th
6th
12th
Ret
10th
Ret
5th
Ret
Ret
Ret
10th
7th
7
16th
Regazzoni
15th
5th
DNQ
10th
DNQ
Ret
15th
5th
Ret
Ret
DNQ
NC
DNQ
NC
14th
DNQ
4
17th
Jabouille
Ret
Ret
10th
NC
13th
Ret
Ret
Ret
Ret
Ret
Ret
Ret
4th
12th
3
18th
Stuck
17th
Ret
DNQ
DNS
Ret
Ret
Ret
11th
11th
5th
Ret
Ret
Ret
Ret
Ret
Ret
2
19th
Rebaque
DNQ
Ret
10th
DNPQ
DNPQ
DNPQ
Ret
12th
DNQ
Ret
6th
Ret
11th
DNQ
Ret
DNQ
1
20th
Brambilla
18th
DNQ
12th
Ret
DNQ
13th
7th
Ret
17th
9th
Ret
6th
DSQ
Ret
1
21st
Daly
DNPQ
DNPQ
DNPQ
DNQ
Ret
DSQ
Ret
10th
8th
6th
1
NC
Lunger
13th
Ret
11th
DNQ
DNPQ
7th
DNQ
DNQ
Ret
8th
DNPQ
8th
Ret
Ret
13th
0
NC
Giacomelli
8th
Ret
7th
Ret
14th
0
NC
Mass
11th
7th
Ret
Ret
DNQ
11th
9th
13th
13th
NC
Ret
DNQ
DNQ
0
NC
Jarier
12th
DNS
8th
11th
DNQ
DNQ
15th
Ret
0
NC
Arnoux
DNQ
DNPQ
9th
14th
DNPQ
9th
Ret
9th
Ret
0
NC
Stommelen
9th
9th
Ret
Ret
14th
14th
15th
DNQ
DSQ
DNPQ
DNPQ
DNPQ
16th
DNQ
0
NC
Piquet
Ret
Ret
Ret
9th
11th
0
NC
Rosberg
Ret
DNPQ
DNPQ
DNQ
DNPQ
15th
16th
Ret
10th
NC
Ret
DNPQ
Ret
NC
0
NC
Keegan
Ret
Ret
Ret
DNS
Ret
DNQ
11th
DNQ
Ret
DNQ
DNQ
DNQ
DNS
0
NC
Ertl
11th
Ret
DNPQ
DNQ
0
NC
Ickx
Ret
12th
Ret
DNQ
0
NC
Rahal
12th
Ret
0
NC
Merzario
Ret
DNQ
Ret
Ret
DNPQ
DNPQ
DNQ
NC
DNQ
Ret
DNQ
DNQ
Ret
Ret
Ret
DNQ
0
NC
Leoni
Ret
DNS
DNQ
DNQ
0
NC
Ongais
Ret
Ret
DNPQ
DNPQ
0
NC
Bleekemolen
DNQ
DNQ
Ret
DNQ
0
NC
Cheever
DNQ
DNQ
Ret
0
NC
Colombo
DNQ
DNQ
DNPQ
0
NC
Galica
DNQ
DNQ
0
NC
Gabbiani
DNQ
DNQ
0
NC
de Villota
DNQ
0
NC
Lees
DNQ
0
NC
Trimmer
DNQ
0
NC
Binder
DNQ
0
NC
Gimax
DNQ
0

Pos.*

Driver
Pts.†
1
2
3
4
5
6
7
8
9
10
11
12
13
14
15
16
* The 1979 FIA Yearbook did not separate drivers whom ended the season level on points. Positions listed on this table do distinguish tied drivers based on their best finishing position.
† A drivers best seven results from the first eight rounds and their best seven results from the final eight rounds contributed to their score.
International Cup for Constructors
[
]
Outlined below are the full final standings from the 1978 FIA Formula One International Cup for Constructors:
Pos.*

Constructor
1
2
3
4
5
6
7
8
9
10
11
12
13
14
15
16
Pts.†
1st
Lotus-Ford Cosworth
1st
4th
1st
2nd
11th
1st
1st
Ret
1st
1st
1st
1st
1st
6th
15th
10th
64
2nd
Ferrari
7th
1st
Ret
1st
8th
3rd
10th
9th
12th
1st
8th
3rd
6th
3rd
1st
1st
58
3rd
Brabham-Alfa Romeo
2nd
3rd
3rd
Ret
2nd
Ret
5th
1st
4th
2nd
7th
7th
3rd
1st
Ret
11th
53
4th
Tyrrell-Ford Cosworth
3rd
6th
2nd
3rd
1st
6th
12th
Ret
10th
4th
5th
2nd
Ret
11th
10th
5th
24
5th
Wolf-Ford Cosworth
10th
Ret
Ret
Ret
3rd
Ret
4th
Ret
6th
Ret
2nd
NC
12th
12th
3rd
2nd
24
6th
Ligier-Matra
16th
9th
5th
5th
Ret
5th
3rd
7th
7th
10th
3rd
5th
8th
4th
11th
Ret
19
7th
Fittipaldi-Ford Cosworth
9th
2nd
Ret
8th
9th
Ret
Ret
6th
Ret
Ret
4th
4th
5th
8th
5th
Ret
17
8th
McLaren-Ford Cosworth
4th
4th
11th
12th
7th
7th
6th
4th
3rd
6th
Ret
8th
9th
5th
6th
8th
15
9th
Williams-Ford Cosworth
Ret
11th
4th
7th
Ret
10th
8th
Ret
5th
Ret
Ret
Ret
Ret
13th
2nd
9th
11
10th
Arrows-Ford Cosworth
10th
9th
6th
6th
Ret
14th
2nd
8th
Ret
9th
Ret
Ret
Ret
16th
4th
11
11th
Shadow-Ford Cosworth
15th
5th
5th
10th
Ret
Ret
15th
5th
11th
5th
Ret
NC
Ret
NC
14th
Ret
6
12th
Renault
Ret
Ret
10th
NC
13th
Ret
Ret
Ret
Ret
Ret
Ret
Ret
4th
12th
3
13th
Surtees-Ford Cosworth
18th
Ret
12th
Ret
Ret
13th
7th
Ret
17th
9th
Ret
6th
DSQ
Ret
9th
Ret
1
14th
Ensign-Ford Cosworth
Ret
Ret
DNQ
DNQ
Ret
12th
Ret
DNQ
DNQ
Ret
11th
Ret
Ret
10th
8th
6th
1
NC
ATS-Ford Cosworth
11th
7th
8th
11th
DNQ
11th
9th
13th
13th
NC
Ret
DNQ
DNQ
DNQ
Ret
NC
0
NC
Martini-Ford Cosworth
DNQ
DNPQ
9th
WD
14th
WD
DNPQ
9th
Ret
0
NC
Merzario-Ford Cosworth
Ret
DNQ
Ret
Ret
DNPQ
DNPQ
DNQ
NC
DNQ
Ret
DNQ
DNQ
Ret
Ret
Ret
DNQ
0
NC
Theodore-Ford Cosworth
DNQ
DNQ
Ret
DNPQ
DNPQ
DNQ
DNPQ
0
NC
Hesketh-Ford Cosworth
DNQ
DNQ
Ret
DNPQ
DNPQ
DNQ
0
See Also
[
]
↑ 1.0 1.1 1.2 1.3 1.4 1.5 'Argentine GP, 1978', grandprix.com, (Inside F1 Inc., 2015), http://www.grandprix.com/gpe/rr298.html, (Accessed 06/06/2018)
↑ 2.0 2.1 2.2 2.3 2.4 2.5 'Brazilian GP, 1978', grandprix.com, (Inside F1 Inc., 2015), http://www.grandprix.com/gpe/rr299.html, (Accessed 10/06/2018)
↑ 3.0 3.1 3.2 3.3 3.4 3.5 'South African GP, 1978', grandprix.com, (Inside F1 Inc., 2015), http://www.grandprix.com/gpe/rr300.html, (Accessed 03/08/2018)
↑ 4.0 4.1 4.2 4.3 4.4 4.5 'United States GP, 1978', grandprix.com, (Inside F1 Inc., 2015), http://www.grandprix.com/gpe/rr301.html, (Accessed 04/08/2018)
↑ 5.0 5.1 5.2 5.3 5.4 5.5 'Monaco GP, 1978', grandprix.com, (Inside F1 Inc., 2015), http://www.grandprix.com/gpe/rr302.html, (Accessed 06/08/2018)
↑ 6.0 6.1 6.2 6.3 6.4 6.5 'Belgian GP, 1978', grandprix.com, (Inside F1 Inc., 2015), http://www.grandprix.com/gpe/rr303.html, (Accessed 08/08/2018)
↑ 7.0 7.1 7.2 7.3 7.4 7.5 'Spanish GP, 1978', grandprix.com, (Inside F1 Inc., 2015), http://www.grandprix.com/gpe/rr304.html, (Accessed 10/08/2018)
↑ 8.0 8.1 8.2 8.3 8.4 8.5 8.6 8.7 8.8 'Swedish GP, 1978', grandprix.com, (Inside F1 Inc., 2015), http://www.grandprix.com/gpe/rr305.html, (Accessed 13/04/2018)
↑ 9.0 9.1 D.S.J., 'The Brabham-Alfa Romeo fan', motorsportmagazine.com, (Motor Sport, 01/08/1978), https://www.motorsportmagazine.com/archive/article/august-1978/33/brabham-alfa-romeo-fan, (Accessed 12/08/2018)
↑ 10.0 10.1 10.2 10.3 10.4 10.5 'French GP, 1978', grandprix.com, (Inside F1 Inc., 2015), http://www.grandprix.com/gpe/rr306.html, (Accessed 15/08/2018)
↑ 11.0 11.1 11.2 11.3 11.4 11.5 'British GP, 1978', grandprix.com, (Inside F1 Inc., 2016), http://www.grandprix.com/gpe/rr307.html, (Accessed 18/08/2018)
↑ 12.0 12.1 12.2 12.3 12.4 12.5 'German GP, 1978', grandprix.com, (Inside F1 Inc., 2016), http://www.grandprix.com/gpe/rr308.html, (Accessed 06/09/2018)
↑ 13.0 13.1 13.2 13.3 13.4 13.5 13.6 13.7 13.8 'Austrian GP, 1978', grandprix.com, (Inside F1 Inc., 2016), http://www.grandprix.com/gpe/rr309.html, (Accessed 07/09/2018)
↑ 14.0 14.1 14.2 14.3 14.4 14.5 14.6 'Dutch GP, 1978', grandprix.com, (Inside F1 Inc., 2015), http://www.grandprix.com/gpe/rr310.html, (Accessed 09/09/2018)
↑ 15.00 15.01 15.02 15.03 15.04 15.05 15.06 15.07 15.08 15.09 15.10 15.11 15.12 'Italian GP, 1978', grandprix.com, (Inside F1 Inc., 2015), http://www.grandprix.com/gpe/rr311.html, (Accessed 10/09/2018)
↑ 16.0 16.1 16.2 16.3 16.4 16.5 'United States GP, 1978', grandprix.com, (Inside F1 Inc., 2015), http://www.grandprix.com/gpe/rr312.html, (Accessed 15/09/2018)