The 1974 FIA Formula One World Championship, otherwise known as the 1974 Formula One Season, was the twenty-fifth edition of the Formula One World Championship and the then longest season in F1 history. The season began on the 13th January with the Argentine Grand Prix before heading to Europe after a brief stops in Brazil and South Africa. The season then came to its conclusion with trips to Canada and the United States, the latter held on the 6th October to bring the fifteen race season to its conclusion.
Jackie Stewart retired at the end of the 1973, meaning the Scot would not defend his third World Championship crown when the season started in Argentina.[1] As it turned out it would be a former Champion who shot to victory at the opening round, with 1967 Champion Denny Hulme sweeping home to claim the final win of his career.[1]
A popular home win for Emerson Fittipaldi followed in Brazil, before Carlos Reutemann claimed a memorable win in South Africa for Brabham.[2] Niki Lauda then picked up his maiden victory with a dominant display at the Spanish Grand Prix, claiming pole and fastest lap on the way for Ferrari, before Fittipaldi swept to a second win of the season in Belgium.[3]
Ronnie Peterson and Jody Scheckter became the fifth and sixth different winners in Monaco and Sweden respectively, while Lauda picked up a second win at the Dutch Grand Prix.[4] Peterson and Scheckter then picked up their second wins in France and Britain, before Clay Regazzoni became the seventh different winner with victory at the Nordschleife.[5] Victory in Austria would then go to Reutemann, Peterson swept to a third triumph in Italy, before Fittipaldi claimed his third victory of the season in Canada.[6]
That last series of races meant that season finale at Watkins Glen would see a three way fight for the title, with Fittipaldi and Regazzoni tied on 52 points, while Scheckter arrived with 45 points to his name.[7] Ultimately, it was a retirement for Scheckter and a miserable afternoon for Regazzoni that decided the fate of the Championship, with Fittipaldi crowned as World Champion for the second time in three seasons.[7] His team McLaren, meanwhile, picked up their first International Cup for Manufacturers' crown having beaten Ferrari by eight points.[7]
Away from the title fight it would be a typical F1 season full of intrigue, delight and disappointment. New teams, new drivers and new race winners helped to expand F1's appeal, although a dispute between the FIA, F.O.C.A. and the CSI would keep political interest at the fore. Yet, huge accidents and fatalities would puncture the season, as Peter Revson and Helmuth Koinigg paid the ultimate price in the search for speed.
Background
[
]
Teams and Drivers
[
]
Entry List
[
]
Constructor
Chassis
Tyre

No.

Driver
Rounds
Team
Engine
Lotus-Ford Cosworth
72E


76

G

1
Ronnie Peterson
All
John Player Team Lotus
Ford Cosworth DFV 3.0 V8
2
Jacky Ickx
All
31
Tim Schenken
15
Tyrrell-Ford Cosworth
005
006
007

G

3
Jody Scheckter
All
Elf Team Tyrrell
Ford Cosworth DFV 3.0 V8
4
Patrick Depailler
All
McLaren-Ford Cosworth
M23

G

5
Emerson Fittipaldi
All
Marlboro Team Texaco
Yardley Team McLaren
Ford Cosworth DFV 3.0 V8
6
56
Denny Hulme
All
33
Mike Hailwood
1–11
33
David Hobbs
12–13
33
Jochen Mass
14–15
Brabham-Ford Cosworth
BT42
BT44

G

7
Carlos Reutemann
All
Motor Racing Developments Ltd.
Ford Cosworth DFV 3.0 V8
8
Richard Robarts
1–3
8
Rikky von Opel
4–9
8
Carlos Pace
10–15
34
Teddy Pilette
5
March-Ford Cosworth

741

G

9
Hans-Joachim Stuck
1–6, 8–15
March Engineering
Ford Cosworth DFV 3.0 V8
9
Reine Wisell
7
10
Howden Ganley
1–2
10
Vittorio Brambilla
3–15
Ferrari

312B3-74

G

11
Clay Regazzoni
All
Scuderia Ferrari SpA SEFAC
Ferrari

001/11

3.0 F12
12
Niki Lauda
All
BRM
P160E
P201

F

14
Jean-Pierre Beltoise
All
Team Motul BRM
BRM P142 3.0 V12
BRM

P200

3.0 V12
15
Henri Pescarolo
1–11, 13
15
Chris Amon
14–15
37
François Migault
1–6, 8–11, 13
Shadow-Ford Cosworth
DN1
DN3

G

16
Peter Revson
1–2
UOP Shadow Racing Team
Ford Cosworth DFV 3.0 V8
16
Brian Redman
4–6
16
Bertil Roos
7
16
Tom Pryce
8–15
17
Jean-Pierre Jarier
1–2, 4–5
Surtees-Ford Cosworth
TS16

F

18
Carlos Pace
1–7
Team Surtees
Bang & Olufsen Team Surtees
Memphis International Team Surtees
Ford Cosworth DFV 3.0 V8
18
19
José Dolhem
9, 13, 15
18
Derek Bell
10–14
19
Jochen Mass
1–11
19
Jean-Pierre Jabouille
12
19
Helmuth Koinigg
14–15
30
Dieter Quester
12
Iso-Marlboro-Ford Cosworth
FW

F

20
Arturo Merzario
All
Frank Williams Racing Cars
Ford Cosworth DFV 3.0 V8
20
Richard Robarts
7
21
Tom Belsø
3–4, 7, 10
21
Gijs van Lennep
5, 8
21
Jean-Pierre Jabouille
9
21
Jacques Laffite
11–15
Ensign-Ford Cosworth

N174

F

22
Rikky von Opel
1
Team Ensign
Ford Cosworth DFV 3.0 V8
22
Vern Schuppan
5–11
22
25
Mike Wilds
12–15
Amon-Ford Cosworth

AF101

F

22
30
Chris Amon
4, 6, 11, 13
Chris Amon Racing
Ford Cosworth DFV 3.0 V8
30
Larry Perkins
11
McLaren-Ford Cosworth
M23

G

23
Dave Charlton
3
Scribante Lucky Strike Racing
Ford Cosworth DFV 3.0 V8

Trojan

-Ford Cosworth

T103

F

23
29
41
Tim Schenken
4–6, 8, 10–13

Trojan-Tauranac Racing

Ford Cosworth DFV 3.0 V8
Surtees-Ford Cosworth
TS16

F

23
43
44
Leo Kinnunen
5, 7, 9–10, 12–13
AAW Racing Team
Ford Cosworth DFV 3.0 V8
March-Ford Cosworth
Hesketh-Ford Cosworth
731
308

F




G

24
James Hunt
All
Hesketh Racing
Ford Cosworth DFV 3.0 V8
31
Ian Scheckter
12
Maki-Ford Cosworth
F101

F

25
Howden Ganley
10–11
Maki Engineering
Ford Cosworth DFV 3.0 V8
Lola-Ford Cosworth
T370

F

26
Graham Hill
All
Embassy Racing with Graham Hill
Ford Cosworth DFV 3.0 V8
27
Guy Edwards
1–2, 4–11
27
Peter Gethin
10
27
Rolf Stommelen
12–15
Brabham-Ford Cosworth
BT42
BT44

F

28
John Watson
All
John Goldie Racing with Hexagon
Ford Cosworth DFV 3.0 V8
34
Carlos Pace
9
Lotus-Ford Cosworth
72E

G

29
Ian Scheckter
3
Team Gunston
Ford Cosworth DFV 3.0 V8
30
Paddy Driver
3
Lyncar-Ford Cosworth

006

F

29
John Nicholson
10

Pinch Plant Ltd.

Ford Cosworth DFV 3.0 V8
Brabham-Ford Cosworth
BT42

F

31
Carlo Facetti
13
Scuderia Finotto
Ford Cosworth DFV 3.0 V8
32
Helmuth Koinigg
12
43
Gérard Larrousse
5, 9
Tyrrell-Ford Cosworth
004

F

32
Eddie Keizan
3
Blignaut Embassy Racing SA
Ford Cosworth DFV 3.0 V8
Token-Ford Cosworth

RJ02

F

32
35
Ian Ashley
11–12
Token Racing
Ford Cosworth DFV 3.0 V8
42
Tom Pryce
5
42
David Purley
10
March-Ford Cosworth
731

F

35
Mike Wilds
10

Dempster International Racing Team

Ford Cosworth DFV 3.0 V8
Brabham-Ford Cosworth
BT42

G

42
Ian Ashley
14–15

The Chequered Flag

Ford Cosworth DFV 3.0 V8
Brabham-Ford Cosworth
BT42

G

50
Eppie Wietzes
14
Team Canada F1 Team
Ford Cosworth DFV 3.0 V8
Parnelli-Ford Cosworth

VPJ4

F

55
Mario Andretti
14–15
Vel's Parnelli Jones Racing
Ford Cosworth DFV 3.0 V8
Penske-Ford Cosworth
PC1

G

66
Mark Donohue
14–15
Penske Cars
Ford Cosworth DFV 3.0 V8
Brabham-Ford Cosworth
BT42

G

208
Lella Lombardi
10
Allied Polymer Group
Ford Cosworth DFV 3.0 V8
Calendar
[
]
A joint-record fifteen race calendar was put together by the FIA for 1974 Formula One World Championship, with visits to four continents across ten months of action. Three additional, non-Championship races were also added to the Calendar, which added two different circuits to the 1974 circus.
World Championship Schedule
[
]
Only minor revisions were made to the calendar over the winter of 1973/4, with all fifteen Grand Prix from 1973 retained. The only change to the order would be the Dutch Grand Prix, which moved back into a more familiar June date, with the French and British Grand Prix making way. There was also little change to the length of the active season either, with the World Championship starting in late-January, before concluding in early October.
Circuit-wise there would be one new circuit for the F1 field to discover, for the French Grand Prix was to be staged at the relatively tiny Dijon-Prenois circuit. The Argentine Grand Prix used the same circuit, albeit with a revised layout, while all other venues with recent updates remained unchanged. Elsewhere, Brands Hatch replaced Silverstone as host of the British Grand Prix as part of their well established deal, Circuito del Jarama replaced Montjuïc as the home of the Spanish Grand Prix, while Nivelles-Baulers played host to the Belgian Grand Prix in place of Zolder.
The full World Championship Schedule for 1974 is outlined below:
2
Brazilian Grand Prix
27 January

Official Title
III Grande Prêmio do Brasil
Circuit

Autódromo do Interlagos

Location
São Paulo, Brazil
Lap distance
7.960 km (4.947 mi)
Race distance
318.400 km (197.887 mi)
Date
27 January
Laps
40
Local time
14:00 BRT
UTC
17:00
Non-Championship Races
[
]
As was becoming the trend in 1970s Formula One, the growth of the World Championship calendar, and ever inflating prize pots, caused a reduction in the number of non-Championship rounds. For 1974 there would be three F1 races staged outside of the World Championship, although the two events staged in the United Kingdom were open to Formula 5000 cars as well.
The full Non-Championship Race Schedule for 1974 is outlined below:
Season Review
[
]
The 1974 Formula One World Championship would be one of the tightest fought in F1 history, with three drivers heading into the final race with the chance of taking the crown.[7] Seven different drivers, and four separate constructors would taste victory across the fifteen Grand Prix, while several others got their first taste of F1.
Pre-Season
[
]
After a winter of reshuffling among the top teams, it was Lotus lead driver Ronnie Peterson who claimed the first pole of the season, carrying his form over from 1973.[1] The Swede immediately translated pole into an early lead off the start, while James Hunt sprinted up to second from fifth on the grid.[1] They escaped a three car pile up in the first corner that ended the chances of Jean-Pierre Jarier and Peter Revson, while Clay Regazzoni picked up damage.[1]
Hopes of a Hunt win disappeared before the end of the opening tour, the Brit pitching himself into a spin in the Hesketh.[1] That left Peterson with a small advantage over Carlos Reutemann, although the Argentine racer was in fine form in front of the home fans.[1] By lap three the Brabham had surged past the Lotus for the lead, sending the crowd into orbit.[1]
Brake troubles would deny Peterson a comeback, with the Swede slowly falling down the order after the opening laps.[1] Reutemann was left with a commanding lead, although as the race neared its conclusion the Argentine picked up a terminal misfire in his engine.[1] That allowed Denny Hulme to sweep past for the win on the penultimate tour, with Reutemann crawling to a stop half a lap later.[1] Niki Lauda therefore inherited second, his first podium finish on his Ferrari debut, while Regazzoni survived the run of retirements to claim third.[1]
Two weeks later and the field were assembled on the grid in São Paulo, with Emerson Fittipaldi, now of McLaren lining up on pole in front of the home crowd.[8] Unfortunately for him the clean side of the grid was not the place to be at the start, as Carlos Reutemann and Ronnie Peterson shot ahead.[8] Fittipaldi was left to stalk the leading pair in third, while Niki Lauda tumbled down the order with a misfire.[8]
Peterson pounced on Reutemann on lap four, a move that also opened the door for Fittipaldi to elbow the Argentine out of the way.[8] Reutemann was soon dropped by the former teammates and fell out of the points with tyre trouble, while Peterson fended off the former Team Lotus number one in one of the most exciting duels in recent years.[8] They were so evenly matched that it took the involvement of a third party, Arturo Merzario, to decide the fight, with Fittipaldi ultimately taking advantage of a slight hesitation from Peterson to scythe his way past the Swede and the lapped Italian to grab the lead.[8]
Fittipaldi soon escaped to claim a famous home victory in only his second race for McLaren, a late downpour ultimately ending the race eight laps prematurely.[8] Peterson was unable to respond after picking up a slow puncture, dropping him to sixth, while Clay Regazzoni claimed the lead in the World Championship by finishing second.[8] Jacky Ickx had a quiet afternoon to claim third ahead of Carlos Pace, while Mike Hailwood earned fifth from Peterson.[8]
The start of the South African Grand Prix weekend would be marred by the death of Peter Revson, who had been killed at the Kyalami Circuit while testing for Shadow.[2] They withdrew from the meeting as a result, meaning more locals than expected were able to qualify for the race, including Ian Scheckter, brother of promising Tyrrell talent Jody.[2] Pole, meanwhile, had gone to Niki Lauda, a first for the Austrian race, while Arturo Merzario caused a stir by claiming third in the unloved Iso-Marlboro.[2]
Lauda led the field away from the grid at the start, followed by a surging Carlos Reutemann who shot into second.[2] Behind them came Pace, while Jody Scheckter got the home fans off their seats by shooting into fourth from eighth on the grid.[2] Behind there was a catastrophe for Lotus, as Ronnie Peterson suffered a throttle jam and slammed into teammate Jacky Ickx, sending both into the pits with damage.[2]
Lauda and Reutemann jostled for the lead through the opening laps, before the Argentine forced his way through on lap ten, a lead he would not relinquish.[2] Lauda would ultimately retire, suffering an identical failure to that of teammate Clay Regazzoni, handing Jean-Pierre Beltoise of BRM a shock second place finish after a late race charge.[2] Mike Hailwood blasted past teammate Emerson Fittipaldi to claim the final podium spot, with Patrick Depailler, Hans-Joachim Stuck and Merzario also taking the Brazilian as he faded with a tyre issue.[2]
The first European race of the season would be punctured by huge crashes throughout, beginning with Patrick Depailler in practice and ending with Arturo Merzario in the race.[9] Both miraculously emerged from written off cars completely unharmed, with both cars crashing through the Armco barriers at the edge of the circuit.[9] Of the two accidents Merzario's was perhaps the most terrifying, as his car somersaulted over the barrier and landed among a group of photographers, who somehow managed to escape injury as well.[9]
Away from the carnage it was Niki Lauda who swept to pole for the second Grand Prix in a row, a race which would start in wet, but drying conditions.[9] The entire field lined up on the grid with wets on, although all of the drivers and teams knew they would be changing to slicks at some point during the 84 lap scrap.[9] The start itself was relatively tame, although a stunning run from Ronnie Peterson saw him leap into the lead into turn one.[9]
When it came to changing tyres it was the Ferrari team who came out on top, calling in both Lauda and Regazzoni at the perfect time to put them into a commanding position out front.[9] Peterson's lead was lost by a rare tactical blunder from Colin Chapman, although whether the Swede would have had any influence on the race from that point was ended by an engine failure.[9] Emerson Fittipaldi was left to claim third behind maiden race winner Lauda and Regazzoni, while Hans-Joachim Stuck, Jody Scheckter and Denny Hulme completed the scorers.[9]
Clay Regazzoni claimed a rather suspect pole position for the Belgian Grand Prix two weeks after the race in Spain, the Swiss racer finding over a second over the rest of the field.[3] Controversy came from the fact that second placed Jody Scheckter, and Denny Hulme in twelfth were split by only three quarters of a second, with Regazzoni's teammate Niki Lauda among them.[3] An exceptional turn out saw thirty-two drivers attempt to qualify but only thirty-one start, privateer Leo Kinnunen the man to miss out.[3]
Regazzoni was able to convert his huge pole advantage into an equally stunning start, the Swiss racer opening out a one and a half second lead at the end of the first lap.[3] Emerson Fittipaldi battled with Scheckter for second on the opening tour, before chasing off after Regazzoni , but made very little progress.[3] Lauda then began to steal the show, scything past Ronnie Peterson and Scheckter before stalking Fittipaldi.[3]
The top five soon settled within sight of one-another, Regazzoni easing off the pace to keep his Ferrari in good condition.[3] Unfortunately this was a poor choice for the Swiss racer would spin while attempting to lap a backmarker, allowing Fittipaldi into an unassailable lead.[3] Lauda was also badly baulked in the melee, having to battle with Scheckter for second before the end of the race, while Regazzoni finished fourth ahead of Jean-Pierre Beltoise and Denny Hulme.[3]
The annual visit to Monte Carlo saw Niki Lauda claim his third pole position of the season for Ferrari, sharing the front row with scarlet suited teammate Clay Regazzoni.[10] They duly sprinted away from the pack at the start of the race, and were two of a select few to avoid a huge pileup at Massanet.[10] An ambitious move from Denny Hulme was the cause, the Kiwi having bounced off the side of Jean-Pierre Beltoise before spinning to a stop in the middle of the circuit, blocking the road.[10]
The ensuing melee eliminated a further six drivers from the race, with the debris cleared from the circuit long before the leaders came through Sainte Devote to start the second lap.[10] The scarlet pair, Regazzoni ahead of Lauda, were on their toes as they came through the corner, not because of debris but rather a serious attempt from Jean-Pierre Jarier to put his Shadow into the lead.[10] His challenge was soon swatted away by the Ferrari's superior pace, although Regazzoni threw away thewin several laps later when he spun at Rascasse.[10]
Lauda inherited the lead, but he would be cruely denied a first triumph in Monte Carlo by an engine failure, joining a long list of casualties that had been the victims of either accident or mechanical strife.[10] Indeed, eventual race winner Ronnie Peterson was one of those carrying battle scars, his Lotus miraculously surviving a hit from Carlos Reutemann that was enough to eliminate the Brabham on the spot.[10] Jody Scheckter, in contrast, put his immaculate Tyrrell on the podium in second, while Jarier survived well to claim third.[10]
The popularity of Ronnie Peterson had been enough to get the Swedish Grand Prix World Championship status in recent seasons, although the Swede was simply unable to repay the faith in qualifying, starting the race down in fifth.[11] Indeed, it was an all Tyrrell front row at the Scandinavian Raceway, with Patrick Depailler on pole ahead of teammate Jody Scheckter.[11] Unfortunately for Depailler, one lap pace was not enough to give him the lead at the start of the race, as he was dumped to third by his more fancied teammate and a hard charging Peterson.[11]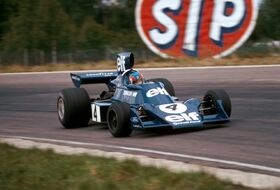 Not to be deterred, Depailler fought back to make it a three way fight for the lead, Peterson's #1 Lotus and the Tyrrells soon pulling clear of the scarlet Ferraris which led the rest of the field.[11] Unfortunately the truel only lasted until the ninth lap, for Peterson dropped out with a transmission failure.[11] The two Tyrrells were left to do some formation flying for the rest of the afternoon, before Scheckter claimed his first victory less than half a second ahead of teammate Depailler.[11]
Away from the flying Tyrrells it was James Hunt who completed the podium, the Brit putting together an excellent run to climb through the order.[11] The two Ferraris disappeared with mechanical strife, Lauda lasting just long enough to prevent Hunt from catching the two Tyrrells, while Emerson Fittipaldi had a quiet run to fourth.[11] Jean-Pierre Jarier ended the day in fifth, while Graham Hill claimed a maiden points finish for his new Lola effort.[11]
Qualifying for the Dutch Grand Prix would see Ferrari claim another front row lockout, as Niki Lauda and Clay Regazzoni dominated the rest of the field.[4] Lauda was the stronger of the pair and duly sprinted clear of the field at the start of the race, while Regazzoni was beaten into turn one by Mike Hailwood.[4] Behind James Hunt made a miserable start, misjudging his braking into turn one before collecting Tom Pryce's Shadow eliminating both.[4]
There would be very little action of note from that point on, the only significant overtake coming early on when Regazzoni barged past Hailwood.[4] The two Ferraris duly pulled clear to claim a dominant one-two, while Hailwood ultimately slipped behind teammate Emerson Fittipaldi a few laps after Regazzoni blasted past.[4] The Brit himself would finish fourth ahead of Jody Scheckter, while Patrick Depailler survived a late charge by John Watson to claim sixth.[4]
Dijon-Prenois made its Grand Prix debut in 1974, although the incredibly short circuit did at least allow the order to be shuffled in qualifying.[12] That said, it was a fifth pole position for Niki Lauda come race morning, with Ronnie Peterson getting the ageing Lotus 72E on the front row.[12] Tom Pryce grabbed third for Shadow ahead of Clay Regazzoni, with two of the three McLarens lining up on the third row.[12]
Pryce's race would be over before the first corner, the Brit caught out while looking at his temperature gauge and was duly left by the leaders.[12] The Brit did get underway, but was instantly hit by Carlos Reutemann, a hit which pushed the Shadow straight into the path of James Hunt, meaning both Brits were out before the first corner for the second race in a row.[12] The rest of the field swarmed around the accident without issue, with Lauda leading Peterson and Regazzoni.[12]
Emerson Fittipaldi would be the centre of attention for a fair while, the Brazilian having lost ground at the start because of the accident unfolding directly ahead of him.[12] Peterson, meanwhile, kept Lauda on his toes through the opening laps, before barging past the Austrian on lap seventeen, a move that earned the Swede victory.[12] Lauda finished second ahead of teammate Regazzoni, who briefly fought with the charging Fittipaldi until the latter's engine expired.[12]
Lella Lombardi made history when she entered the British Grand Prix of 1974, her use of #208 as her race number the highest ever used at a World Championship meeting.[13] Unfortunately for Lombardi, the first woman since Maria Teresa de Filippis to enter a World Championship round, her number was not enough to get her a spot on the grid, which was limited to just twenty-five drivers.[13] Pole went, as was becoming increasingly usual, to Niki Lauda, while Ronnie Peterson grabbed second in front of Team Lotus' major sponsors.[13]
Lauda duly sprinted into an early lead at the start of the race, while Peterson slipped behind Jody Scheckter and Clay Regazzoni after a poor getaway.[13] Behind, the bet hopes for a home victory were ended when James Hunt made a poor start, with the Brit's subsequent comeback ended by a suspension failure on lap three.[13] A rather monotonous race then developed, until Hans-Joachim Stuck crashed at Dingle Dell and littered the circuit with bits of March.[13]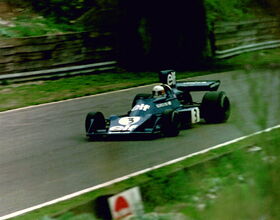 Race leader Lauda was the first man on the scene of the accident, although he seemed to scrape through the scene without picking up a puncture.[13] It was not to be, however, for the Austrian instead got a slow puncture, which saw his pace decline as the race wore on.[13] Scheckter duly swept past in the closing stages to claim a maiden win, while Lauda stopped at the end of the penultimate lap as the tyre fell apart.[13]
However, the Austrian was not able to rejoin the race, for a crowd of officials and rival mechanics had gathered at the pit exit to await the arrival of Scheckter as race winner.[13] That cost Lauda a points finish, although he was later reinstated to fifth place after Ferrari appealed to the FIA.[13] Elsewhere both Peterson and Regazzoni had their races destroyed by punctures, meaning Emerson Fittipaldi and Jacky Ickx ended the day on the podium.[13]
A weekend marred by huge accidents awaited the field as the gathered at the fearsome Nürburgring, as Howden Ganley and Mike Hailwood suffered career ending injuries.[5] The first saw Ganley, at the wheel of the new-for-1974 Maki, a suspension failure sending his car straight into the barriers during practice.[5] During the race, Hailwood would suffer a similar problem in his McLaren, the Brit smashing into the barriers at Pfanzgarten with enough force to break both his legs.[5]
Qualifying had seen Niki Lauda once again claim pole position, although it was his teammate Clay Regazzoni who led the field through turn one.[5] Lauda himself was left to fight with Jody Scheckter for second, and in his attempts to retake the position the Austrian spin himself into the barriers, ending his race well before the end of the first lap.[5] Scheckter continued with some battle scars but was otherwise fine, while Carlos Reutemann fought off a fast starting Jochen Mass to hold third.[5]
Indeed, Mass would be the centre of attention for most of the race, engaging with both Loti of Jacky Ickx and Ronnie Peterson for most of the race.[5] Unfortunately for the 300,000 strong crowd, Mass' race would be ended by mechanical strife, leaving the Loti to fight amongst themselves.[5] Out front, meanwhile, Regazzoni was able to cruise to his first win of the season and the World Championship lead, while Scheckter and Reutemann completed the podium after similarly quiet afternoons.[5]
Given it was his home race, one would expect the pressure to get to Niki Lauda and ruin his recent run of pole positions.[14] Unfortunately for the rest of the field, the ever hard working Austrian duly put his Ferrari on pole once again, sharing the front row with Carlos Reutemann.[14] His form would not carry over into the race, however, as it was Reutemann who sprinted into the lead at the start.[14]
Clay Regazzoni became the highlight of the race over the following laps, the Swiss racer carving his way up to third to make up for his terrible grid slot of eighth.[14] But, as the Championship leader climbed the order, teammate Lauda was left heartbroken, for a misfire had developed in his F12 engine, forcing him into the pits.[14] Regazzoni was therefore promoted to second, although Reutemann had already escaped up the road by the time the Swiss racer had cleared Carlos Pace.[14]
Whether Regazzoni would catch the Argentine would become academic a few laps later, as the #12 Ferrari developed a crippling slow puncture.[14] Reutemann was left to claim victory, while his new teammate Pace moved through to second, only to pull off moments later with a split fuel pipe.[14] Ronnie Peterson inherited the position before suffering a gearbox failure, meaning it was Denny Hulme who picked up second, ahead of James Hunt in the Hesketh.[14]
The final European race of the season was staged at Monza, with the tifosi coming out in force in hopes of seeing the revived Ferrari team claim victory.[15] The weekend started well, for Niki Lauda claimed pole while Championship leader Clay Regazzoni started from fifth, ahead of the pair's two title rivals Emerson Fittipaldi and Jody Scheckter.[15] Hopes further climbed in the early stages of the race, with Lauda immediately sprinting into the lead, while Regazzoni carved his way up the order to second.[15]
Brabham were the second best team at Monza, and the only ones who had seriously threatened the scarlet duo in qualifying.[15] In the race, however, their challenge fell apart with mechanical strife, and so the two Ferraris were left with victory in their collective grasp.[15] For Lauda, however, it was not to be, for his engine erupted in blue smoke after half distance, a failure that prompted Regazzoni to reduce his pace.[15]
It was a decision made in vain, however, for just ten laps after Lauda's engine failed Regazzoni was sat on the sidelines after an identical demise.[15] Ronnie Peterson and Fittipaldi were left to duel for the lead for the rest of the afternoon, a well mannered fight ending with the Swede on top.[15] Fittipaldi's second place saw him cut the gap in the World Championship, while third place for Scheckter put him right in the middle of the four way title fight.[15]
Four drivers arrived with hopes of taking the title come seasons end when the field arrived at Mosport Park, and it was Emerson Fittipaldi who earned first blood as he claimed pole.[6] At the start it was Niki Lauda, however, who sprinted into the lead, the Austrian needing to win the race to keep any hopes of taking the title alive.[6] Fittipaldi led the rest of the field from second, with immediate title rivals Clay Regazzoni and Jody Scheckter right behind him.[6]
The top four soon pulled clear of the rest of the field, with Scheckter leaping past Regazzoni on the third lap.[6] Unfortunately for him his race would end with a visit to the barriers just after half distance, the Tyrrell suffering a brake failure.[6] Then, Lauda's title challenge came to a dismal end as the Austrian hit debris, damaged his suspension, and ultimately slammed into the barriers.[6]
Fittipaldi inherited the lead with Regazzoni in second, although both were being caught by Ronnie Peterson hand over fist.[6] Unfortunately for him time would run out, with victory heading the way of Fittipaldi while second place went to Regazzoni.[6] Those two headed into the season finale level on points (52 apiece), while Scheckter headed to "the Glen" on 45.[6] Lauda, meanwhile, was out.
The now three way title fight arrived in Watkins Glen, knowing that Jody Scheckter had to win the race and see his two rivals finish sixth or lower in order to win.[7] For Emerson Fittipaldi and Clay Regazzoni it was a case of whoever finished higher in the points, although in truth the gloss of the finale was overshadowed by a gruesome accident.[7] The victim was the inexperienced Austrian racer Helmuth Koinigg, who crashed through the Armco barriers at turn seven and suffered severe head trauma.[7]
Away from the horrible accident it was Carlos Reutemann who claimed pole for the finale, with the Argentine duly sprinting into an early lead from the start.[7] Mario Andretti had been set to star after qualifying third on the grid, but his Parnelli failed to move off the grid.[7] He was later disqualified after his crew started the car from the pitlane, as the title fight moved to the centre of everyone's attentions.[7]
It was advantage Fittipaldi from the opening stages of the race, for Scheckter was unable to keep pace with the top four, Reutemann, James Hunt, Carlos Pace and Niki Lauda, while Regazzoni was running behind the Brazilian from the first lap onwards.[7] Indeed, things only got better for the McLaren racer, as Regazzoni faded with handling issues (which resulted in two visits to the pits) while Scheckter retired late on.[7] With those two out of the way the Brazilian could cruise to the chequered flag, a fourth place finish enough to see him crowned Champion for the second time.[7]
Victory, meanwhile, went to Reutemann, who led home his charging Brabham teammate Pace who had blasted past Hunt when the Brit hit mechanical strife.[7] Lauda dropped away with suspension damage to leave Fittipaldi fourth, while John Watson claimed fifth in the third Brabham.[7] Arturo Merzario looked set to claim the final point of the season until his onboard extinguisher went off, meaning Patrick Depailler ended the season with a sixth place finish.[7]
Non-Championship Rounds
[
]
Results
[
]
There were seven different winners representing five constructors who picked up wins in 1974, a score card that highlighted the 1974 season as one of the most competitive in F1 history. Victories were spread across the field too, from the veteran Denny Hulme through to relative rookie Jody Scheckter, the former claiming his last triumph while Scheckter earned his first.
World Championship Grand Prix
[
]
A run down of results for the 1974 FIA Formula One World Championship is shown below:
Round
Event
Report
Grid
Result
Non-Championship Grand Prix
[
]
Final Standings
[
]
Two titles were up for grabs in 1974: The FIA Formula One World Championship for Drivers', and the International Cup for Manufacturers.
Drivers' World Championship
[
]
With three victories to his name it was 1972 World Champion Emerson Fittipaldi who was declared 1974 Champion, having scored a grand total of 55 points. Clay Regazzoni, having led the title hunt at various times in the season finished runner up, while Jody Scheckter ended his first full F1 season in third with two wins. A disappointed Niki Lauda finished the season in fourth having matched Ronnie Peterson's record of nine pole positions in a single season. The Swede himself would complete the top five having won three races, while fellow race winners Carlos Reutemann and Denny Hulme finished sixth and seventh.
The full World Championship standings for the 1974 season are shown below:
* Only the 7 best results from the first 8 races and the best 6 results from the remaining 7 races counted to a driver's points tally.
International Cup for Manufacturers
[
]
McLaren-Ford Cosworth and Ferrari had duelled for the International Cup for Manufacturers' title throughout 1974, and it would be the former who walked away with the crown come seasons end. Indeed, the British squad were the only team to have a dropped score, and claimed a points finish in all bar one of the seasons races, taking four wins. Ferrari finished as runners-up with three wins across the season, while Tyrrell-Ford Cosworth ended the year in third after two victories. Lotus-Ford Cosworth ended their title defence with three wins but only fourth in standings, while Brabham-Ford Cosworth completed the winners list and the top five with two wins.
The full results for the 1974 International Cup for Manufacturers' are shown below:
Pos.
Constructor
1
2
3
4
5
6
7
8
9
10
11
12
13
14
15
Pts.*
1st
McLaren-Ford Cosworth
1st
1st
3rd
3rd
1st
5th
4th
3rd
6th
2nd
15th
2nd
2nd
1st
4th
73 (75)
2nd
Ferrari
2nd
2nd
16th
1st
2nd
4th
Ret
1st
2nd
4th
1st
5th
Ret
2nd
11th
65
3rd
Tyrrell-Ford Cosworth
6th
8th
4th
5th
3rd
2nd
1st
5th
4th
1st
2nd
Ret
3rd
5th
6th
52
4th
Lotus-Ford Cosworth
13th
3rd
13th
Ret
Ret
1st
Ret
8th
1st
3rd
4th
Ret
1st
3rd
Ret
42
5th
Brabham-Ford Cosworth
7th
7th
1st
11th
11th
6th
9th
7th
16th
6th
3rd
1st
5th
8th
1st
35
6th
Hesketh-Ford Cosworth
Ret
10th
Ret
Ret
3rd
Ret
Ret
Ret
Ret
3rd
Ret
4th
3rd
15
7th
BRM
5th
10th
2nd
12th
5th
Ret
Ret
Ret
10th
12th
10th
Ret
Ret
NC
9th
10
8th
Shadow-Ford Cosworth
Ret
Ret
WD
7th
13th
3rd
5th
Ret
12th
8th
6th
8th
10th
Ret
10th
7
9th
March-Ford Cosworth
8th
9th
5th
4th
9th
Ret
10th
10th
11th
Ret
7th
6th
Ret
Ret
Ret
6
10th
Iso-Marlboro-Ford Cosworth
Ret
Ret
6th
Ret
14th
Ret
8th
Ret
9th
Ret
Ret
NC
4th
15th
Ret
4
11th
Surtees-Ford Cosworth
Ret
4th
11th
13th
Ret
Ret
Ret
Ret
Ret
14th
11th
9th
DNQ
10th
Ret
3
12th
Lola-Ford Cosworth
11th
11th
12th
Ret
8th
7th
6th
Ret
13th
13th
9th
12th
8th
11th
8th
1
—
Parnelli-Ford Cosworth
7th
DSQ
0
—

Trojan

-Ford Cosworth
14th
10th
Ret
DNQ
Ret
DNQ
10th
Ret
0
—
Penske-Ford Cosworth
12th
Ret
0
—
Token-Ford Cosworth
Ret
DNQ
14th
NC
0
—
Ensign-Ford Cosworth
DNS
15th
Ret
DSQ
DSQ
DNQ
DNQ
Ret
DNQ
DNQ
DNQ
NC
0
—
Amon-Ford Cosworth
Ret
DNS
DNQ
DNQ
0
—
Maki-Ford Cosworth
DNQ
DNQ
0
—
Lyncar-Ford Cosworth
DNQ
0
Pos.
Driver
Pts.*
1
2
3
4
5
6
7
8
9
10
11
12
13
14
15
* Only the 7 best results from the first 8 races and the best 6 results from the remaining 7 races counted to a constructor's points tally.
References
[
]
Images and Videos:
References: