The 1963 Formula One season was the fourteenth edition of the FIA Formula One World Championship, staged between the 26th of May and the 28th of December. The World Championship began in Monaco for the XXI Grand Prix Automobile de Monaco in late May, before coming to a complete conclusion at the 1963 South African Grand Prix at the end of the year.
First blood of the new season went to defending Champion Graham Hill, who had also tasted success at a couple of the non-Championship races earlier in the season.[1] Yet, the next four World Championship races would go to the Englishman's great rival Jim Clark, with the Scot's dominant displays in Zandvoort and Reims meant he became only the second man to take two Grand Chelems in a row in F1 history.[2]
1963 quickly proved to be the Scot's season, although he was to be denied victory at the 1963 German Grand Prix by John Surtees who earned his maiden Grand Prix victory.[3] Yet that result only managed to delay the inevitable, with Clark claiming the Championship with victory at the 1963 Italian Grand Prix, a result which also confirmed Team Lotus as the Intercontinental Cup for Manufacturers Champions.[4]
After Hill claimed a second victory of the season at the 1963 United States Grand Prix, Clark claimed maximum points with victory at the 1963 Mexican Grand Prix, the first World Championship race to be held in Central America.[5] A sixth victory of the season meant the Scot equalled Juan Manuel Fangio's record for wins in a season, while the dominant display also ensured that Clark levelled Alberto Ascari for most Grand Chelems in a single season.
The latter record was denied to Clark by Dan Gurney at the season ending South African Grand Prix, but the American could not deny the Scot a record seventh victory.[6] It was one of the most dominant displays in Championship history, with the Scot also adding five non-Championship triumphs to his C.V. in the process. Hill beat Richie Ginther to second, while Surtees, the only other man to beat Clark all season, ended the season in fourth.
Away from the incredible dominance of Clark, the 1963 Season was filled with on track action and exciting battles between the drivers. It was also a season without fatalities, a rarity in Formula One's earliest years, but did see Willy Mairesse's Grand Prix career ended in a spectacular accident at the Nürburgring.[3]
Background
[
]
Teams and Drivers
[
]
Entry List
[
]
The full entry list for the 1963 Formula One Season is shown below:
Constructor
Chassis
Tyre
Driver
Rounds
Team
Engine
Brabham-Climax
Lotus-Climax
BT3
BT7
25

D

Jack Brabham
All
Brabham Racing Organisation
Climax FWMV V8 1.5
Dan Gurney
All
BRM
P57
P61

D

Richie Ginther
All
Owen Racing Organisation
BRM P56 V8 1.5
BRM P60 V8 1.5
Graham Hill
All
Cooper-Climax

T66

D

Tony Maggs
All
Cooper Car Company
Climax FWMV V8 1.5
Bruce McLaren
All
Lotus-Climax
25

D

Jim Clark
All
Team Lotus
Climax FWMV V8 1.5
Trevor Taylor
1–6, 8–10
Peter Arundell
4
Mike Spence
7
Pedro Rodríguez
8–9
Cooper-Climax
T60


T66

D

Jo Bonnier
All
R.R.C. Walker Racing Team
Climax FWMV V8 1.5
BRP-BRM
Lotus-BRM

Mk1


24

D

Jim Hall
1–9
British Racing Partnership
BRM P56 V8 1.5
Innes Ireland
1–7
Lola-Climax
Lotus-BRM
Lotus-Climax
Mk4A
24

D

Chris Amon
1–7, 9
Reg Parnell Racing
BRM P56 V8 1.5
Climax FWMV V8 1.5
Maurice Trintignant
1, 4
Lucien Bianchi
2
Mike Hailwood
5, 7
Masten Gregory
5, 8–9
Rodger Ward
8
Hap Sharp
8–9
Ferrari
156

D

John Surtees
All
Scuderia Ferrari SpA SEFAC

Ferrari 178

V6 1.5
Willy Mairesse
1–2, 6
Ludovico Scarfiotti
3–4
Lorenzo Bandini
7–10
Lotus-Climax
24

D

Bernard Collomb
1, 6
Privateer
Climax FWMV V8 1.5
Lotus-BRM
24

D

Jo Siffert
1–9
Privateer
BRM P56 V8 1.5
Scirocco-BRM

SP

D

Tony Settember

2, 4–7
Scirocco Racing Cars
BRM P56 V8 1.5
Ian Burgess
5–6
ATS

100

D

Giancarlo Baghetti
2–3, 7–9
Automobili Turismo e Sport

ATS 100

V8 1.5
Phil Hill
2–3, 7–9
Porsche
718

D

Carel Godin de Beaufort
2–3, 5–10
Ecurie Maarsbergen

Porsche 547/3

F4

1.5


Porsche 547/6

F4

1.5
Gerhard Mitter
3, 6
Lotus-BRM
24

D

Phil Hill
4

Ecurie Filipinetti

BRM P56 V8 1.5
BRM
Cooper-Climax
Cooper-Maserati
P57


T53


T60

D

Lorenzo Bandini
4–6
Scuderia Centro Sud
BRM P56 V8 1.5
Climax FWMV V8 1.5


Maserati 6-1500

L4 1.5
Mário de Araújo Cabral
6–7
Ernesto Brambilla
7
Maurice Trintignant
7
Moisés Solana
9
Lola-Climax
Lotus-BRM
Lotus-Climax
Mk4A
18/21
24

D

Masten Gregory
4, 7
Privateer
BRM P56 V8 1.5
Climax FPF L4 1.5
Climax FWMV V8 1.5
John Campbell-Jones
5
Tim Parnell
6
André Pilette
6
Lola-Climax
Mk4A

D

Bob Anderson
5, 7
DW Racing Enterprises
Climax FWMV V8 1.5
Gilby-BRM

62

D

Ian Raby
5–7
Privateer
BRM P56 V8 1.5
Lotus-

Borgward

18

D

Kurt Kuhnke
6
Privateer

Borgward 1500 RS

L4 1.5
De Tomaso-Ferrari

F1

D

Roberto Lippi
7

Scuderia Settecolli

Ferrari 178

V6 1.5
Lotus-Climax
18/21

D

André Pilette
7
Privateer
Climax FPF L4 1.5
Stebro-Ford

Mk IV

D

Peter Broeker
8
Canadian Stebro Racing

Ford 109E

L4 1.5
Cooper-Climax
T51

D

Frank Dochnal
9
Privateer
Climax FPF L4 1.5
Lotus-Climax
21

D

Ernie Pieterse
10
Lawson Organisation
Climax FPF L4 1.5
Lotus-BRM
24

D

Paddy Driver
10

Selby Auto Spares

BRM P56 V8 1.5
Alfa Romeo
LDS-Alfa Romeo
Special
Mk1

D

Peter de Klerk
10
Otelle Nucci
Alfa Romeo Giulietta L4 1.5
Doug Serrurier
10
Cooper-Climax

T55

D

John Love
10
Privateer
Climax FPF L4 1.5
LDS-Alfa Romeo
Mk1

D

Sam Tingle
10
Privateer
Alfa Romeo Giulietta L4 1.5
Lotus-Ford

22

D

Brausch Niemann
10

Ted Lanfear

Ford 109E

L4 1.5
Brabham-Ford

BT6

D

David Purley
10
Privateer

Ford 109E

L4 1.5
Cooper-Maserati
T51

D

Trevor Blokdyk
10

Scuderia Lupini

Maserati 6-1500

L4 1.5
Calendar
[
]
A ten race calendar was released by the FIA for the 1963 Championship, with fourteen additional non-Championship races. As ever, the majority of the races were staged in Europe, including seven of the World Championship races, while a fair number of the entrants at each round would be from their home countries. Starting money was to be awarded at the discretion of the race organisers, whom would also be responsible for support programmes such as Formula Junior or the British Saloon Car Championship.
World Championship Schedule
[
]
The World Championship of 1963 was set to kick off in Monaco for the popular Monaco Grand Prix on the 26th of May. Spa-Francorchamps was next up before the Dutch Grand Prix, with the French Grand Prix completing a busy month of racing in June. The British, German and Italian Grand Prix would then complete the European phase of the season with a month between each race, before the cars were shipped over the Atlantic.
After visiting the popular Watkins Glen circuit for the United States Grand Prix, the World Championship would break new ground in Mexico, as the Magdalena Mixhuca hosted the second Mexican Grand Prix. There would then be a two month break as the cars were shipped over to South Africa, where the field would contest a number of non-Championship rounds before ending the season on the 28th of December with the South African Grand Prix.
The full World Championship Schedule for 1963 is outlined below:
Non-Championship Races
[
]
In support of the 1963 World Championship would be fourteen races run to Formula One spec-regulations, all of which were designated as Grand Prix. As ever, these rounds allowed other countries to host a Grand Prix, with Sweden and Austria adding their names to the countries being visited in 1963. Almost half of the races were also held before the World Championship started, many of them staged in the United Kingdom.
The full Non-Championship Race Schedule for 1963 is outlined below:
Most of the drivers would also be allowed by their teams to race in other categories, most notably the Ferrari due of John Surtees and Willy Mairesse whom would be partnered for the 24 Hours of Le Mans. Graham Hill, meanwhile, would take part in the British Saloon Car Championship throughout the season, the Englishman ending the season the top three of that Championship, while several future stars were able to display their skills in the Formula Junior series.
Season Review
[
]
Pre-season
[
]
With the Lotus 25 proving to be the best car at the end of the 1962 season due to its "monocoque" design, which added strength and stability without adding weight, most of the winter was spent by the major teams in designing something to reliably challenge the green and gold machine. The British Racing Partnership outfit were to first to respond, their new creation the BRP Mk1 only just missing out on a debut at the season opening race, while BRM and Ferrari worked hard to complete their creations before the end of the season. With Lola Cars taking a step back, and Bowmaker ending their sponsorship deal, Reg Parnell Racing became a privateer but continued to field the impressive Lola Mk4 for the new season.
The majority of the pre-season non-Championship races were held in either Britain or Italy, and six of the eight battles went to drivers using Team Lotus built machinery. Jim Clark claimed the honours three times before the end of May, while Innes Ireland and Jo Siffert both battled to victory once in their privately entered cars. BRM had two wins courtesy of defending Champion Graham Hill, while Bob Anderson shocked a few people by hussling his Lola-Climax to victory in the XV Gran Premio di Roma.
An impressive entry list was submitted to the FIA for the season opening Monaco Grand Prix, with ATS, a team formed by former members of Ferrari after a purge by Enzo Ferrari, hoping to display their talents for the first time.[1] Yet, the man of the moment in qualifying proved to be Jim Clark, the Scot dancing his Lotus 25 round Monte Carlo at record pace to claim pole position.[1] Graham Hill, Ferrari new-boy John Surtees and Richie Ginther were the only drivers within a second of the Scot, with Hill in second place still three quarters of a second back.[1]
It was the first race to start on the "in-land" side of the circuit, with Sainte Devote replacing the Gasworks Hairpin as the first corner.[1] The change, due to a new pit complex, also meant that the grid lined up two-by-two, with the even side of the grid making better starts.[1] Therefore, it was Hill leading from Ginther off the line, Clark having thrown a cloud of smoke into the air as he set off into third with Surtees in fourth.[1] Yet, the Scot was not be overcome by a poor start, and he was soon past Ginther and attacking Hill for the lead, although the Lotus' Climax engine simply lacked the brute force of the BRM.[1]
Clark finally muscled his way past Hill after getting a good exit from the Gasworks Hairpin and forcing the Englishman wide in the run to Sainte Devote.[1] He was soon setting lap records as Hill fell away with a small oil leak, before the Lotus' major weakeness, reliability, finally played its hand.[1] With a quarter of the race to go, the Z.F. gearbox threw the car into a spin when Clark began to ease the car into gear rather than flick through as normal, and it was that spin that put the Lotus into the wall.[1] Hill inherited the lead to win on the opening round of his title defence, Ginther completing a surprise one-two for BRM, while Bruce McLaren survived a wave of retirements to put the new Cooper-Climax on the podium.[1]
Graham Hill had taken pole during qualifying, although he was powerless to prevent Jim Clark from taking the lead in the wet conditions as the Scot got a perfect launch.[7] Hill would challenge Clark for the lead in the opening stages, with the pair disappearing from the rest of the field at an incredible rate, as the track began to dry ever so slightly despite the heavy clouds over the circuit.[7] An almighty scrap for third ran behind for a long time, but the brawl allowed Hill and Clark to dance even further ahead.[7]
At just after half distance a storm swept across the circuit, causing chaos and delays for many while Clark pulled clear from Hill.[7] As it happened, the Scot was to run alone from that moment on, for Hill suffered a gearbox failure and was out of the race with Clark now a lap ahead of everyone bar those in a battle for second.[7] Bruce McLaren emerged from that group with a few laps to go, and was the only one to escape Clark's scything run to lap the field.[7] Ultimately, the Scot won from the New Zealander by almost five minutes with Dan Gurney completing the podium for Brabham-Climax.[7]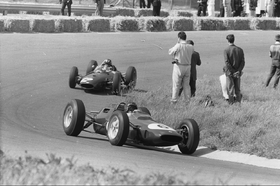 Having claimed pole during the combined practice/qualifying sessions, Jim Clark sprinted away from the grid to claim an early lead as his major rival Graham Hill battled for second.[8] Hill ended up getting stuck behind Jack Brabham when the Australian elbowed his way past, before both ran into mechanical issues.[8] Clark continued to dance his Lotus 25 around Zandvoort in the meantime, setting a new lap record with a quarter of the race still to go with Hill retiring just a few laps later with an engine failure.[8]
The down fall of Hill and Brabham promoted John Surtees and Dan Gurney onto the podium, with the two duelling for second place for the rest of the race.[8] The soon had the race leader in sight, with Clark coming charging past to lap them in the closing stages to complete an utterly dominant display.[8] Gurney came home second from Surtees after a mistake by the Englishman let the American through, with the remaining points heading to Innes Ireland, Richie Ginther and Ludovico Scarfiotti.[8]
Many FIA rules were broken during the weekend, including the rule about having a clear weekend between Championship Grand Prix.[2] Furthermore, a red flag was used to signal the start, although Jim Clark immediately swept into the lead from pole position.[2] There was also controversy on the grid when Graham Hill stalled, with the usual procedure abandoned and the BRM allowed to be restarted and wheeled back into position.[2]
Despite having his biggest rival get a break in the rules in their favour, Clark produced a second dominant display in a week.[2] The Scot had virtually won the race by the end of lap one, dancing the Lotus 25 round the circuit without issue.[2] It was a second Grand Chelem in as many races when the Scot took the chequered flag, having taken fastest lap and led throughout for over two hours.[2] Tony Maggs and Hill completed the podium.
Having qualified on pole for the XVI RAC British Grand Prix, Scottish racer Clark had the rare experience of being beaten off the line, with Dan Gurney and Jack Brabham sweeping ahead.[9] In front of a huge home crowd, Clark muscled the Team Lotus machine to the lead of the race on lap four, before Brabham retired from third with an engine failure.[9]
The Scot gradually pulled away at the front of the field ahead of Gurney, while the crowds were entertained by a British brawl for third, with Graham Hill defending from John Surtees.[9] This soon became a battle for second once Gurney dropped out with an engine failure like his team mate, before Surtees snatched the position away from Hill on the last lap, the latter running out of fuel on the run to the line.[9] Clark led home a British one-two-three to secure his fourth win in a row and extend his Championship lead.[9]
As ever, the Scot with the green-gold Lotus 25 seemed to be in imperious form once again, Jim Clark taking pole by a little under a second from John Surtees with a new circuit record.[3] Clark immediately swept into the lead of the race at the start, but by the end of the lap his engine was misfiring, allowing Richie Ginther and Surtees to surge past.[3] Once Ginther dropped back with a gearbox issue, the Englishman and the Scot were left to duel for the lead, the misfire in the Climax only appearing intermittent.[3]
As they battled, Willy Mairesse came charging through the Flugplatz, got airborne and clipped a ditch, sending the Ferrari into a barrel roll into the trees.[3] A shattered arm resulted from the accident for Mairesse, although a wheel was torn lose from the car and hit Red Cross volunteer Günther Schneider as he stood by the side of the circuit.[3] Sadly, the young German was killed by the impact, although his fate was not known until well after the race.[3] There was also another scary accident involving Bruce McLaren, whose Cooper-Climax suffered a steering failure through the very same corner and disappeared into the trees leaving the New Zealander unconscious, although he would suffer no long term injuries.[3]
Eventually, Clark's issue became too severe for him to drive around, meaning he slipped away from Surtees in the closing stages.[3] Ergo, the Englishman was able to cruise home to a maiden win from the Scot, who claimed second in a race for the first (and ultimately only) time in his career.[3] Ginther completed the podium after fighting back from his gearbox problem, while Gerhard Mitter and Jim Hall claimed the first career points, with Jo Bonnier rounding out the scorers.[3]
Jim Clark arrived in Italy having been beaten in Germany, but it still came as a surprise when the Scot was beaten to pole by John Surtees for Ferrari.[4] Off the line, Clark had beaten Surtees off the line and battled with Graham Hill for the lead into Curva Grande, but by the end of the lap Hill led from Surtees with Clark in third.[4]
On the fourth lap Surtees forced his way into the lead, with Clark also sneaking past his rival before he and Surtees pulled clear for a private dice for the win.[4] When Surtees retired on lap 17 Clark was well ahead, but he soon fell back into the clutches of Hill, who had Dan Gurney in close attendance.[4] They battled for the lead for over twenty laps before mechanical problems dropped Hill and Gurney down the order, leaving Clark on his own once again.[4]
The Scot eased his pace allowing Richie Ginther to unlap himself in the closing stages, but he remained unchallenged to collect his fifth win of the season.[4] The Scot was now just three points off of maximum points and with only three races to go Clark was duly crowned as the World Champion of 1963. Team Lotus were also crowned as the Intercontinental Cup for Manufacturers winners with the result.
With Jim Clark already declared as World Champion in Italy, few doubted that the Scot would win once again, but his weekend was made more difficult as now ex-Champion Graham Hill claimed pole.[10] The Scot's chances were further dampened when he suffered a battery failure on the grid, meaning he had to charge from the back of the field to catch early race leader Hill.[10]
As Clark climbed, the American fans were being entertained by an epic battle at the front, with John Surtees dragging Dan Gurney past the two BRMs early on.[10] The New Yorker would even lead the race at times while Hill's Californian team mate Richie Ginther also challenged for the lead at times, although mechanical issues would play their part.[10] Hill himself would fall victim to a suspension issue and drop from the lead group, only to be promoted as the others retired.[10]
Gurney was first to fall to the regret of the local fans, while Ginther fell away after getting caught behind Jack Brabham for a time.[10] Surtees was left with an ever increasing lead at the front of the field, but with only a quarter of the race to go, the scarlet Ferrari ground to a halt with an engine failure.[10] Hill was left to cruise round the circuit to take victory with Ginther thirty seconds pack.[10] Third went to an exhausted Clark after his race long charge from the back, although he was unable to finish on the lead lap.[10]
Mexican racer Moisés Solana broke motor racing tradition by using "unlucky" thirteen as his race number for the first ever Mexican Grand Prix to be held as part of the World Championship, yet there was to be no surprise when pole went to Jim Clark for the sixth time in 1963, a new record for the Championship.[5] It proved to be the Scot's weekend, with the Team Lotus driver untroubled throughout the race, while Jack Brabham thrilled the fans by climbing up from tenth.[5]
Solana ended up in eleventh despite his race ending prematurely with an engine failure, while Brabham completed a stunning performance to claim second in the closing stages.[5] His last victims were Richie Ginther and Graham Hill in the BRMs, while Jo Bonnier and Dan Gurney completed the points.[5] Home hero Pedro Rodríguez, brother of Ricardo Rodríguez whom had died in the non-Championship I Mexican Grand Prix the year before, saw his race ruined with a suspension failure.[5]
Yet, no one could touch the green-gold Lotus at the front of the field, as Clark claimed fastest lap on his way to a sixth victory of the season.[5] That feat earned him a third Grand Chelem of the season and ensured that the Scot would end the season with a maximum score of 54 points.[5] The honours kept on coming, for that sixth win saw the Scot equal Juan Manuel Fangio's record of six wins in a season.[5]
Champion Jim Clark claimed pole in his search for a record seventh victory in 1963, although he would be beaten off the line by Jack Brabham after the Australian put together a perfect start.[6] Yet, by the end of the lap, both Clark and John Surtees had forced their way past the Brabham-Climax, with the two now scrapping for the lead.[6] Trevor Taylor also made a strong start in the second Team Lotus machine to run in fourth, battling with Brabham and Dan Gurney in the early stages.[6]
Clark was quick to drop Surtees, and soon the scarlet car would be harassed by the two Brabhams once they had dealt with Taylor.[6] Both Gurney and Brabham made their way past, although the latter would develop an engine problem and fall to the back of the field.[6] Surtees ran in third for a time before succumbing to an engine failure, promoting Graham Hill into third.[6]
Yet, at the very front of the field, Clark proved untouchable once again as he led every lap to set a new record of seven wins in a season.[6] Gurney claimed second and denied Clark a record equalling fifth Grand Chelem by setting the fastest lap, while Hill enjoyed a quiet race to third.[6] Bruce McLaren, Lorenzo Bandini and Jo Bonnier completed the scorers with only one major change in the Championship standings.[6]
Non-Championship Rounds
[
]
Final Standings
[
]
Unlike many Formula One campaigns, the 1963 season came to a conclusion at record pace, with the decisive race proving to be the 1963 Italian Grand Prix, the seventh round of the season. It was also a season of British dominance, with all ten race victories going to Britsh drivers, while the top three in the Intercontinental Cup for Manufacturers standings all built their challengers in the United Kingdom.
Formula One World Championship
[
]
A record seven victories throughout the season saw Jim Clark take his maiden Formula One crown, with a fifth victory in Italy securing the title with three races still to run. It was an incredible feat, the earliest that the title had ever been won, and the highest win ratio for a World Champion ever recorded with a win rate of 70%. Graham Hill ended his title defence in second, the Englishman actually being outscored by team mate Richie Ginther before dropped scores were applied before claiming second by virtue of his two wins. John Surtees was the only other man to defeat Clark on the track in 1963, but could only finish fourth.
Dan Gurney was an impressive fifth for the new Brabham-Climax outfit, ahead of Bruce McLaren and team mate Jack Brabham as the only other drivers in double figures. Tony Maggs was a lonely eighth ahead of Innes Ireland, whom missed a third of the season while recovering from his injuries sustained in a demonstration run late in the year. Seventeen different drivers managed to score in 1963, super Swiss Jo Siffert, Trevor Taylor and Ludovico Scarfiotti rounding out the table with a point apiece.
Pos.
Driver
1
2
3
4
5
6
7
8
9
10
Pts*
1st
Jim Clark
8th
1st
1st
1st
1st
2nd
1st
3rd
1st
1st
54 (73)
2nd
Graham Hill
1st
Ret
Ret
3rd†
3rd
Ret
16th
1st
4th
3rd
29
3rd
Richie Ginther
2nd
4th
5th
Ret
4th
3rd
2nd
2nd
3rd
Ret
29 (34)
4th
John Surtees
4th
Ret
3rd
Ret
2nd
1st
Ret
9th
DSQ
Ret
22
5th
Dan Gurney
Ret
3rd
2nd
5th
Ret
Ret
14th
Ret
6th
2nd
19
6th
Bruce McLaren
3rd
2nd
Ret
12th
Ret
Ret
3rd
11th
Ret
4th
17
7th
Jack Brabham
9th
Ret
Ret
4th
Ret
7th
5th
4th
2nd
13th
14
8th
Tony Maggs
5th
7th
Ret
2nd
9th
Ret
6th
Ret
Ret
7th
9
9th
Innes Ireland
Ret
Ret
4th
9th
Ret
Ret
4th
6
10th
Lorenzo Bandini
10th
5th
Ret
Ret
5th
Ret
5th
6
11th
Jo Bonnier
7th
5th
11th
NC
Ret
6th
7th
8th
5th
6th
6
12th
Gerhard Mitter
Ret
4th
3
13th
Jim Hall
Ret
Ret
8th
11th
6th
5th
8th
10th
8th
3
14th
Carel Godin de Beaufort
6th
9th
10th
Ret
DNQ
6th
10th
10th
2
15th
Jo Siffert
Ret
Ret
7th
6th
Ret
9th
Ret
Ret
9th
1
16th
Trevor Taylor
6th
Ret
10th
13th
Ret
8th
Ret
Ret
8th
1
17th
Ludovico Scarfiotti
6th
DNS
1
—
Chris Amon
DNS
Ret
Ret
7th
7th
Ret
DNS
Ret
0
—
Hap Sharp
Ret
7th
0
—
Peter Broeker
7th
0
—
Maurice Trintignant
Ret
8th
9th
0
—
Mike Hailwood
8th
10th
0
—

Tony Settember

8th
Ret
Ret
Ret
DNQ
0
—
John Love
9th
0
—
Bernard Collomb
DNQ
10th
0
—
Phil Hill
Ret
Ret
NC
11th
Ret
Ret
0
—
Masten Gregory
Ret
11th
Ret
Ret
Ret
0
—
Moisés Solana
11th
0
—
Doug Serrurier
11th
0
—
Bob Anderson
12th
12th
0
—
Trevor Blokdyk
12th
0
—
John Campbell-Jones
13th
0
—
Mike Spence
13th
0
—
Brausch Niemann
14th
0
—
Giancarlo Baghetti
Ret
Ret
15th
Ret
Ret
0
—
Willy Mairesse
Ret
Ret
Ret
0
—
Ian Burgess
Ret
Ret
0
—
Pedro Rodríguez
Ret
Ret
0
—
Ian Raby
Ret
DNQ
DNQ
0
—
Lucien Bianchi
Ret
0
—
Mário de Araújo Cabral
Ret
DNS
0
—
Rodger Ward
Ret
0
—
Peter de Klerk
Ret
0
—
Sam Tingle
Ret
0
—
Ernie Pieterse
Ret
0
—
David Prophet
Ret
0
—
André Pilette
DNQ
DNQ
0
—
Tim Parnell
DNQ
0
—
Kurt Kuhnke
DNQ
0
—
Roberto Lippi
DNQ
0
—
Ernesto Brambilla
DNQ
0
—
Frank Dochnal
DNS
0
Pos.
Driver
1
2
3
4
5
6
7
8
9
10
Pts*
*Only a drivers' best five point scoring finishes counted towards their points total.
† Hill was allowed to keep his third place finish in France, but was denied the four World Championship points.
Intercontinental Cup for Manufacturers
[
]
Like their driver Clark, Team Lotus enjoyed one of the most dominant seasons in Formula One history to claim their maiden triumph in the Intercontinental Cup for Manufacturers. BRM claimed two one-twos throughout the season, but although their car may have been the best all round, it could not best the Lotus 25 when Clark was in form. Brabham-Climax were a surprise third in their first full season as they overhauled Ferrari at the season finale.
Cooper-Climax had a disappointing season to end the year in fifth, while BRP-BRM claimed sixth after Ireland's efforts with their new creation also taking one win in a non-Championship race. Porsche were on the board courtesy of the two ageing cars of Carel Godin de Beaufort and his privateer entry, while Lotus-BRM had points through the second British Racing Partnership effort and Siffert's private entry known as the "Siffert Special".
Pos.
Constructor
1
2
3
4
5
6
7
8
9
10
Pts*
1st
Lotus-Climax
6th
1st
1st
1st
1st
2nd
1st
3rd
1st
1st
54 (74)
2nd
BRM
1st
4th
5th
3rd†
3rd
3rd
2nd
1st
3rd
3rd
36 (45)
3rd
Brabham-Climax
Ret
3rd
2nd
4th
Ret
7th
5th
4th
2nd
2nd
28 (30)
4th
Ferrari
4th
Ret
3rd
Ret
2nd
1st
Ret
5th
Ret
5th
26
5th
Cooper-Climax
3rd
2nd
11th
2nd
9th
6th
3rd
8th
5th
4th
25 (26)
6th
BRP-BRM
Ret
4th
9th
Ret
4th
WD
WD
6
7th
Porsche
6th
9th
10th
4th
DNQ
6th
10th
10th
5
8th
Lotus-BRM
Ret
Ret
7th
6th
6th
5th
8th
10th
7th
DNS
4
—
Lola-Climax
Ret
Ret
Ret
7th
7th
Ret
10th
Ret
Ret
0
—
Stebro-Ford
7th
0
—
Scirocco-BRM
WD
8th
WD
Ret
Ret
Ret
DNQ
0
—
ATS
WD
Ret
Ret
WD
WD
WD
11th
Ret
Ret
0
—
LDS-Alfa Romeo
11th
0
—
Cooper-Maserati
DNQ
12th
0
—
Lotus-Ford
14th
0
—
Gilby-BRM
Ret
DNQ
DNQ
0
—
Alfa Romeo
Ret
0
—
Lotus-

Borgward

DNQ
0
—
De Tomaso-Ferrari
DNQ
0
Pos.
Constructor
1
2
3
4
5
6
7
8
9
10
Pts*
*Only the best placed driver for each constructor at each round had their points contribute to the Intercontinental Cup. Of these, only the six best points finishes were counted.
† Hill was allowed to keep his third place finish in France, but was denied the four World Championship points.
References
[
]
Images and Videos:
References: