The 1961 Formula One World Championship was the twelfth edition of the FIA Formula One Championship, held from the 14th of May to the 8th of October. Eight races were held over the season, although there were numerous other non-Championship races held as Grand Prix throughout the season.[1]
1961 proved to be one of the most tragic and triumphant years for Scuderia Ferrari, as they won the Constructors' Championship for the first time. Their driver Phil Hill also won the Drivers' Championship, although his victory was marred by the death of team mate and rival Wolfgang von Trips at the Italian Grand Prix, the day that both titles were secured.
The twelfth edition of the Championship was also the first to feature a maximum engine capacity of 1.5 litres, a development that benefited Ferrari above all others. Lotus built cars claimed three victories to the Ferrari's five, while engine manufacturer Climax attempted to counter the engine dominance of the Italians by releasing a V8 engine near then end of the season.
Several maiden victories were also achieved during the season, with von Trips and Giancarlo Baghetti collecting their first wins with Ferrari. Innes Ireland also added his name to the winners' list, with his victory at the US Grand Prix also the first for Team Lotus. Hill and Stirling Moss shared the other four race victories between themselves, with 1961 proving to be Moss' last F1 season after a heavy crash at the 1962 Glover Trophy before the 1962 season started.
Background
[
]
After being humiliated by Cooper and Climax during the final year of the 2.5 litre era of Formula One, Ferrari cut short their 1960 programme (missing the season ending United States Grand Prix) to focus on developing their new 1.5 litre V6 engine. Elsewhere, Team Lotus would release their latest project, the Lotus 21, although they would also run a development version of the Lotus 18. Cooper and BRM also released updated machinery, while Climax brought their familiar FPF engine, downscaled to 1.5 litres.
Elsewhere, Team Lotus allowed a single 21 to be run by Stirling Moss as a privateer entry with the R.R.C. Walker Racing Team, while a number of older spec cars were sold off to other teams. Cooper also unloaded a series of ex-factory cars, some of which were adapted to use Maserati engines, with the Italian manufacturer opting to continue in Formula One despite widespread belief that the smaller engine formula would prompt a move away. The other major manufacturer in the Championship were Porsche, who were also allowing a privateer team to use ex-factory machinery.
Teams and Drivers
[
]
Entry List
[
]
The full entry list for the 1961 Formula One Season is shown below, sorted by finishing position in 1960 Intercontinental Cup for Manufacturers, then on race numbers at the earliest round that they competed:
Constructor
Chassis
Tyre
Driver
Rounds
Team
Engine
Cooper-Climax

T55




T58

D

Jack Brabham
All
Cooper Car Company
Climax FPF
Climax FWMV
Bruce McLaren
All
Lotus-Climax
21

D

Innes Ireland
1, 3-8
Team Lotus
Climax FPF L4 1.5
Jim Clark
All
Trevor Taylor
2
Willy Mairesse
4
Ferrari
156

D

Richie Ginther
1-7
Scuderia Ferrari SpA SEFAC

Ferrari 178

V6 1.5
Phil Hill
1-7
Wolfgang von Trips
1-7
Olivier Gendebien
3
Giancarlo Baghetti
4-5
Willy Mairesse
6
Ricardo Rodríguez
7
BRM-Climax
P48/57

D

Graham Hill
All
Owen Racing Organisation
Climax FPF L4 1.5
Tony Brooks
All
Porsche

787


718

D

Jo Bonnier
All
Porsche System Engineering

Porsche 547/6

F4

1.5
Dan Gurney
All
Hans Herrmann
1, 6
Lotus-Climax
18

D

Wolfgang Seidel
3, 5-7

Scuderia Colonia

Climax FPF L4 1.5

Michael May

1, 4, 6
Emeryson-Maserati
Lotus-Climax
Emeryson-Climax

61


18

D

Olivier Gendebien
1
Equipe Nationale Belge

Maserati Tipo 6

L4 1.5
Climax FPF L4 1.5
Lucien Bianchi
1, 3
Willy Mairesse
3
André Pilette
7
Cooper-Climax
Lotus-Climax

T53


18

D

Masten Gregory
1-5
Camoradi International
Climax FPF L4 1.5
Ian Burgess
2-6
Lotus-Climax


Ferguson

-Climax
18


P99

D

Stirling Moss
All

R.R.C. Walker Racing Team

Climax FPF L4 1.5
Jack Fairman
5
Cooper-Climax

T53

D

John Surtees
All

Yeoman Credit Racing Team

Climax FPF L4 1.5
Roy Salvadori
4-8
Lotus-Climax
18

D

Cliff Allison
1, 3
UDT Laystall Racing Team
Climax FPF L4 1.5
Henry Taylor
1, 3-5, 7
Lucien Bianchi
4-5
Juan Manuel Bordeu
4
Masten Gregory
7-8
Olivier Gendebien
8
Cooper-Maserati
De Tomaso-OSCA

T53




F1

D

Maurice Trintignant
1, 3-4, 6-7
Scuderia Serenissima

Maserati Tipo 6

L4 1.5


OSCA 372

L4 1.5
Giorgio Scarlatti
4
Nino Vaccarella
7
Porsche
718

D

Carel Godin de Beaufort
2-7
Ecurie Maarsbergen

Porsche 547/3

F4

1.5
Hans Herrmann
2
Cooper-Climax

T53

D

Jackie Lewis
3-7
H&L Motors
Climax FPF L4 1.5
Lotus-Climax
18

D

Tony Marsh
3, 5-6
Privateer
Climax FPF L4 1.5
Cooper-Maserati

T53

D

Lorenzo Bandini
3, 5-7
Scuderia Centro Sud

Maserati Tipo 6

L4 1.5

Massimo Natili

5, 7
Cooper-Climax

T53

D

Bernard Collomb
4, 6
Privateer
Climax FPF L4 1.5
Lotus-Climax
18

D

Tim Parnell
5, 7
Privateer
Climax FPF L4 1.5
Lotus-Climax
18

D

Gerry Ashmore
5-7
Privateer
Climax FPF L4 1.5
Lotus-Climax
18

D

Tony Maggs
5-6
Louise Bryden-Brown
Climax FPF L4 1.5
Gilby-Climax

61

D

Keith Greene
5
Gilby Engineering
Climax FPF L4 1.5
JBW-Climax

59

D

Brian Naylor
7

J.B. Naylor

Climax FPF L4 1.5
Cooper-Climax
T45

D

Jack Fairman
7
Privateer
Climax FPF L4 1.5
De Tomaso-OSCA

F1

D

Roberto Lippi
7
Scuderia Settecolli

OSCA 372

L4 1.5
De Tomaso-Alfa Romeo

F1

D

Roberto Bussinello
7

Isobele de Tomaso

Alfa Romeo Giulietta L4 1.5
Cooper-Maserati
T45

D

Renato Pirocchi
7

Pescara Racing Team

Maserati Tipo 6

L4 1.5
Lotus-Maserati
18

D

Gaetano Starrabba
7
Privateer

Maserati Tipo 6

L4 1.5
Cooper-Climax

T53

D

Hap Sharp
8
Privateer
Climax FPF L4 1.5
Cooper-Climax

T53

D

Roger Penske
8
John M. Wyatt III
Climax FPF L4 1.5
Lotus-Climax
18/21

D

Peter Ryan
8
J. Wheeler Autosport
Climax FPF L4 1.5
Lotus-Climax
18

D

Jim Hall
8
Privateer
Climax FPF L4 1.5
Lotus-Climax
18

D

Lloyd Ruby
8
Privateer
Climax FPF L4 1.5
Cooper-Climax

T53

D

Walt Hansgen
8
Privateer
Climax FPF L4 1.5
Calendar
[
]
1961 saw eight different venues host the World Championship, seven in Europe with the finale in America, while there were numerous non-Championship races held throughout the year using Formula One regulations. The World Championship rounds would be covered from the 14th of May until the 8th of October, while the non-Championship races were held when organisers were prepared to host them. 
World Championship Schedule
[
]
Seven Grand Prix were carried over from the previous season, although the Indianapolis 500, Argentine Grand Prix and the Portuguese Grand Prix were all dropped. The rest of the calendar would follow the schedule from 1960, with the German Grand Prix replacing the Portuguese race, while the United States Grand Prix was added just six weeks before the end of the season, as Watkins Glen became the third circuit to attempt to host the race.
The full World Championship Schedule for 1961 is outlined below:
Non-Championship Races
[
]
In addition to the World Championship races, 21 independently organised Grand Prix were staged in 1961, all of which offered prize money to the winner. The non-Championship rounds also effectively extended the season from March until December, and added three races in South Africa to the calendar. Other countries to host non-Championship rounds included Denmark, Sweden and Austria, and would feature a range of privateers and Championship contenders.
In addition to the non-Championship races, a package of support series and other Championships in 1961 provided entertainment for the drivers through the season. Several, notably Graham Hill, Bruce McLaren and Roy Salvadori, would compete in the British Saloon Car Championship which supported many of the British non-Championship races.
Season Review
[
]
After ten years of Formula One racing, it was announced that the largely unpopular Indianapolis 500 round had been dropped from the calendar with the FIA arranging seven World Championship races for the new season. The United States Grand Prix was added as an eighth round just six weeks before it was actually staged, and would be the only race of the season not to be held in Europe.
Pre-season
[
]
The winter of 1960/1 saw all of the major engine builders involved in Formula One complete development of their engines in time for the launch of the new 1.5 litre regulations, with Ferrari immediately thought to have a 30 horsepower advantage.[2] Climax had developed the closest engine to Ferrari's, although their biggest partner Cooper pushed for a more powerful version to be built to challenge the already formidable looking tifosi.[2] Porsche were also back for the new season, with the German outfit joining Maserati with modified versions of their previous engines, simply reduced in capacity.[2]
Although Stirling Moss did not have the newest product of Team Lotus, the Brit was in stunning form as he landed an early blow to the stunningly quick Ferrari 156s to claim pole position for the season opening Monaco Grand Prix in mid-May.[2] Jim Clark would also start on the front row, the Scot in third for the opening race in the new Lotus 21, with the two Brits split by Ferrari lead driver Richie Ginther.[2] Yet, the two Climax engined cars were to be beaten off the line, as Ginther shot past the pair to claim the lead of the race in the early stages, with Moss also briefly slipping behind Clark until the latter pulled into the pits with a fuel pump issue.[2] With ten laps gone Moss was suddenly leading the race from Jo Bonnier, the two using a convenient back marker to both force their way past Ginther away from the cameras.[2]
Moss' lead would ebb and flow over the rest of the race, with Bonnier ultimately dropping out of the race just after half distance with a fuel pump failure.[2] That left the three Ferraris to try to work together to steal the win from Moss, with Ginther waved past Phil Hill in the closing stages to chase after the Brit.[2] Yet, the older Lotus continued to pound round, despite carrying minor bodywork damage, and duly crossed the line three seconds ahead of Ginther to win the opening round with fastest lap.[2]
Phil Hill would start the Dutch Grand Prix from pole position, a race which would only feature fifteen starters.[3] He would lead an all scarlet front row, as Wolfgang von Trips and Richie Ginther shared the three abreast leading line, while Stirling Moss would remain a threat from fourth.[3] A poor start for Hill, however, would see him surrender the lead off the line, as von Trips swept into Tarzan ahead of Ginther, while a fast starting Moss got caught out by the Zandvoort circuit's narrow layout and so had to remain in fourth until being passed by Jim Clark.[3]
The race was dominated by von Trips, the West German pulling clear of Phil Hill as Ginther hit trouble and had to recover from fifth place, tussling with Dan Gurney and Moss for a time.[3] Graham Hill was also having a strong race, running as high as third and challenging name sake Phil until a minor problem caused him to steadily fall through the field.[3] That left Clark in third as the two Ferrari's swept across the line, von Trips claiming a maiden victory from Phil Hill in a race that would go down in history as the first Grand Prix to be completed without a retirement or a pitstop.[3]
Another all Ferrari front row would open the third round of the 1961 Championship, with Phil Hill once again leading the way from pole.[4] The Italian manufacturer had entered a fourth car for home hero Olivier Gendebien, the Belgian completing the front row ahead of John Surtees and Richie Ginther, Surtees the only non-Ferrari driver on the first two rows.[4] Yet, despite a near lock out, the Ferrari quartet and Surtees were stunned off the line as Graham Hill swept into the lead from sixth, the BRM-Climax shooting ahead of Phil Hill into Eau Rouge.[4] Yet, by the end of the lap Graham Hill had tumbled to sixth, Phil Hill was leading a Ferrari one-two-three-four and Gendebien was attempting take the lead from his temporary American team mate.[4]
The heroics of the opening lap, however, were to be displaced by the Civil War in Ferrari, as all four of their cars led the race at one time or another, before a mistake by Gendebien dropped him back from his scarlet colleagues.[4] Surtees tried in vein to keep with the quartet but slowly dropped back, while early charger Graham Hill would end up on the sidelines with an oil leak six laps from the end.[4] That promoted Dan Gurney into the points, as Phil Hill won from Wolfgang von Trips by under a second, with Ginther and Gendebien a further twenty seconds back.[4]
A third pole position for Phil Hill in 1961 left the American racer as favourite for victory in France, with Ferrari once again entering a fourth car, this time for débutante Giancarlo Baghetti who found himself down in twelfth.[5] It was an all scarlet front row once again too, and unlike in Belgium, the front three would pull away with the lead secure, Wolfgang von Trips jumping ahead of Phil Hill and Richie Ginther.[5] The long straights of the Rheims circuit were an advantage to the more powerful Ferraris, and only the ever present Stirling Moss managed to stay with the scarlet cars, as John Surtees bunched up the rest of the field.[5]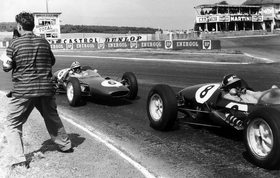 The French Grand Prix provided an excellent demonstration of the power of slip streaming, with positions fifth to fifteenth running together for most of the race.[5] Baghetti was one of those to take advantage of the effect, as the Ferrari 156s of his team mates suddenly showed vulnerabilities previously unseen.[5] First to fall was von Trips, having just lost the lead to Hill, while Ginther fell a few laps from the end with an oil pressure issue.[5] Moss should have inherited the lead when Hill then dropped down the field with a problem, but the Brit suffered a brake pipe failure at half distance, leaving Baghetti to take a début win, the first since Nino Farina.[5] Dan Gurney and Jim Clark completed the podium, the latter having had to defeat Team Lotus team mate Innes Ireland in a race long battle.[5]
The weather of 1961 was proving to be something of a cliché in July, as the tarmac-melting heat of eastern France was replaced by a near washout over Aintree as the field gathered for the British Grand Prix.[6] Phil Hill would once again start from pole position, despite hopes that the narrow circuit would hamper the dominant Ferrari 156 and its powerful engine.[6] With the circuit resembling a river rather than a racing circuit, Phil Hill pulled smartly away from team mates Wolfgang von Trips and Richie Ginther, while Stirling Moss led the strong British presence in fourth, taking Jo Bonnier in his Porsche before the end of the first lap.[6]
The race itself became a display of pure driving skill by many of the drivers, with a large battle rumbling over the final points paying positions, while Moss picked off the three Ferraris in front of him.[6] It was while Moss was running in second behind von Trips that he displayed his deft touch on the steering wheel, as he turned a tank slapping slide into a perfect pirouette having hit a puddle, a puddle which would throw Lucien Bianchi off the circuit just moments later.[6] Yet, as the clouds broke up and the sun emerged, Moss would retire with a brake failure, and despite a brief appearence in the experimental Ferguson P99, was out of the race, leaving von Trips to lead home another Ferrari clean sweep of the podium, Hill ahead of Ginther.[6]
Three quarters of the way through the season and Climax released their newest creation, the V8 FWMV engine designed to combat the impressive Ferrari 178 that had dominated the season so far.[7] The new engine was bolted into Jack Brabham's Cooper T58, with the soon-to-be ex-World Champion immediately putting together his best performance of the season to claim second place on the grid, behind Phil Hill, the American claiming a fifth consecutive pole.[7] Brabham's form continued into the opening stages of the race, as the Australian launched straight into the lead of the race, although his moment in the 1961 sun would be cut short at the end of the lap with a throttle failure.[7]
The German Grand Prix would see a masterful display from Stirling Moss in Brabham's place, with the Brit battling away with Hill at various times in the race.[7] In the closing stages of the race Moss was able to pull over twenty seconds clear, leaving Wolfgang von Trips to reel in team mate Hill for second place, with von Trips establishing a four point lead over his American team mate by claiming the position.[7] Jim Clark was another to impress with an immaculate performance, while John Surtees, Bruce McLaren and Richie Ginther battled for the final points, finishing in that order.[7]
Wolfgang von Trips qualified on pole for the race, but fate had another role to play for the German as the latest round of his title bout with team mate Phil Hill arrived in Monza.[8] Heading into the banking to complete the second lap, von Trips drifted across the front of Jim Clark's car, causing the two to collide, throwing both into a slide.[8] Clark was carried to the inside of the circuit unharmed, while von Trips' car smashed into the fencing on the outside of the banking, ejecting him as his car smashed into a spectators area.[8] Fourteen spectators were killed by the errant Ferrari while von Trips met his demise when he hit the floor a few dozen metres away.[8]
The race was not stopped, however, and Hill won the race, and the Championship for Ferrari, with the drivers only told of the accident after the race.[8] Hill and his fellow podium finishers, Bruce McLaren and Dan Gurney were distraught, while Clark was visibly shaken by the accident, although it was not the Scot's fault in any way.[8] With both titles secure, Ferrari opted to end their season in Monza, not travelling to the final race of the year.
Watkins Glen became the third host of the United States Grand Prix in as many years, but proved to be popular with teams and fans alike.[9] Phil Hill attended the race, acting as Grand Marshal despite his hopes of racing in front of his home fans as World Champion, as the Glen saw a series of firsts.[9] Team Lotus secured their first ever World Championship win, courtesy of maiden winner Innes Ireland, after a weekend where the Brit spun, damaged his gearbox and suffered a steering failure during practice, before nursing his car to the finish in the race.[9]
The result, which saw Dan Gurney and Tony Brooks complete the podium, did little to affect the Championship as Hill was crowned World Champion.[9] In doing so Hill became the first American based racer to take the Formula One crown, beating deceased team mate Wolfgang von Trips by a single point. The race also proved to be the last for Brooks and Stirling Moss, whom would be injured in a crash early in 1962, curtailling an exciting career before the Brit had secured the World Championship.[9]
Non-Championship Races
[
]
Final Standings
[
]
Formula One World Championship
[
]
Phil Hill duly became the first American driver to win the Formula One World Championship, defeating deceased team mate Wolfgang von Trips by a single point after three results were discarded. Stirling Moss ended the year in third, having led in almost every race, level on points with Dan Gurney. Richie Ginther ensured that there were three Americans in the top five of the Championship, a record for their nation, while the late season victory for Innes Ireland saw him finish as the best of the Team Lotus drivers.
Pos.
Driver
1
2
3
4
5
6
7
8
Pts*
1st
Phil Hill
3rd
2nd
1st
9th
2nd
3rd
1st
34 (38)
2nd
Wolfgang von Trips
4th
1st
2nd
Ret
1st
2nd
Ret
33
3rd
Stirling Moss
1st
4th
8th
Ret
Ret
1st
Ret
Ret
21
4th
Dan Gurney
5th
10th
6th
2nd
7th
7th
2nd
2nd
21
5th
Richie Ginther
2nd
5th
3rd
15th
3rd
8th
Ret
16
6th
Innes Ireland
DNS
Ret
4th
10th
Ret
Ret
1st
12
7th
Jim Clark
10th
3rd
12th
3rd
Ret
4th
Ret
7th
11
8th
Bruce McLaren
6th
12th
Ret
5th
8th
6th
3rd
4th
11
9th
Giancarlo Baghetti
1st
Ret
Ret
9
10th
Tony Brooks
13th
9th
13th
Ret
9th
Ret
5th
3rd
6
11th
Jack Brabham
Ret
6th
Ret
Ret
4th
Ret
Ret
Ret
4
12th
John Surtees
11th
7th
5th
Ret
Ret
5th
Ret
Ret
4
13th
Jackie Lewis
9th
Ret
Ret
9th
4th
3
14th
Olivier Gendebien
DNQ
4th
11th
3
15th
Joakim Bonnier
12th
11th
7th
7th
5th
Ret
Ret
6th
3
16th
Graham Hill
Ret
8th
Ret
6th
Ret
Ret
Ret
5th
3
17th
Roy Salvadori
8th
6th
10th
6th
Ret
2
—
Maurice Trintignant
7th
Ret
13th
Ret
9th
0
—
Carel Godin de Beaufort
14th
11th
Ret
16th
14th
7th
0
—
Lorenzo Bandini
Ret
12th
Ret
8th
0
—
Cliff Allison
8th
DNS
0
—
Roger Penske
8th
0
—
Hans Herrmann
9th
15th
13th
0
—
Peter Ryan
9th
0
—
Masten Gregory
DNQ
DNS
10th
12th
11th
Ret
Ret
0
—
Henry Taylor
DNQ
DNS
10th
Ret
11th
0
—
Tim Parnell
Ret
10th
0
—
Hap Sharp
10th
0
—
Tony Maggs
13th
11th
0
—

Michael May

Ret
11th
DNS
0
—
Ian Burgess
DNS
DNS
14th
14th
12th
0
—
Renato Pirocchi
12th
0
—
Trevor Taylor
13th
0
—
Tony Marsh
DNS
Ret
15th
0
—
Keith Greene
15th
0
—
Gerry Ashmore
Ret
16th
Ret
0
—
Wolfgang Seidel
DNS
17th
Ret
Ret
0
—
Bernard Collomb
Ret
NC
0
—
Lucien Bianchi
DNQ
Ret
Ret
Ret
0
—
Willy Mairesse
Ret
Ret
Ret
0
—
Jack Fairman
DSQ
Ret
0
—
Giorgio Scarlatti
Ret
0
—

Massimo Natili

Ret
0
—
Ricardo Rodríguez
Ret
0
—
Gaetano Starrabba
Ret
0
—
Nino Vaccarella
Ret
0
—
Roberto Bussinello
Ret
0
—
Brian Naylor
Ret
0
—
Roberto Lippi
Ret
0
—
Jim Hall
Ret
0
—
Lloyd Ruby
Ret
0
—
Walt Hansgen
Ret
0
—
André Pilette
DNQ
0
Pos.
Driver
Pts
1
2
3
4
5
6
7
8
*Only the best five finishes for each driver contributed to their points tally.
Intercontinental Cup for Manufacturers
[
]
Ferrari completed the double in 1961, collecting the Intercontinental Cup for Manufacturers for the first time since its creation in 1958. Their victory, although in tragic circumstances, confirmed that the 1.5 litre era of Formula One was, in the early stages at least, to be dominated by the Italians, as they had one car or more on the podium in each race of the season they competed in. Team Lotus ended the season with a mix of factory and privateer efforts completing their tally, with the factory backed Porsche team making the top three for the first time.
Pos.
Constructor
1
2
3
4
5
6
7
8
Pts*
1st
Ferrari
2nd
1st
1st
1st
1st
2nd
1st
WD
40 (52)
2nd
Lotus-Climax
1st
3rd
8th
3rd
10th
1st
10th
1st
32
3rd
Porsche
5th
10th
6th
2nd
5th
7th
2nd
2nd
22 (23)
4th
Cooper-Climax
6th
6th
5th
5th
4th
5th
3rd
4th
14 (18)
5th
BRM-Climax
13th
8th
13th
6th
9th
Ret
5th
3rd
7
—
Cooper-Maserati
7th
Ret
13th
12th
Ret
8th
0
—
Gilby-Climax
15th
0
—

Ferguson

-Climax
DSQ
0
—
De Tomaso-OSCA
Ret
Ret
0
—
Lotus-Maserati
Ret
0
—
De Tomaso-Alfa Romeo
WD
Ret
0
—
JBW-Climax
WD
Ret
0
—
Emeryson-Maserati
DNQ
WD
DNQ
0
Pos.
Constructor
Pts
1
2
3
4
5
6
7
8
*Only the highest placed driver in each race for each Constructor contributed to their points tally.
References
[
]
Images:
References:
↑ Cite error: Invalid <ref> tag; no text was provided for refs named Wiki
↑ 2.0 2.1 2.2 2.3 2.4 2.5 2.6 2.7 2.8 2.9 'GRAND PRIX RESULTS: MONACO GP, 1961', grandprix.com, (Inside F1 Inc., 2016), http://www.grandprix.com/gpe/rr095.html, (Accessed 26/04/2016)
↑ 3.0 3.1 3.2 3.3 3.4 3.5 'GRAND PRIX RESULTS: DUTCH GP, 1961', grandprix.com, (Inside F1 Inc., 2016), http://www.grandprix.com/gpe/rr096.html, (Accessed 26/04/2016)
↑ 4.0 4.1 4.2 4.3 4.4 4.5 4.6 'GRAND PRIX RESULTS: BELGIAN GP, 1961', grandprix.com, (Inside F1 Inc., 2016), http://www.grandprix.com/gpe/rr097.html, (Accessed 27/04/2016)
↑ 5.0 5.1 5.2 5.3 5.4 5.5 5.6 5.7 'The 47th French Grand Prix', motorsportmagazine.com, (Motor Sport Magazine, August 1961), http://www.motorsportmagazine.com/archive/article/august-1961/28/47th-french-grand-prix, (Accessed 30/04/2016)
↑ 6.0 6.1 6.2 6.3 6.4 6.5 '14th R.A.C. British Grand Prix', motorsportmagazine.com, (Motor Sport Magazine, August 1961), http://www.motorsportmagazine.com/archive/article/august-1961/20/14th-rac-british-grand-prix, (Accessed 11/05/2016)
↑ 7.0 7.1 7.2 7.3 7.4 7.5 'GRAND PRIX RESULTS: GERMAN GP, 1961', grandprix.com, (Inside F1 Inc., 2016), http://www.grandprix.com/gpe/rr100.html, (Accessed 26/04/2016)
↑ 8.0 8.1 8.2 8.3 8.4 8.5 'GRAND PRIX RESULTS: ITALIAN GP, 1961', grandprix.com, (Inside F1 Inc., 2016), http://www.grandprix.com/gpe/rr101.html, (Accessed 13/01/2016)