The 1950 Monaco Grand Prix was the second race of the inaugural Formula One World Championship in 1950. The 100-lap race took place on May 21 1950 and was won by Juan Manuel Fangio from lights to flag. Fangio also set the fastest lap, thus completing the second hat-trick in Formula One history, in the second race.
Background
1950 saw a return to the calendar for the Monaco Grand Prix, the event had seen a year's absence from the grand prix calendar following the death of Prince Louis II in 1949. The last race in 1948 had been won by Giuseppe Farina, the Alfa Romeo driver having also just came off the backbone of his victory at Silverstone one week earlier. Monaco had one representive for its nation in the race, Louis Chiron, the Monagasque veteran would be participating for Maserati in the race. There was talk of Chiron taking a one-off drive at Alfa Romeo, the home favourite was a popular candidate and would be in prime position for the potential for a second home win, adding to his Monaco victory from way back in 1931. However Alfa Romeo opted to stick with its regular line-up of Farina, Fangio and Fagioli, although the team did name Chiron as reserve driver if something were to happen to their regular line-up.
The Monaco race would see the debut of manufacturers, Ferrari and Simca-Gordini in the world championship. Ferrari had snubbed the opening round of the championship at Silverstone, the team feeling the prize money provided was not worth competing over, Enzo Ferrari placing greater value of a minor Formula Two race at Mons over the World Championship debut event. Following the Alfa Romeo domination at Silverstone, the Ferrari drivers of Luigi Villoresi, Alberto Ascari and Raymond Sommer were believed to be the only true rivals to the Alfa's strength. Aside from the works Ferrari's, Peter Whitehead would enter his privately owned Ferrari 125 to enter for the event.
The other manufacturer to debut at Monaco was the Simca-Gordini outfit. The minor French manufacturer was expected to be a solid midfield team with Maurice Trintignant, André Simon and Robert Manzon racing at their helm. Simon, however would cancel his entry prior to the beginning of the event. After a disappointing run in Silverstone, the major French manufacturer had scaled back its works team to fielding only Yves-Giraud Cabantous, although Philippe Étancelin, Louis Rosier, Pierre Levegh, Charles Pozzi and Johnny Claes would continue to compete in the modern T26C's as privateer racers.
Louis Chiron and Franco Rol continued as the works Maserati drivers whilst privateer team, Scuderia Achille Varzi made their debut with Maserati machinery. The youthful Argentine, José Froilán González, had joined the team as successor to Juan Manuel Fangio's place in the team and alongside him was Alfredo Piàn. The Enrico Platé squad continued with Prince Bira and Baron de Graffenried as their drivers, whilst Clemente Biondetti was also racing a Maserati 4CLT, albeit the car had been modified by his team, Scuderia Milano.
Bob Gerard and Cuth Harrison would also participate as minor privateers, the duo competing in old A and B Type ERA machinery. Notably making his grand prix debut was American, Harry Schell. Schell would notably debut with a Cooper car designed for Formula Two and Formula Three racing, the small nimble Cooper was powered by a JAP motorcycle engine. It was also notably the first car in Formula One in which the engine manufacturer and chassis design had been built independently from one another.
Qualifying
Qualifying Report
In order to increase competition for the qualifying sessions, the event organisers decreed the first five grid positions would be allocated to the first five fastest cars in the first timed practice sessions. This decision had caught Ferrari unawares, the works team had not planned to arrive at the circuit until the Saturday qualifying sessions. This provided a huge advantage for Alfa Romeo with their main rivals unable to secure a position in the top five grid slots, Fangio ran excellently to take pole, his time being 2.6 seconds faster than teammate Farina's best time. Fagioli appeared to be struggling in his Alfa and could not better his two teammates. In fact, the old Italian veteran was pushed down to fifth, young gun, José Froilán González had managed to put his Maserati third on the grid in his first grand prix qualifying. Philippe Étancelin had also done well to put his private Talbot-Lago into fourth. Fagioli who was struggling bounced back on the second day of qualifying, his time being good enough for second on the grid, however his poor run on Friday had meant he would have to start from fifth.
When Ferrari arrived for the second timed session, their times meant they were running competitively, however neither Villoresi, Ascari or Sommer could beat the top three of Fangio, Farina and surprisingly González's Maserati. There absence from the first session meant Villoresi and Ascari would start from sixth and seventh whilst Sommer had been bumped down to ninth when local hero, Louis Chiron put in a strong time to put his car into eighth. Rounding out the top ten was Louis Rosier's Talbot-Lago.
Robert Manzon was the fastest Simca-Gordini in eleventh ahead of De Graffenried's Maserati and his teammate Maurice Trintignant. Cuth Harrison was fourteenth ahead of a disappointed Prince Bira in fifteenth. Bob Gerard in his old ERA A Type was sixteenth ahead of Franco Rol and Johnny Claes. Whilst González had impressed for Scuderia Achille Varzi, his teammate Alfredo Piàn had also been running well. In unofficial practice he had put in times fast enough for sixth on the grid, but at the end of the session he had spun his Maserati on oil and crashed against the guard rail. Piàn sustained leg injuries and subsequently could not participate in the race, the team's expectations being pinned solely on González.
Yves-Giraud Cabantous's Talbot-Lago had significant mechanical troubles which saw him participate in none of the practice sessions at the circuit, the problems were so bad he was forced to withdraw his entry to the event. The withdrawal of Cabantous meant Talbot-Lago had no works entry for the race, the manufacturer having to rely on its privateers to represent its presence in the race. Peter Whitehead also withdrew his private Ferrari when he suffered three engine failures in rapid succession during practice, the costs being too high to maintain an entry into the race. The entry's of Charles Pozzi and Clemente Biondetti were also removed when they failed to turn up to the event. Harry Schell in his little JAP engined Cooper had experienced multiple problems during practice, he had failed to set a lap time in either timed session, however he vowed to continue on in the race albeit starting from the back of the grid.
Qualifying Results
Grid
Race
In the morning before the race it rained heavily but luckily before the race started the clouds went away, however they still left a very wet track. Peter Whitehead's private Ferrari failed to start the race due to engine issues that had troubled him all weekend. At the start Fangio got made the best start as Farina spun his wheels up.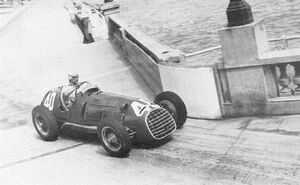 As the cars made there way around the first lap, little did they know there had been a large wave at the harbour based circuit and had flooded some of the corners.
As the drivers entered Tabac, Nino Farina who was running second spun his Alfa on the wet track and was rammed by José Froilán González and in turn, he was rammed by Luigi Fagioli. This caused a multi-car pile up counting for Louis Rosier, Robert Manzon, Emmanuel de Graffenried, Maurice Trintignant, Cuth Harrison, Franco Rol and Harry Schell all retiring.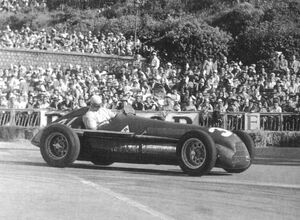 Most got away unscathed but González had had oil spilt over him in the accident which badly burned him and would keep him out for the next couple of races. Also, Franco Rol suffered a broken wrist which would put him out of action for awhile. Only 9 cars survived the incident and Ferrari was the only team to not lose at least one car in the first lap incident. Villoresi and Ascari quickly overtook Philippe Étancelin for third and the two began a hard battle for second. Étançelin retired later with an oil leak, this paved the way for the third Ferrari of Sommer to take fourth place behind his two teammates but was under pressure from local driver and racing veteran Louis Chiron.
Luigi Villoresi who had stalled early in the race negotiating the mele at Tabac had a strong day fighting back to second but it came to a sad end when his axle broke. This left second place open to Ascari, and after a long hard battle Louis Chiron finally managed to get his Maserati past Raymond Sommer and took a podium finish in front of his home crowd. However, the race was dominated by Fangio, who saw absolutely no challenge from any of his rivals, and showed Ferrari had work to do if they were going to catch the Alfas.
Results
Fastest Laps
Lap Leaders
Lap-by-lap
Total
Standings
Drivers Championship only
Milestones
First Formula One grand chelem.
First Entry & Race - Alberto Ascari: The 32 year old Italian racer, Alberto Ascari, son of the famous 1920's race driver, Antonio Ascari, made his grand prix entry into racing in 1940. However the Second World War prevented him from truely getting his career underway until 1947. Like his father before him, Ascari proved incredibly fast and he began producing impressive results in his private Maserati. His father, before his death in 1925 had befriended racer turned team manager, Enzo Ferrari, who had began to follow the son of his late friend's career develop with great interest. In 1949, Enzo Ferrari signed the younger Ascari to his own team, Scuderia Ferrari. During 1949, Ascari won 4 Formula One races, more than any other Ferrari driver. Ascari continuing with Ferrari for 1950 and was considered to be one of the best up and coming drivers of the new generation.
First Entry & Race - José Froilán González: The 28 year old Argentine racer, González, was the most junior driver to enter the Monaco Grand Prix. His racing career had began in 1946 where he had began to quickly impress in local Argentine categories. In fact his career rise, mirrored the rise of Argentina's top driver, Juan Manuel Fangio, a man González idolised and revered. González impressed the international scene when he fought amongst the best international drivers when they came to race at Pelarmo in Buenos Aires. Subsequently he bought a Maserati 4CL off Giuseppe Farina and travelled to Europe, following his idol, Juan Manuel Fangio. When Fangio left Scuderia Achille Varzi at the beginning of 1950, a team funded by the Automobile Club of Argentina, Fangio recommended the fast but inexperienced González to take his place.
First Entry & Race - Robert Manzon: The 33 year old French racer, Robert Manzon, had began his racing career in 1946. Throughout 1946 and 1947, he produced some decent results in the tail ender Cisitalia chassis. He proved a successful racer in the minor categories and was a solid runner in the midfield for grand prix racing. Amédée Gordini, the founder of Simca-Gordini, found him a staunch competitor to race against and for 1948 signed Manzon as apart of his race team. Simca-Gordini was an ambitious team but it lacked the resources to be a front runner, Manzon nonetheless remained faithful to his team.
First Entry & Race - Franco Rol: The 42 year old Franco Rol, like many of his time was a wealthy hobby racer who made it into the higher categories through virtue of his talent. Beginning his career in 1947, Rol joined the Simca-Gordini team in Formula Two for the 1948 season. A series of retirements plagued his career and in 1949 he returned as a privateer racer. For 1950, Rol would start his first serious venture into grand prix racing when he joined the works Maserati team.
First Entry & Race - Harry Schell: Born to wealthy motorsport enthusiasts, 29 year old Harry was the son of former American racer Laury Schell and wife Lucy, a keen motorsport follower who invested into major European teams such as Delahaye in the 1930s. A veteran of the Second World War, he had flown in the Finnish Air Force against the Soviet Union in the Winter War of 1939 and then served in the United States Tank Corps in World War Two. His motor racing career had began in 1940 whilst racing in the United States, notably participating in the 1940 Indianapolis 500 with a Maserati. Following the conclusion of the war he returned to motor racing, he primarily raced casually in Formula Two or Formula Three but proved a talented racer. For 1950, Schell decided to enter his Formula Two, Cooper-JAP, into the prestigious Monaco Grand Prix despite its serious power deficiency in comparison to the Formula One cars.
First Entry & Race - Raymond Sommer: One of the most experienced racers in the field, Sommer was one of the few remaining major pre-war racing drivers. At 43, he was still young enough to have a career ahead of him. He was famous for primarily racing independently as a privateer racer, rather than remain devoted to a major team and attempt to gain success. His career began in 1932, the same year he had won the 1932 24 Hours of Le Mans, the following year he repeated the feat in his first drive for a works team, this being Alfa Romeo. Nonetheless, rather than stay as a works driver he returned as an independent racer. He gained a reputation as one of the best independent racers. During 1937 and 1938, he was known for regularly swapping between being a privateer and racing for Talbot and Scuderia Ferrari throughout the seasons. In 1938, he committed to one team for the first time when he raced a season for Alfa Romeo. Sommer led at every major race but his machinery always let him down. Following the war, Sommer returned as a privateer in Formula One and Formula Two. In 1948 he completed a full season with Ferrari before in 1949 he swapped to the works Talbot-Lago team. For 1950, Sommer has rejoined Ferrari for the World Championship.
First Entry & Race - Maurice Trintignant: 33 year old Trintignant had began his racing career in 1938 racing private Bugatti's. He resumed his career in 1947 when he joined the newly founded Simca-Gordini racing squad. He was known fondly in the grand prix scene as the 'rat dropping's man' after he retired from a race when his car became clogged with rat droppings. Since 1947, Trintignant had assisted in providing some decent success for Simca-Gordini in Formula Two, although their success on the Formula One scene has been hard to come by.
First Entry & Race - Luigi Villoresi
First Entry & Race - Cooper:
First Entry & Race - Ferrari:
First Entry & Race - Simca-Gordini:
First Entry & Race - JAP:
First Entry - Clemente Biondetti:
First Entry - Pierre Levegh:
First Entry - Alfredo Piàn:
First Entry - Pierre Levegh:
First Entry - Peter Whitehead:
Final Entry & Race - Alfredo Pián:
Final Entry & Race -JAP:
← Previous Race
Formula One Races
Next Race →
← Previous Race

None

Monaco Grand Prix
Next Race →
Community content is available under
CC-BY-SA
unless otherwise noted.